Fear the Walking Dead Season 2 Episode 2 Review: We All Fall Down

Carissa Pavlica at .
Are you still watching?
Things took a rather somber turn on Fear the Walking Dead Season 2 Episode 2, as the passengers on the Abigail started to realize just what devastation awaits them all over the country, if not the world.
It's not that they thought it would be as easy as going to San Diego and everything would be alright, but the hope was there. Information is piling in that's dashing that hope just a bit, but they're still clinging to their humanity, and that's a beautiful thing.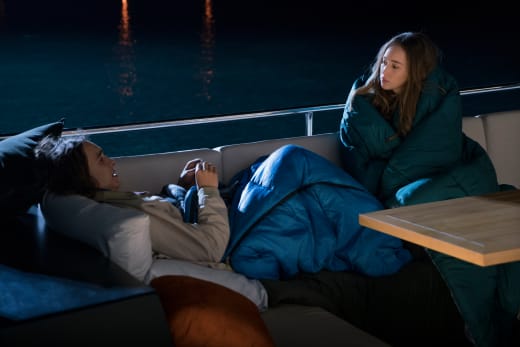 I've read a lot of comments about there not being a character to believe in, to really care about on Fear the Walking Dead. I don't know about you, but that changed for me on "We All Fall Down." 
While we got closer to Maddie, Travis and even Chris during the hour, it was Nick who stole my heart.
When the series first began, Nick was a mess. He was a bit of a pain in the ass, to boot. When you have a lot going for you and people who love you, it's difficult to see someone throw it all away for drugs. 
But little by little, he's fought his way back. On Fear the Walking Dead Season 2 Episode 1, he even dove in to save Chris when he thought he might be taking his own life. Nick continued taking the heat for it on this episode, but never got even slightly miffed at being in that position.
And I absolutely loved how he was concerned about the kids today and how they wouldn't have a "normal" life like he and Alicia did growing up. Alicia thinks it's the end of the world, but Nick knows this is different. It's like he thinks we've done this to ourselves.
Of course, we don't have any evidence to the contrary, even after six seasons of The Walking Dead. But we know the military bombed entire cities all over America. There was probably another way to handle everything rather than decimating all the living along with the dead. 
Especially because we know that just creates more walkers. Maybe that's why there seems to be a never ending tide of walkers. The military's design of taming the virus inadvertently created an entire world of them. Yay.
But back to Nick and why he's become my hero. He was amazing with the little kids, and was sincerely worried about what they told him about the power pills. It turned out he was even right – they were going to Jonestown themselves. 
So while Maddie can sometimes come on a little too strong and Travis a little too weak, Nick is right in the middle. He's one of us with all the right feelings and motivations, making him the perfect hero for Fear the Walking Dead.
Thankfully, he's also the closest to Strand, because he'll be able to ask questions and not get his head blown off in the process. 
They are really dragging out exactly what Strand's up to, but that phone call he made was all kinds of mysterious. If he ever finds out Daniel's poking through his things, I don't think he'll take it well. Strand is not a hero, at least not now.
It seems like he puts up with everyone because they're giving him something he needs. Cover, maybe? The idea of little Harry on the Abigail with them didn't sit well, that's for sure. 
But he has to watch his back, because with every trip off the boat and every situation that goes a little wonky, the people on the Abigail get stronger and more likely to topple him and his standing as captain of his own vessel. 
So tell me what you think. Are you still watching? Have you found a character to root for yet? Maybe you're on board with Nick, like me. Maybe you fell for Maddie and the way she wanted to protect the little ones. They're finding their way. They are!
Talk about it if you're dropping by, and watch Fear the Walking Dead online if you missed anything. 
Carissa Pavlica is the managing editor and a staff writer and critic for TV Fanatic. She's a member of the Critic's Choice Association, enjoys mentoring writers, cats, and passionately discussing the nuances of television and film. Follow her on Twitter and email her here at TV Fanatic.