Jane the Virgin Season 2 Episode 18 Review: Chapter Forty

Amanda Steinmetz at . Updated at .
The Villanueva women are strong, compassionate, and definitely stubborn. 
Jane and Xo continued to be at odds on Jane the Virgin Season 2 Episode 18. Not only did Rogelio take it upon himself to reunite mother and daughter, but he did it with his telenovela dramatics.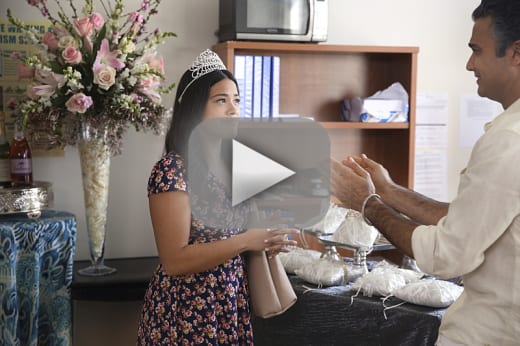 Elsewhere in the episode, Petra got to know her twin sister, and Mateo said "Dada" for his first word. Unfortunately, it seemed to be directed toward the wrong man.
Watching Jane and Xo bicker and avoid looking at each other was not a pleasant viewing experience. Mothers and daughters are allowed to fight and have their problems, but I would have hated to see these best friends in a feud for much longer.
Rogelio's interference was absolutely welcomed. Of course his way of bringing Jane and Xo back together would include an absurd storyline in his TV show. Rogelio is incredibly vain, but he cares deeply for his family. 
Speaking of family, Petra's twin sister is quite the character. The addition of the long lost twin storyline made me roll my eyes, but Yael Grobglas looks like she's having a blast playing Aneska. The accent and mannerisms had me laughing out loud. 
My hand should be chewed off by wolves.

Aneska
Petra's and Aneska's personalities couldn't be more different, but it looks like they both have eyes for the same man. I hope Aneska's developing crush on Rafael doesn't turn into a "Single White Female" scenario. Petra deserves to have at least one family member who isn't crazy.
Mateo continues to be one of the most adorable babies on television, but all that cuteness couldn't stop the uncomfortable looks on everyone's faces as he said "Dada" to Michael. Does Mateo think Michael is his father? It's highly doubtful. Even Jane told Rafael that Mateo kept calling her "Dada" too.
Rafael reacted a lot better than I thought he would. He was very mature about the situation and didn't overreact. He did request more time with his son, but that is completely understandable.
It's disappointing Rafael couldn't have acted as mature when handling the money he got from insider trading. Using the dirty money is only going to come back to haunt him.
The closing moments of the episode need to be addressed because someone is taking photos of Michael, and I'm assuming they're not a friend. There have been a couple moments throughout the series that have pointed toward a potentially bad ending for Michael.
As you recall, the Narrator made some foreboding comments in Jane the Virgin Season 1 Episode 10 about Michael never losing his love for Jane until his last breath. The writers always come back around to pieces of information dropped by the Narrator.
My gut is telling me that all the romantic moments between Michael and Jane over the last several episodes are setting us up to be truly devastated by.... I don't even want to say it... Michael's death. I'm not saying this will happen for sure, but I'm not optimistic.
Stray Observations and Questions
It's pretty obvious Derek set Rafael up for the insider trading, right? I can't be the only one who thinks that.
Jane was able to win over her advisor with her writing, but I wish we didn't have to rush through why her advisor doesn't care for her.
The look on Alba's face at seeing the hot telenovela version of her was priceless. 
Rogelio and Dina kissed, and I don't care at all about this development because we've barely spent time with the woman.
So over to you guys. What did you think of Petra's twin? Is Michael doomed? What are your predictions for Jane the Virgin Season 2 Episode 19?
Sound off below, and don't forget you can catch up with any missed episodes when you watch Jane the Virgin online via TV Fanatic!
Amanda Steinmetz was a staff writer for TV Fanatic. She went into retirement in June of 2027. Follow her on Twitter.