Once Upon a Time Season 5 Episode 16 Review: Our Decay

Christine Orlando at . Updated at .
Can even the wicked find true love? That was the question in Once Upon a Time Season 5 Episode 16, and it appeared that they could indeed find love, but happily ever after was a whole other matter.
This was one of the first times I truly liked Zelena. Everyone in her life has abandoned her, starting with her own mother. Yes, she's made many bad choices along the way, but much like Regina, those choices stemmed from fear and pain.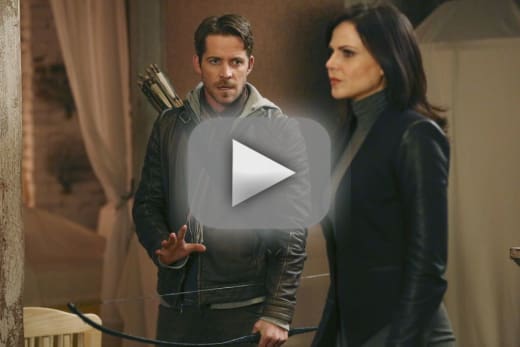 Perhaps I liked Zelena all the more because I found Dorothy so darn boring and the special effects for the Scarecrow looked silly. I didn't care at all when Zelena took his brain; I was actually kind of happy to have him gone. 
I couldn't blame Zelena for not trusting Hades. She's got trust issues to begin with, and if you should expect anyone to screw you over, it's the Lord of the Underworld.
Zelena giving the baby back to Robin and Regina had me shedding tears. She loves her child, and as much as she'd do anything to keep her, she'd do even more to protect her. 
And what's up with not giving the poor girl a name?! How long before inspiration finally strikes Robin? Weeks? Months? 
As much as I enjoyed Robin Hood previously, and I want Regina to have her own true love and be happy, he's really done nothing for me lately. If he disappeared tomorrow, I'm not sure I'd care anymore. Maybe Regina can do better.
Elsewhere, Belle came falling through the portal with Zelena and the baby. I was pleased that Gold told her the truth about her being pregnant and his contract with Hades. I was even happier with how quickly Belle figured out that he's the Dark One once again.
The character of Belle is supposed to be smart, which makes me hate it all the more when Gold so easily pulls the wool over her eyes. it's nice to see her quick wit and intelligence shine through. 
Is Gold right, did she fall for him because he's part beast?
You fell in love with me because I was a man and a beast. Neither exists without the other.


Gold
I think it's more likely that she felt she could tame the beast. And it's one thing to love the Dark One, it's another entirely to raise a child with him. I'm afraid Belle has some very hard choices ahead of her and they may be ones I'd never thought she'd make.
Henry's role as the Author was nothing more than fluff as he apparently can now do it in his sleep. 
The best thing about David and Snow's story was this Once Upon a Time quote…
We were only supposed to be here a day and now we're regulars at the diner in hell.


Snow
At least they get their order right. Things could be worse. 
How long until our intrepid heroes make it out of the Underworld? Will Belle have a baby with the Dark One or is there another choice to be made? Do you think Zelena and Hades can end up with a happy ending? 
Check back later this week to see what our Once Upon a Time round table team has to say. If you can't wait until then, you can always watch Once Upon a Time online here at TV Fanatic. 
C. Orlando is a TV Fanatic Staff Writer. Follow her on Twitter.