Outlander Season 2 Episode 2 Review: Not In Scotland Anymore

Lisa Babick at .
The nightmare isn't over for Jamie or Claire.
Outlander Season 2 Episode 2 not only started with a nightmare, but ended with one too. Everything in between was such a delight, it was hard not to be lulled into thinking it was all going to turn out okay.
Like Claire, I too had to catch my breath at the stunning news that Black Jack Randall was still alive.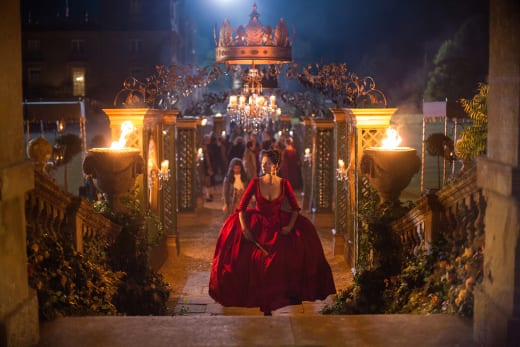 You certainly have to hand it to Claire for trying her best to ease her husband's torment at the nightmares continuing to plague him. She visited an apothecary for some calming tea sure to help him sleep, and even ridded herself of the forest on her "honeypot" to help give him a different focus, but nothing seemed to help.
Jamie's mental scars aren't going anywhere anytime soon.
His vivid nightmare at the beginning of the episode was quite disturbing. Killing Randall with such savagery only for the monster to open his eyes when it seemed he was dead was a great foreshadowing moment. I can't imagine Jamie caring about anything other than killing Randall for real once he finds out the truth.
I'm not even sure Claire, in any of her special ways, will be able to calm him down and keep him focused on the task at hand. His rage is going to be all-consuming. His need for revenge overpowering. And who can blame him after all he went through? I certainly wouldn't be able to focus on anything else either.
The smarmy look on the Duke of Sandringham's face at the end was so infuriating. When Claire was threatening him with exposure for being a Jacobite sympathizer, I'm surprised he just didn't drop the bombshell then.
It's obvious looking back, though, that he knew he had the upper hand in that conversation, because he really didn't seem to be fazed by what Claire was saying.
How he so cleverly got Alex to spill the beans, so to speak, about Randall was rather cruel, but not surprising. He was definitely relishing the moment. The guy is a snake, and I'm sure he's just chomping at the bit to let Randall know about Jamie and Claire.
Claire is really in a bind right now, but did she really think it was going to be that easy to change the course of history? Did we? Everything was falling into place so beautifully, it couldn't possibly last forever. Sure, there were going to be a few bumps in the road. It was expected.
But Black Jack Randall being alive isn't a bump. It's a huge pothole.
Maybe Murtagh was right. Maybe they should just slit Prince Charles' throat. Get it over with and move on. The guy is a little off, so it shouldn't be too hard.
Sure, there might be some consequences, but will it matter once Murtagh and Jamie find out about Randall? At least they'd have done something to try to stop the rebellion.
They could deal with the aftermath of killing Charles later, after they exact their revenge on Randall, when their focus would be where it's supposed to be. Unfortunately, it's probably not going to work out that way.
There's a lot of tension on the horizon. It's going to be very interesting to see how it all pans out.
Despite the dark bookends, the rest of the episode was a lot of fun.
I absolutely loved Louise. What a great friend for Claire to have. Someone with such wild abandon was sure to shake things up a bit. (And she did in Versailles.)
Could she embarrass Mary Hawkins any more than she did when she spread her legs wide open to get waxed? While Claire had a sort of shocked reaction, you could tell the wheels were turning. She ended up getting waxed herself, and surprised her husband later in bed.
But the surprises didn't stop there. Jamie's eyes almost popped out of his head (and Murtagh's too) when she walked down the stairs wearing that fabulous low-cut dress. What a daring woman she is, no? For her to wear something so revealing was just spectacular. And, I absolutely loved how the red stood out against everything and everyone else.Shows how truly dynamic Claire is to everything around her. 
I was expecting Louise's dress to be sort of va-va-va-voomish too, but it was just blah. Disappointing to say the least.
But the dress of the night belonged to the King's escort only for it's pure absurdity. Why even bother wearing anything? Murtagh couldn't take his eyes off her or her nipples. I can't believe that was an acceptable form of dress at a gathering of that sort.
It seemed more of a dress one of the ladies at the brothel would wear. So, it was ludicrous for the King to admonish Duverney for his antics when he had that standing next to him.
But then again, was that dress any more crazy than Jamie and Murtagh getting to watch the King sit on a chamber pot? Murtagh's face was priceless, and he hit it on the head when he said:
Only in France does the King need an audience to shite.

Murtagh
1745 France is certainly a strange place, indeed.
Other thoughts:
Master Raymond was quite the character. I think he's going to prove quite an ally when the French captain seeks revenge on Claire for the destruction of his ship.
It wasn't a coincidence that he let her know that any enemy of Comte St. Germain is an enemy of his. And, I'm sure it's rather comforting for Claire to know she has one more friend in, what may soon be, a rather hostile land.
Dildos for rent? Ewww.
The high society women discussing various names for penis and looking down their noses when Claire said the English sometimes call it "prick" was hilarious. Unmusical language, indeed.
The playfulness between Jamie and Claire is so real, it brings tears to my eyes, which is why I was surprised Claire seemed a little jealous of Annalise. As if she'll ever have anything to worry about.
What did you think of "Not in Scotland Anymore"? Will Claire tell Jamie about Randall sooner or later? Will their quest to stop the Jacobite rebellion come to a standstill?
Hit the comments below, and share your thoughts. If you need to catch up, you can watch Outlander online anytime, right here via TV Fanatic.