Bones Season 11 Episode 16 Review: The Strike in the Chord

Christine Orlando at . Updated at .
If Bones Season 11 Episode 16 proved one thing, it's that we're all just a bunch of rats reacting to bells. 
The scene where everyone grabbed their phones at the same time after hearing the alert sound was funny because it was so darn true. We've all been programmed to react, whether we realize it or not.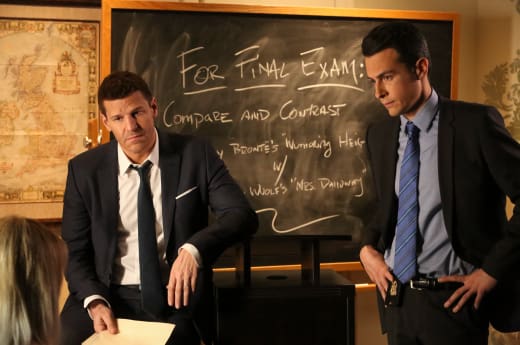 Speaking of rats, Hodgins had quite an affection for the last remaining lab rats, and it was hard to blame him. First, they were actually kind of cute, and second, they'd been through a lot. 
Obviously, Hodgins could relate to their plight. The five-star rat hotel he constructed was pretty awesome. I expected them to become a permanent fixture at the Jeffersonian, but Hodgins wanted to bring them home. I suppose Michael Vincent could use a pet.
On that note, thank goodness we had a mention of Michael Vincent. At least we know he's alive and recognizes lady bugs. It feels like his parents hardly ever talk about him, even when there's reason. For example, I'd love to know how he's dealing with daddy now being wheelchair bound, but it never comes up. 
Hodgins was looking into experimental surgery for his paralysis. It's hard to blame him, but he really needs to be sharing these things with Angela. It's his paralysis, but it's their life together. No matter what the decision, they should both be involved in researching the options.
Elsewhere at the Jeffersonian, we had a new intern. Maybe it's cruel, but I liked that Ms. Mills crashed and burned. I don't think we've ever seen that before. The one thing that surprised me was Hodgins reaction in this Bones quote…
Hodgins: You expect us to work even though you just fired our friend?
Brennan: Thank you, yes.
Um, has he met Dr. Brennan? Of course she does! What a silly question.
I also don't think she was wrong to fire Ms. Mills. She didn't make one or two mistakes on her first day, but literally got everything wrong. Even if she improves, I can't imagine she'll be to the level that Bones needs her to be any time soon. 
As for the murder of the week, I didn't love the a cappella at first, until the last number when they sang Walking After Midnight. That was quite good, and I'd love to hear it again. 
I'm a little torn over Aubrey hiding his singing from Booth…
Aubrey: I've got a manly reputation to protect here.
Angela: Of course you do.

Is Aubrey really that insecure around Booth? I never got that vibe from them before this episode. 
I felt badly for Booth about Parker on two levels. One, that he was obviously looking forward to spending some quality time with his son in the great outdoors, and then that Parker went to Brennan with his dilemma. 
I suppose it made sense. Parker had to know he was going to disappoint his dad and that Brennan would best understand how important the summer course at Oxford would be. Also, it was nice to see that Parker felt close enough to Brennan to ask for her help.
Let me tell you something Bones, if he ends up turning out like you I will be the proudest dad ever.

Booth
That was definitely the aww moment of the night. 
Check back on Monday to see what our Bones round table has to say, and if you want more, you can watch Bones online here at TV Fanatic.
C. Orlando is a TV Fanatic Staff Writer. Follow her on Twitter.