Chicago Med Season 1 Episode 16 Review: Disorder

Elizabeth Harlow at . Updated at .
Dogs really are man's best friends.
Things took a much happier turn for one patient on Chicago Med Season 1 Episode 16. Sure, she had cancer, but her dog caught it before she was exhibiting any symptoms! That's one hell of a trick.
Not all the ED patients were quite so lucky, of course, but thanks to the crack team at the Gaffney Chicago Medical Center for helping them out. Choi even made a house call!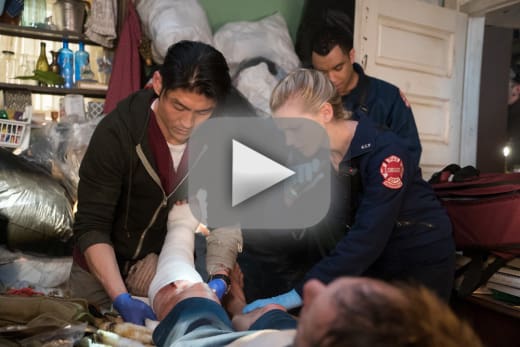 Ethan got to get out of the ED and enjoy some fresh air – for about five minutes. Was I the only one who was inspired to schedule some deep housecleaning for this weekend after the hoarder scenes? 
What I really liked about this plot, other than getting us out of the ED for a change of scenery and the brief appearance of Sylvie Brett, was how it was a more subtle approach to Choi's PTSD. The other cases he's had that have related to his own mental health have been a little too on the nose.
We don't always need the similarities shoved in our faces as this patient showed. Sure, the hoarder had a mental illness. But I liked the metaphor of the man's junk as Choi's internal demons.
Maybe seeing how that man's burden and sense of shame only made things worse will help Ethan to open up even more. 
Sharon: Dr. Choi, we're going to need some of your Navy inspired discipline today.
Ethan: Sorry, I'm with the paramedics today. Resident ride-along. And discipline? Is that a nice way of saying I'm a tight ass?

I actually really liked Will's story in "Disorder," even if he did have a stick up his butt for a while. It was totally understandable considering the circumstances, and obsessing about protocol may be annoying, but it's also professional; a major step up from playing Jekyll and Hyde with your supposed best friend/crush.
Now, some of the story around Will and his lost shot at the attending position just doesn't make sense, but I'm trying really hard to let go of reality (and the information from Chicago Fire Season 3 Episode 19, which served as the backdoor pilot for Chicago Med).
Since none of the #OneChicago shows are available in their entirety from the streaming services, some clarity on his medical background would be nice, but at this point I'd settle for a simple retcon. 
Wonderful, the guy enforcing the rules is the one who's always breaking them.

Sharon [about Will]
Dewey took a step back and let Connor take the lead, even though he disagreed with his student's assessment. you have to admire a teacher who can step back and watch their underlings take risks, especially when their restrained support means that they'll be there to lean on, even with their reservations. 
After Chicago Med Season 1 Episode 15's reexamination of some of Connor's family issues, Dewey's approval resonated all the more. Even though it was the impetus for Dewey taking Connor on as protege, I really wish he wasn't doomed to die. His quiet complexity adds a lot to the show. 
Connor: I couldn't do nothing.
Dr. Dewey: I suspect it was ego more than altruism. Great surgeons know the balance. You're confident, not arrogant. I like that, Dr. Rhodes.
Dr. Charles, once again, proved himself to be frighteningly observant and catch the diagnosis that so many others had missed. I love the good doctor, and I appreciate that there's been an attempt to make him a "flawed" character – as much as depression and being a non-custodial parent can be considered flaws anyway.
But his preternatural insight is too often a convenience, a modern day version of deus ex machina​. Especially since he apparently has a secondary specialty of neurology in addition to psychiatry. It's ludicrious to have Charles (and occasionally other docs) suddenly identifying rare conditions at the last minute – and worse, it's becoming predictable. 
Sure, Dick Wolf shows are known to be a bit formulaic, but it'd be nice if that formula was a little broader. On the upside, the characters (even man-child Will Halstead and late bloomer April Sexton) are developing nicely. There may have been some false starts, but it seems like the bumps are being worked out. 
I mean, and Tate totally snores, but I don't mind. Oh, he does this thing where he shoots his dirty boxers into the hamper like a buzzer beater. [beat] Anyway, it's cute.
Maggie. Oh my God. You're in love.


April
As I watched some of Chicago Fire Season 4 Episode 21, it struck me what is lacking from Chicago Med. Fire is arguably the strongest property of the #OneChicago world, mostly because it had to build from scratch. That meant building a fleshed out world with recurring bit characters like Baba.
As the first season wraps up and the show runners start thinking about Chicago Med Season 2, I really hope that they'll flesh out the world of Med beyond relying on mini-crossovers. Tate, Vicki, and the oft-mentioned Bert are good starts, but I don't want to see this show follow Chicago PD by leaning too heavily on its sister shows. 
But really, Miami, Will? I've seen you sunburn walking from the ED to your car.

Natalie
The penultimate episode, "Withdrawal" (Chicago Med Season 1 Episode 17) will air on May 10th, and it looks like it's going to be a rough night for Nat. The looks on Will's and Connor's faces are certainly ominous. What could possibly be wrong with our new mom and favorite pediatrician? 
Hopefully Will can keep a lid on his temper as he faces the double frustrations of looming unemployment and a difficult patient. April disagreeing with him over a treatment plan certainly isn't going to help him keep his cool! While they duke it out, dream team Dr. Charles and Sarah work together to treat two grannies. 
You can watch Chicago Med online if you missed "Disorder" – or if you just want to binge the entire series so far. We'd love to hear your thoughts down in the comments section, so don't be shy!
Elizabeth Harlow was a staff writer for TV Fanatic. She left the organization in October 2018.