Fear the Walking Dead Season 2 Episode 5 Review: Captive

Carissa Pavlica at .
Alicia is in the clear!
Jack wasn't the Ferdinand Magellan of the Zombie apocalypse, able to take a few flirtatious conversations and track down his girl.
Nope! As we learned on Fear the Walking Dead Season 2 Episode 5, it was Flight 452's Alex, blaming Travis (and not Strand) for being set afloat and having to put down burned dude that ultimately led to the Abigail passengers' current predicament.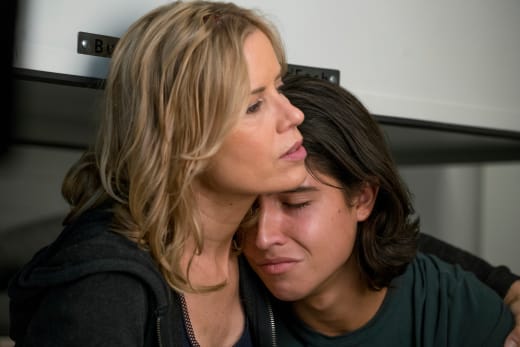 I can't say I saw that coming. Not necessarily because I didn't expect her to hold a grudge, but because I wouldn't have expected her to hold it against Travis.
Alex said she blamed everything she suffered after boarding the Abigail on Travis because she saw the look on his face; the look that said he knew right from wrong, and chose wrong even knowing what it would mean to them.
I have to say she gives Travis a lot more credit than I do, because I think he was genuinely surprised Strand cut that lead. At that time, Travis was still holding on to his hope for humanity. A part of him still is, and probably always will.
His son, though, seems to have lost all hope.
Chris felt as though the entirety of the situation rested on his shoulders. He hesitated shooting the pregnant woman, they all came aboard, and all hell broke loose.
Nick admitted he would have held back shooting a pregnant woman, too, and to give himself a break. It just wasn't enough. As soon as Nick left Chris to stand watch over Reed knowing how he was suffering, I knew he was going to pop the guy.
It's hard to believe Reed was former teen heartthrob Jesse McCartney. Who knew he had it in him to be such a nasty dude?
The way he taunted Chris was awful, and I'm not going to miss the guy, but does anybody think Reed was turning when Chris shot him? He looked like fresh kill to me, and he turned after he had been shot. They don't turn twice, do they? 
Madison was mothering all people on this Mother's Day, taking control of the Abigail while watching over a weakened Strand, advising him not to push off the shivers, as they help the body heal.
It was to Madison who Chris turned when he needed someone to believe he killed Reed because he was turning. All of the bravado Chris exhibited in the episodes prior disappeared as he tucked his head under her chin seeking comfort.
And it was Madison, again, who was pointing out to a grown-up-too-fast Nick that he wasn't to run off doing manly things when a fully-grown adult could do said things, and, hey, aren't you getting just a little comfortable with that gun? An almost petulant reply of no made is clear he was still the boy-son of an adult mother.
And it was mama-bear Madison who took a fully raging zombie Reed in a raft for the trade-off for her daughter. Of course, she had a bag over his zombie head, and was met with a bagged version of her husband in lieu of her Alicia.
For a second, I thought they were going to try to pass off some random dude as Travis, because why the bag? If it wasn't Alicia, who else would they trade to her? Unless they made bag-on-the-head plans we didn't hear as a part of the negotiation. We know why Reed was wearing one. 
You had to love the voracity with which Reed dug into his first meal. And his second. 
What will become of Jack and Alex and the pregnant girl in the cell? (Kudos to Alicia for finally realizing pregnancy earns no special favors during a captive situation.)
What of their erstwhile army out there? Will they keep it together or fall apart now that their leader is at the very least dead and at worst zombified?
Will we ever find out? Probably not. It seemed Alicia's jump off the boat was an end to that story. It's time to move on, find new foes and be tested again. Madison grew a lot at the end of this one. She earned her stripes, for sure.
What did you guys think of "Captive?" Are you ready to see if they make it to Baja? Was this a good Mother's Day celebration for Maddie?
If you have missed any of this season, you can watch Fear the Walking Dead online right here via TV Fanatic!
Carissa Pavlica is the managing editor and a staff writer and critic for TV Fanatic. She's a member of the Critic's Choice Association, enjoys mentoring writers, cats, and passionately discussing the nuances of television and film. Follow her on Twitter and email her here at TV Fanatic.