From cheating death to taking down one of the most wanted terrorist, it has easily been a rollercoaster season for our favorite Secretary of State. 
It was, of course, no huge surprise the rollercoaster would kick into high gear on Madam Secretary Season 2 Episode 23, with Elizabeth trying to arrange a trade with Russia for Dmitri.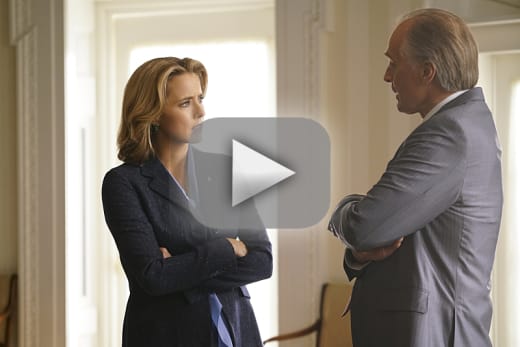 Who else was thrilled seeing Michael Barnow again? Let's be honest, it's really his dog, Gordon, who I absolutely love. 
Besides Gordon, I really enjoy the way Michael is up front about his opinions. He doesn't pull any punches. Michael was making some great points about making a trade with Russia for Dmitri. 
Elizabeth showed her cards to Foreign Minister Avdonin when it came to Dmitri. Did Elizabeth really think Michael was going to say the Buckley trade would be good? Michael also made a great point about not even knowing for sure Dmitri was alive. 
The moment Avdonin told Elizabeth that Dmitri was alive, she should have immediately asked for proof. Russian government officials have lied so many times in the past. Why wouldn't they lie now?
I understood why Elizabeth would keep the whole Dmitri investigation from her staff. There's no sense in them getting involved with the investigation when she was still trying to figure out exactly what she was going to do. 
It was smart of her to go to Anton to get definitive proof of Dmitri being alive, but why didn't she go to him in the first place?
I knew the photos, and documents, Elizabeth would get from Anton would include a photo of Dmitri deceased. I couldn't blame her for going off on Avdonin, but his response of them going to great lengths to falsify documents was great. 
Elizabeth was correct about Buckley not being a threat to American security anymore. If they are able to save even one person they need to take the chance. 
Of course the biggest shock came when President Dalton asked Elizabeth to be his Vice President. I wasn't the only one screaming finally, right? 
Bess, I'm not firing you. I'm trying to ask you to be my Vice President.

President Dalton
Elizabeth would make a fantastic Vice President because she has never been one to stand down when it comes to foreign diplomats. She's also never been afraid to tell President Dalton if he is doing the wrong thing. 
Elizabeth, as Vice President, would strengthen the administration. President Dalton knows the American people love Elizabeth and could easily get behind her. By securing her as Vice President, he's essentially won the election. 
Movie on to Stevie, Jareth asking Henry for permission to propose to Stevie was absolutely adorable. Henry giving his permission, without talking with Elizabeth, made me chuckle. Henry would be the one to give her permission because he didn't know what else to do. 
I don't think they were giving Stevie, and Jareth, a lot of credit when it came to them getting engaged. While they may be young and in love, they're also smart. An engagement is nothing to freak out over. 
At least they realized how good they would have it if they had Jareth as a son in law. The man is intelligent, funny and loves their daughter deeply – they really hit the jackpot. 
I was happy to see Stevie having her own meltdown when it came to marrying Jareth so quickly. It's really great seeing how much Stevie has grown this season. Her new plan of spending the summer with him made the most sense. 
In the end, Elizabeth finally told Henry about Dmitri possibly being alive and they have agreed to a trade. Of course Henry immediately wanted to be the one to help identify if it really was Dmitri. 
The reunion between Dmitri and Henry definitely brought tears to my eyes. Dmitri had every reason to be angry with Henry, but it was like he had a realization he was finally free. The embrace between the two men was incredibly touching. 
I really hope we follow Dmitri's story next season. He still has a lot of healing to do. I'm also curious if Russia possibly messed with his head, but I'm hoping we'll eventually get the old Dmitri back. 
Now it's your turn to tell me what you think. Are you excited about Elizabeth possibly being Vice President? Were you happy to see Dmitri alive? Do you think Stevie and Jareth are making the right decision?
Don't feel bad if you missed out this season. Go watch Madam Secretary online now via TV Fanatic and catch up. Just make sure to come back to let us know what you think.
Samantha McAllister was a staff writer for TV Fanatic. She retired in November 2018.