Reign Season 3 Episode 12 Review: No Way Out
Miranda Wicker at . Updated at .
After an extended hiatus, we're back to the shenanigans of both the French and English courts, and WOW is there a lot of intrigue and double-crossing happening right now. (And yes, I know it returned for Reign Season 3 Episode 11, but I didn't know that last week so please forgive me.)
Reign Season 3 Episode 12 found Mary questioning whether she's willing to cause her cousin's assassination in order to reclaim her throne.
Her short answer? "Eh...about that..."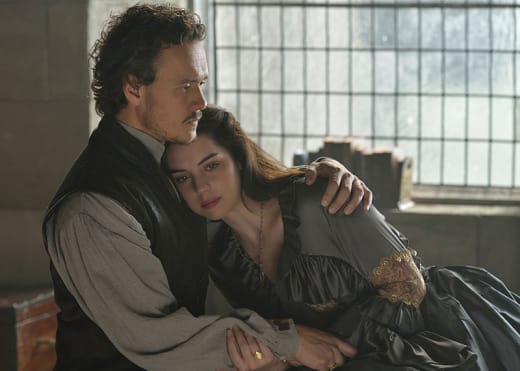 It didn't take long for Mary to figure out that once she accepts Elizabeth's proposal and the Vatican offs Elizabeth, Mary's head won't be far behind. They want a man in power because patriarchy! Those silly women aren't fit to lead, what with their whimsy and passion!?!?
Ugh. Those guys.
Mary's compassion and desire to get what she wants, without taking lives she doesn't have to take, is one of the reasons people trust her. Most of the time it doesn't blow up in her face, so there's hope here too. (Plus we have history on our side, so we know Mary won't have Elizabeth killed.)
What's going to be troublesome for Mary is this edict that she marry Dudley when her heart is pulling her toward Gideon. Dudley's a hot enough guy, but there's enough baggage and shame surrounding him, however innocent he may be, to last a million lifetimes. 
And he's in love with Elizabeth, and she's in love with him, so while Elizabeth may have just saved his life by sending him away to live in France or Scotland, she's crushed his soul in the process. 
Plus, something tells me Gideon's not going to be too happy to see whom the Queen has chosen for her cousin's second husband knowing all he knows about Dudley's time at English court. It will be interesting to watch Gideon navigate his new relationship with Mary while trying to play double agent for both England and Mary. 
Let's be clear. Gideon's allegiance isn't to Scotland. It's to Mary. And Mary better hurry up and figure out why she slept with the dude before one of the chambermaids who always seem to be gossiping around that castle get word back to him that Mary might have only slept with him to win him over to her side. 
I mean, I don't personally think that's why Mary slept with him because that's not her style, but that doesn't mean the tale won't still hurt her cause.
As has been the case this season, there is a LOT going on in each episode, so Mary's part, while important and becoming more and more intertwined with Elizabeth's leaves me feeling a little flat. It feels like all she's doing is getting nowhere. 
I want to see more of this alliance she's forming with Gideon because Mary's allies are actually dropping like flies. Right now she has Catherine and that's pretty much it. We didn't need to see Greer in tonight's episode, so that scene felt like a waste of time, no matter how much I personally adore Greer. 
As for what's happening elsewhere, I find myself enjoying the budding friendship, or at least peace, between Lola and Elizabeth. 
There was something nice and almost redemptive in hearing that Narcisse writes her almost every single day. Even though she doesn't read the letters he sends, I still have hope that one day he won't be a power-hungry cad. 
I still believe he really loves Lola and just got caught up in the lure of Catherine. (It's not forgivable, but I want him to find some redemption through lots and lots of groveling and giant, expensive jewels sent to Lola.)
This whole Christophe the Serial Killer thing is bizarre. I'm not convinced he's not connected somehow to the Red Knights.
My money is on him being the son of one of the original 13 knights Catherine and Henry killed. He went to work in the castle, seduced Catherine to gain her trust (while somehow losing that trust because, hi, he's a serial killer) and now he's working for the knights from the inside.
Or maybe he isn't and he'll be the one to save her from the knights by killing them all. 
I suppose having at least 13 people who want you dead is a time when it's handy to have a serial killer with no qualms whatever about taking a human life as your lover.
We'll see.
What did you think of "No Way Out"? Can Mary save both her reign in Scotland and Elizabeth's life? Why did Mary sleep with Gideon? Jump into the comments below and don't forget you can watch Reign online!
Miranda Wicker is a Staff Writer for TV Fanatic. Follow her on Twitter.