The Blacklist Season 3 Episode 23 Review: Alexander Kirk: Conclusion

Sean McKenna at . Updated at . Comments
Liz Keen is alive.
Granted, it's not like I didn't see this one coming.
It would have been a ballsy decision to kill her off for good on The Blacklist Season 3 Episode 18, so her coming back did undercut the shock of her original demise a bit.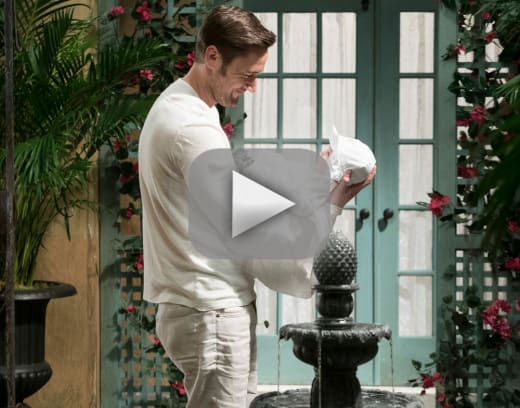 But without the full truth surrounding Liz's connection to Red, her story just wasn't complete, so it would have been weird to have her death stick.
The fascinating aspect behind Liz's true fate was the orchestrator: Mr. Kaplan. She was so concerned about the baby that she felt it necessary to go behind Red's back and take action. She wanted to save both Liz and Agnes, and the only way to do that was to keep Red in the dark.
But can you blame Mr. Kaplan? Can Red?
The dangerous situations Liz has been in time and again, not to mention the deadly assault on the church during what was supposed to be a happy wedding day, were proof enough that Red's involvement in her life put her at risk.
And yet, the real kicker of it all was that even though Tom and Agnes got to have a mini reunion with Liz, Mr. Kaplan's plan couldn't protect them from Alexander Kirk. It makes you wonder if she had clued Red in on the secret if he would have been able to make the situation any better.
But I liked seeing Red not knowing everything and having to play a bit of catch up. Not only did we get to see a more vulnerable side as he mourned the loss of Liz, but it forced him to see things from an outside perspective, and from one who was on the inside of his crew.
I can totally understand his anger toward Mr. Kaplan, especially feeling betrayed, but I hope he's able to forgive her and move on. Let's hope his emotions don't get the best of him and push him to killing her over it all.
However, the big twist on The Blacklist Season 3 Episode 23 — which I had been predicting might be the case — was that Alexander is Liz's real father. And while he hasn't revealed his DNA test to nix the "Red is Liz's father" theory, I'm feeling pretty positive Alexander is the real deal.
But does that mean Liz is actually in any danger? Or is that why Red took Liz away, to protect her from him?
The familial reveal opens some fascinating doors for The Blacklist Season 4, and the more Alexander opens up, the more it could distance Liz from Red. I was bummed we didn't get more past history about Red and Alexander, but I hope we really get to dive into it next season.
There's some definite bad blood and explaining to do when it comes to those two men.
After all, Red was perfectly OK in killing Alexander if he showed up for the hearing.
Though, it was interesting to see Ressler stand down after adamantly trying to stop Red. I'm wondering if Ressler will be as by the book as he has been in going forward.
But how did Ressler know Liz was alive? Did I miss how he got that knowledge?
Either way, it clues back in the FBI team, which will most assuredly put all their efforts into tracking Liz down.
Things may have started off a little slow, but the anticipation of finding out Liz's fate and what Alexander wanted had me invested in the finale. And sure, the reveals weren't overly shocking, but they opened up some very interesting doors for the future of the series.
I'm looking forward to seeing all the pieces come together when the series returns next fall, and I'm ready for some Alexander and Red face to face time. It should be a gas.
What did you think of the season finale? Were you surprised Liz is alive? Is Alexander really Liz's father? Sound off below, and as always, you can watch The Blacklist online at TV Fanatic!
Sean McKenna was a TV Fanatic Staff Writer. He retired in May of 2017. Follow him on Twitter.