BrainDead Season 1 Episode 3 Review: Goring Oxes: How You Can Survive the War on Government Through Five Easy Steps
Carissa Pavlica at .
As the hours pile up, the humor grows.
The fun intensified on BrainDead Season 1 Episode 3, and there were several laugh out loud moments spread throughout various cast members and across all political parties, proving neither Democrats nor Republicans have the monopoly on fun!
We also learned when two parties cross paths romantically, the sparks are palpable. Oooo weee!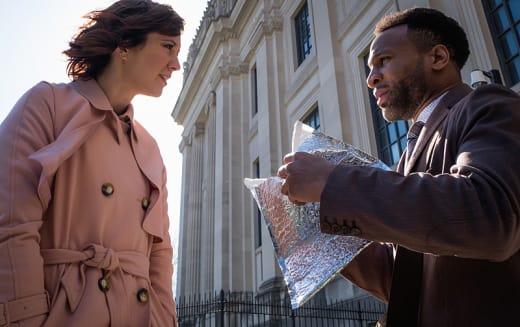 Hell, I know I'm talking to myself. Nobody is reading this.
What a shame. BrainDead has smoothed out into a really fun summer show. When there are several clips along the way that I wish I could post to point to how clever and appealing a particular actor or turn of phrase wound up, that's a good sign.
But I daresay I'd have better luck writing about Sunday night game shows on ABC. You all lost that lovin' feeling for BrainDead.
Carrying on, talking to myself, enjoying my own material, saying all the things I wanted to say while watching, wishing someone was sitting next to me.
No, no, Robert and Michelle King, I do not understand the titling of BrainDead. "Goring Oxes: How You Can Survive the War on Government Through Five Easy Steps" is a super long title and probably politically related. The alients ate that part of my brain. Well, at least they didn't fart! Whew. 
Thanks to the gal who recaps BrainDead over on Vulture for pointing out the critters should probably be called alients (I would have spelled it alieants, but I'm rolling with solidarity). That's clever, and we're using it.
She also enjoyed almost all of the same things I did, most notably the opening song, which DID return to entertain again. Honestly, it is so much more informative than the previously on clips, and for some reason, it's easier to remember what happened. 
That's coming from a visual person. If it's a trademarked thing, I hope someone gives the thumbs up to allow others to homage BrainDead by way of similar openings. If BrainDead doesn't live on (and I'm not saying I don't want it to by any means), it should, at the very least, be remembered for this.
The story started picking up. I almost thought for a second Dr. Bob had overtaken Gustav, maybe just because I wanted him to really use his constituent chat to note government was really big and ask for it to be smaller, with his fingers pinched up showing how small. That was a laugh out loud moment.
He didn't think things through, though, with his beer cup ears. First, I thought they could easily get through the crevices between his face and the lips of the cup. Then I worried about the kitty, which was obviously a valid concern. Why, why always the kitty???
Gareth, meanwhile, ascended to Red's Chief of Staff because his predecessor's head exploded on live television. Now, I'm not sure why so few people saw what happened, but if it were real life, all hell would be breaking loose.
The easy answer of "it was a stroke" would have even had normal folks scared to death they would be having this new, explosive type of stroke. Bug farts, though. So much for me trying to determine Republican, Democrat, intelligent, stupid. HA
I've not been saying enough about Tony Shaloub, but his bit about getting ducks in a row was hilarious. It felt like a tongue twister, and Shaloub's accent for Red makes everything sound a little bit more exciting. It's the way he says his Os. All those rows he was hoping to line up those ducks into. Wonderful.
The gloves are off between and within the parties. If the alients are involved it's a bit of a sh*tshow. Ella got an earful and suddenly took over the Whip position, so the infighting started for real. It led to us seeing Luke's wife for the first time. 
Luke is holding up his end of the Democratic womanizer cliche. Everyone is wearing a badge of some sort.
We also found out what happened to Stacy. She delivered one of my other favorite lines of the hour when Laurel tried to get to her humanity using her memories.
Stacy: He broke my heart. It was the worst night of my life. Why are you doing this to me?
Laurel: I just want to know that you remember.
Stacy: Why would I want to do that? Trump could be President.
The way she delivered that last line was brilliant. It might be my new go-to line for anything (for all parties...insert any political party dependent upon the conversation). Why, oh why?? _____ could be President!! Too much fun, you guys!
At least we know Anthony the FBI Flirter is still on Team Normal since he called in Luke to save Laurel. We'll take the wins while we can!
But the flirter won't stand a chance if Laurel and Gareth can stop pretending they don't like each other. Good golly Miss Molly, that kiss at the bar was incredible. It's not very often two actors get a tentative first kiss right, but Aaron Tveit and Mary Elizabeth Winstead put the bumps right onto the goose!
Looking forward to more romantic interludes to follow. And other stuff. Excuse me while I look down at the ground and shuffle some dirt with my shoe.
I can't wait to see what fun lines and goofy antics will be inserted into the next episode. Wish you were watching with me!
Carissa Pavlica is the managing editor and a staff writer for TV Fanatic. She's a member of the Critic's Choice Association, enjoys mentoring writers, cats, and passionately discussing the nuances of television and film. Follow her on Twitter and email her here at TV Fanatic.