Game of Thrones Season 6 Episode 8 Review: No One
Paul Dailly at . Updated at .
Arya Stark is going home to Winterfell!
On Game of Thrones Season 6 Episode 8 Arya had to literally fight for her life in order to secure her ticket out of Braavos and it featured some of the most exhilarating scenes on the show to date. 
All of the scenes with the House of Black and White have been pretty dull thus far, but all of the crazy drama tonight made up for it. I had to mentally prepare myself to lose Arya this week. 
Game of Thrones is one of those shows that loves to play with your expectations, so I'm thankful that Arya got to fight another day. I can't be the only one that gasped when she knocked that candle down. 
Lady Crane was starting to grow on me and I LOVED that she helped Arya out of that tough spot, but it sucked that she got such a brutal death. She deserved better. Why couldn't she just survive? 
Arya's speech to Jaqen was fantastic and I'm thrilled that she's returning home to Winterfell.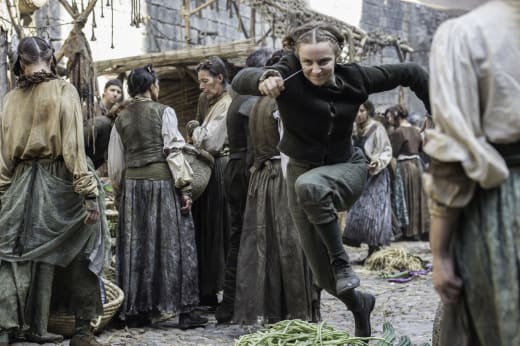 Fingers crossed Jon and Sansa have taken it back by the time she returns. It's time for a family reunion!
A girl is Arya Stark of Winterfell and I'm going home.


Arya
Things may have been looking up for Arya, but things went the opposite way for Cersei. 
The removal of trial by combat was a surprising one and all, but how much will it change the show? Cersei is no doubt frightened at how things could go for her during her trial.
How will she cope in the aftermath of this? Will she regret her decision to choose combat against Lancel? 
Over in Mehreen things took a crazy turn. Just when Tyrion finally got Grey Worm and Missandei to open up, the masters returned to reclaim their city. 
Anyone not drinking is disrespecting our Queen.


Tyrion
The Mehreen plot needed a jolt of energy to kick things into high gear and the battle scenes were amazing, but the return of Daenerys was so predictable. Did anyone seriously not see that coming a mile off? 
It's great that she's back and all, but how will she realistically get all of her people to safety? 
Both she and Tyrion are going to need their wits about them if they plan to get anyone out alive. Grey Worm's observation that they're best to stay at the temple was a logical one. 
I can't help but think that this will be the last we've seen of Mehreen until Game of Thrones Season 6 Episode 10.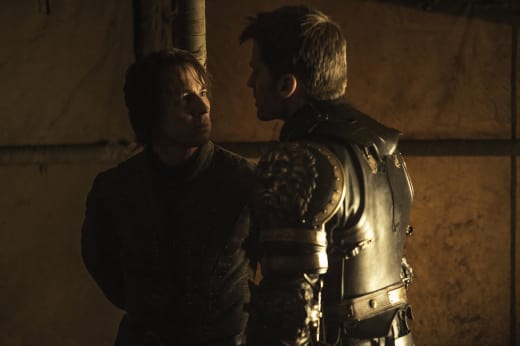 Jaime and Brienne finally came face-to-face in Riverrun and they had some serious conversations. I knew these two were going to meet back up, but I didn't expect them to be on good terms. 
The two of them have been a fantastic team in the past, but they both want different things. All Jaime is concerned with is getting back to Cersei in one piece, while Brienne is going crazy trying to honor Sansa. 
A key scene that highlighted just how strong Brienne and Jaime's bond was the one with the sword. Brienne was so sure that Jaime was going to take it back off her, so it was great she got to keep it. 
It sure seems like Jaime is getting somewhere with Riverrun. He effortlessly managed to manipulate Edmure and it was kind of great to see it play out. I am surprised that Jaime let Edmure go into the castle alone.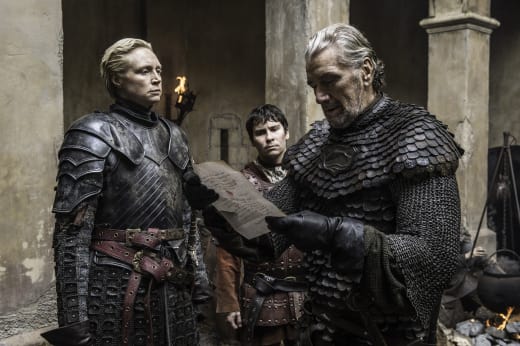 The Hound was out for blood after what happened to his people on Game of Thrones Season 6 Episode 7. It was interesting that he ran into the red priest again. 
He has a lot of history with the priest and it's clear he wants them to work together. Could the red priest have set up the killing of The Hound's friends in order to force him into a time of need?
We're left with a lot of questions as we head into the penultimate episode of Game of Thrones Season 6. We haven't had any big deaths aside from Hodor, so there's a high probability that we'll be losing some key characters as the season draws to a close. 
"No One" was a fantastic installment of this HBO drama. Sure, it was an overstuffed hour, but it was great and left us wanting so much more!
What did you think of the episode? Did you think Arya was done for? Hit the comments below!
Note: Game of Thrones Season 6 Episode 9 airs Sunday June 19 at 9 p.m. on HBO.
Paul Dailly is the Associate Editor for TV Fanatic. Follow him on Twitter.