Major Crimes Season 5 Episode 3 Review: Foreign Affairs

Jack Ori at . Updated at .
You have to give Major Crimes credit. It took on a gritty, topical issue that's sure to offend as many people as it inspires.
Even though the "terrorist" on Major Crimes Season 5 Episode 3 turned out to be a corrupt American soldier and not a member of ISIS at all, taking on an ISIS-related storyline still takes a certain amount of guts, especially after the recent tragedy in Orlando.
"Foreign Affairs" might not have done everything perfectly, but it brought up some issues that should get people talking.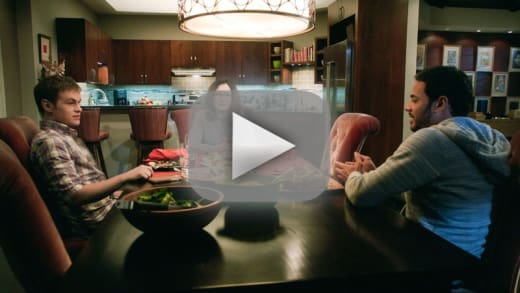 The high points of this storyline revolved around Provenza and his legendary crankiness and skepticism.
He doubted that the Major Crimes Unit would ever find the location, the victim or the perpetrator of this on-camera murder and he was among the first to doubt this was an act of terrorism.
Radio discipline from now on. We do not want the media listening in and learning about this body.

Provenza
The search scene felt especially realistic, with Sharon ordering the air patrol to stay in the area and Provenza leading the charge to hide a possible terrorist attack from the media for as long as possible.
It also seemed plausible, and sad, that the guys in the air had no idea what their mission actually was.
Without a court order you're not taking this body anywhere.

ME
As always on crime dramas, there had to be unnecessary friction between the FBI and local police. I hope that this is not the way it is in reality, but for some reason it's always this way on television.
At least it was kept to a minimum and Sharon was able to make something good come out of it by handing over the video footage Buzz needs to investigate his dad and uncle's murder.
How does everyone feel about the murderer turning out to be a US soldier who stole money from the Army and not an actual terrorist? I'm divided on this. On the one hand, terrorism is an important issue and it's important for crime shows -- even fictional ones -- not to minimize its importance with convoluted plots.
On the other, there's more than enough real life examples of law enforcement assuming that any attack that seems vaguely like terrorism has something to do with Islamic radicals, which causes problems for Muslims not allied with ISIS or similar groups.
So having Major Crimes drive home the point that it's not always ISIS may help dispel that.
It wasn't ISIS at all. Just a regular sociopath, thought there are similarities.

Sharon
In any event, the hour touched on a lot of important issues, everything from veterans getting substandard care after returning from the Middle East to the problem of racial profiling in terrorism and similar investigations. I was pleasantly surprised that the nightclub owner's son had nothing to do with the crime.
With all the anger the boy had against the police for profiling Muslims plus his father's attitude that he was an American, not a Muslim, it would have been predictable and stereotype-reinforcing for him to have committed an act of violence to make his point. 
Rusty: That baby should be put up for adoption. I am not wrong here.
Sharon: Not being wrong is not the same as being right.
In the midst of all of this political turmoil, there was more of this silly Rusty storyline.
First of all, Rusty is right. It's not his place to tell his mother what to do with her pregnancy, but she made it clear last week that she only wanted to keep the baby if he chose to help her support it.
That is not his responsibility and it's not fair for her to put her reproductive decisions on the shoulders of her 20-year-old estranged son.
Perhaps your mother has reasons for keeping this baby that have nothing to do with you.

Sharon
Sharon's alternate explanations of why Sharon B. wanted the baby were not good ones either. Having a baby in order to have a reason to stay sober is a recipe for disaster and not any better than having a baby to make amends for her past treatment of Rusty.
The bottom line is that Sharon B. is unstable and the baby is likely to end up in foster care or on the streets anyway, and Rusty has every right to voice that opinion.
Dr. Joe needs to stop having therapy sessions in the hall where anyone can hear, and to direct the conversation in a better direction when there's more than 30 seconds left in the session.
I'm not sure which was more annoying, this entire storyline or Rusty's condescension towards Gus because Gus doesn't want to go to college.
Rusty and Gus seem very mismatched. He doesn't approve of Gus as he is and is doing the teenage thing of falling in love with someone in order to try to change them. For the love of all that is holy, can the writers please end this relationship now? It's doomed to failure and watching them try isn't entertaining; it's torturous. 
In the last few minutes of the hour, Rusty received the video from Buzz with a warning that he may not want to watch. We'll find out why when Major Crimes returns on July 11; in the meantime, I wondered if Gary is going to turn out to be the killer or if it is going to be someone unrelated to Rusty's family drama.
What did you think of "Foreign Affairs?" Did you think Major Crimes did this topical case justice? How soon do you think Rusty and Gus should break up?
Weigh in below, and don't forget that if you missed anything you can go back and watch Major Crimes online.
Jack Ori is a senior staff writer for TV Fanatic. His debut young adult novel, Reinventing Hannah, is available on Amazon. Follow him on Twitter.