Scream Season 2 Episode 5 Review: Dawn of the Dead
Paul Dailly at . Updated at .
Lakewood teens sure have a thing for causing trouble.
On Scream Season 2 Episode 5, the school was in lockdown after Jake's body showed up. 
All of the stuff with Jake's cell phone just felt like a way for the writers to put a wedge between Kieran and Emma. Sure, it sucked that he had to come clean to Miguel, but that was the only way he would be able to remain in the school.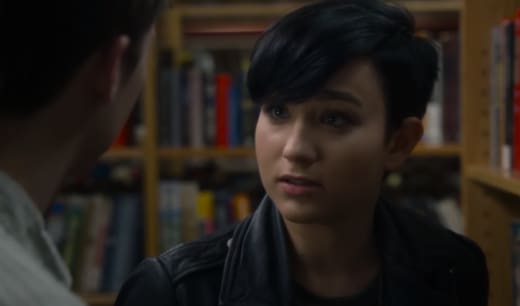 Surely Emma would understand this, but since the show is trying to throw in a love triangle between Emma, Kieran and Eli, we should have expected it. 
Teen dramas sure have a knack for throwing in all of this unnecessary drama our way, and Scream is starting to test my patience. 
There is just no chemistry between Emma and Eli. Eli has got to be one of the worst characters on TV. He's blatantly present to stir the pot, and if Emma pursues a relationship with him, I'll probably be done with the show for good. 
The scene with Emma not being scared of the killer was so anti-climactic. It should have been longer. Emma needs answers in order to move on, but she needs to evaluate the evidence with Noah and crack the case before it's too late. 
Let's talk about Noah. He's meant to be the this fountain of knowledge for horror movies, so it's pretty surprising it took him so long to suspect one of the Lakewood five. 
Audrey's ever-changing mood should have been a cause for concern much sooner, but there's no way that Audrey is going to go down without a fight. 
Look at the way she went after Gustavo. Any way you look at it, whatever Gustavo was up to was pretty darn shady. Why would anyone take joy in drawing pictures of your peers being brutally murdered?
Something isn't right with him and it's clear that his father feels the same. This family is probably going to have more secrets than Maggie Duvall. 
Miguel shouldn't have been going through the cell after taking it from Jake's body. He should have waited a while, but it's clear he thinks the killer is in the school. 
It should be interesting to see if he goes after Mayor Maddox. That guy's a douche, so it's about time he got in trouble with the law. 
All of Brooke's scenes tonight were emotional on so many levels. She never in a million years expected Jake to be dead. She thought he would just randomly pop back up. 
The news that Jake had been dead for over 48 hours was enough to tip her over the edge, and that's why she went to the pool. She could vent there without anyone else knowing. 
That was the last place she saw him, so it made sense. 
As much as I hate Miguel, I agreed with his decision to take Maggie off the case. Everyone and anyone could be suspects, so they need someone who doesn't know the students on a personal level.
"Dawn of the Dead" wasn't my favorite episode of Scream. The show has suffered this season from waiting too long to reveal there's another killer to the full cast. Hopefully with Noah now in the loop about Audrey, he'll help crack the case. 
Remember you can watch Scream online right here on TV Fanatic. Get caught up now. 
What did you think of the episode? Will Audrey manage to take Noah out of the equation before he exposes her? Hit the comments. 
Note: Scream Season 2 Episode 6 airs Tuesday July 5 on MTV
Paul Dailly is the Associate Editor for TV Fanatic. Follow him on Twitter.