UnREAL: Renewed for Season Three!
Paul Dailly at . Updated at .
Everlasting will have another opportunity to bring two people together next year!
UnREAL has been renewed for Season 3!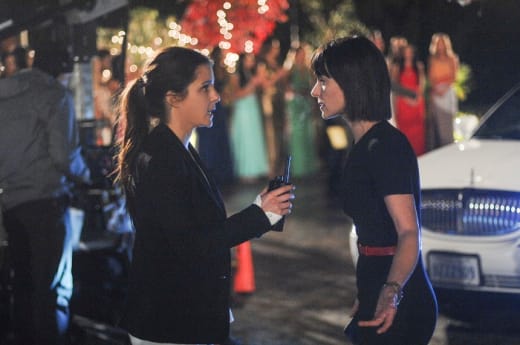 The news comes days before the premiere of UnREAL Season 2 and we couldn't be more excited. 
It's one of the best shows on all of TV and it's great that Lifetime are not worrying about the live ratings. 
UnREAL Season 1 averaged just 700,000 viewers per week for Lifetime, but that number swelled to 3.7 million viewers across all platforms. 
That's a huge difference and it shows the show is being talked about. 
It's constantly winning awards and the show genuinely deserves them. 
For those of you who have been living under a rock, UnREAL stars Constance Zimmer and Shiri Appleby as the two woman who make love happen. 
They really do. 
Both of their characters have a lot of stuff going on in their personal lives, but it doesn't stop them from making a kick ass show. 
UnREAL Season 2 will find the two woman working on the latest season of Everlasting, but they're changing things up a little. 
In a blatant dig to The Bachelor/The Bachelorette, the show is having the first ever African-American suitor. 
"UnREAL is that rare series that redefines a network," Lifetime EVP Liz Gateley said in a statement.
"It not only reflects culture, but pushes culture forward by creating television's first female antihero. The overwhelming fan and critical reaction set the bar incredibly high, but the writers and executive producing team, coupled with the outstanding performances by Shiri Appleby and Constance Zimmer, have taken the second season to even greater creative heights."
"We are thrilled about the new ground we will break with Season 3 while continuing our work with the incredible A+E Studios as we together build Lifetime's Fempire."
If you think that the show won't be able to top itself this time round, you're wrong. 
We were lucky enough to get to watch the first two hours of the new season and it's still that fantastic show you watched last year. 
Remember you can watch UnREAL online right here on TV Fanatic. Get caught up before the new season!
What do you think of the renewal? Are there any characters that you'd like to see come back?
Hit the comments!
Paul Dailly is the Associate Editor for TV Fanatic. Follow him on Twitter.