Animal Kingdom continues to push boundaries, being gritty for the sake of being gritty, and trying to shock its audience with every turn.
On Animal Kingdom Season 1 Episode 5, the family plans a new job, J's relationship with his teacher continues to become inappropriate, and we learn a surprise about Deran as he breaks away from the rest of the family.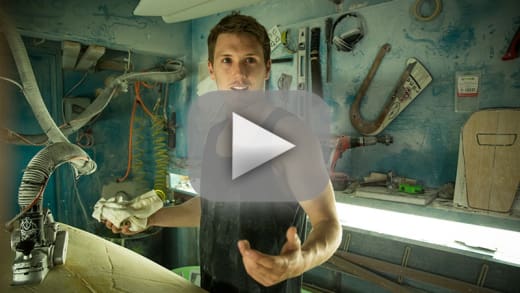 We also see where the rest of the season is likely headed, as it looks like someone is finally on to the Cody family.
Generally, I think Animal Kingdom is overdoing it when it comes to shock value, going for the raunchy and uncomfortable when it could be focusing more on character development and storytelling.
Sure, the character development is there, particularly with Deran in this episode.
That's a scene where the shock value seems to work, since it's part of his story – Deran has been sleeping with another man, but the last person he wants to find out about that is Smurf.
And it looks like he'll do whatever he can to keep her from finding out.
He's basically run away from home, and that's a major reason why. Of course, he also swears he's had enough of Smurf controlling everything.
But at the end of the day, he's still a mama's boy, and you can bet he'll go right back home.
They're all mama's boys, and no matter how upset they may get over how she runs things or what she won't let them do, these guys are going to remain loyal to her.
Smurf knows how to play the sweet grandmother card when she needs to, blaming herself when Nicki's dad is upset to learn she's been spending the night there. Of course, her fix is to invite them over for dinner, and who could turn her down? She's seems so sweet.
It's amazing how Smurf can be maternal one moment and so hardcore the next.
Baz is such a charmer. He handles dinner with Nicki's parents with no problem, helping to make them feel like this is a normal, wholesome family. It seems to work. but it might not be so successful after all.
There's a clear power struggle between Baz and Pope. Baz has been the one Smurf is able to count on, the one with a clear head. But now with Pope in the mix, there's a new conflict. Not only are they both struggling for power, but they're also essentially fighting for mom's attention.
The whole thing with J's teacher just takes everything a step too far. She leads him on inappropriately until he finally shows up at her house and kisses her. She dismisses his advances, telling him they can't.
At first this seems like unnecessarily plotline with the only purpose of adding even more shock value to the show. But, as an interesting twist, it turns out she's been working with a detective to find out more about J and his family.
Trouble is definitely coming, since it seems like someone is finally on to the Cody family.
What did you think of this episode of Animal Kingdom? Share your thoughts in the comments below!
Need to catch up on past episodes?
You can always watch Animal Kingdom online right here via TV Fanatic! Watch online now!
Ashley Bissette Sumerel was a staff writer for TV Fanatic. She retired in September 2017. Follow her on Twitter and on Google+.