Last week, our discussion was all about how sexy Booth looked in his glasses in our Bones round table but things are about to take a much darker turn. 
I just watched my screener of Bones Season 11 Episode 22, the season finale, and trust me, you're not going to want to miss it. 
Where some shows begin to lose steam towards the end of their run, Bones is at the top of its game with its creepiest and most personal serial killer story ever. 
If you want to go completely SPOILER free, I'd suggest you stop reading now!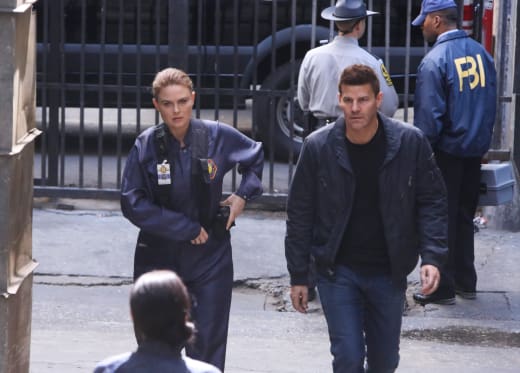 But if you want a taste of what's to come, read on…
The Puppeteer claims another victim.
Hodgin's recovery continues to make progress in an unexpected way.
Something in Brennan's subconscious is causing her to have nightmares.
Brennan does something she's said she doesn't believe in.
I figured out who the killer was, but not until very close to the end.
The twist is truly shocking…and awesome!
Despite the drama, Booth and Brennan are on as solid ground personally as they have ever been.
Brennan is terrified for her family's safety.
This is creepy to the power of ten.

Hodgins
I was literally yelling at my screen at the end. 
The only thing that disappointed me while watching this episode was remembering that Bones Season 12 doesn't start until early 2017!
Tune in for tonight's season finale and then check back here for my review of Bones Season 11 Episode 22. 
If you need more, you can watch Bones online here at TV Fanatic. 
C. Orlando is a TV Fanatic Staff Writer. Follow her on Twitter.