Suits Season 6 Episode 2 Review: Accounts Payable
Paul Dailly at . Updated at .
Can someone please let Mike know that it's okay to accept help?
On Suits Season 6 Episode 2 Frank got the better of Mike and attacked him, but Mike was rude to Harvey practically every step of the way. 
Let's begin with that big moment at the top of the hour. Mike was letting his imagination get the better of him. He should have been wiser about snapping at Frank. 
This is what Frank wants: he wants it to look like Mike is the loose cannon. That's what could ultimately add time to Mike's sentence. I totally understand why Mike is pissed with Harvey, but at the same time, Harvey is doing everything in his power to ensure Mike is safe. 
Mike dismissing Harvey was just plain rude. It's not like anyone else is stepping in with a plan to get rid of Frank. I've been one of those viewers that gets defensive when people complain about Mike, but he's honestly beginning to test my patience. 
As much as Mike could have been nicer to Kevin, I'm still getting the feeling that the dude is only extending the olive branch to go against Mike down the line. 
This is the same dude that left the room in order for Frank to get up to speed with Mike's life. There's every reason to believe that Kevin could actually be good, but he's not out of the woods yet. 
I'll reserve further judgment on him for a few episodes. That cell phone could come in handy. 
Harvey's meeting with Frank was gold. Harvey is one of those people who wants to see results, so he'll step up his plan if he doesn't. 
Rachel really needs to get a hobby. Losing a loved one for an extended period of time would be tough for anyone, but her whining is starting to wear pretty damn thin. 
Does she really think that Harvey would put Mike in danger? He's done nothing but look out for Mike from the get go. She needs to have a little faith that everything's going to be okay. 
It was nice of Donna to get Rachel on the visitor list, but the meeting didn't go forward because of the earlier fight. Rachel trying to sway the prison worker into letting her in was great, but Rachel needs to stop flashing her card around. 
There could have been anyone there waiting to visit who could have been under strict orders to harm Rachel. That's how low Frank would probably go. 
It's crazy just how nice he came across on Suits Season 6 Episode 1. What a difference a little time makes.
Things were really rocky at the firm. It was great how Louis came up with the idea to order film extras to fill the office. I was so sure the woman with the hot towels was serving them all. 
Am I the only one that had ZERO sympathy for Jack? Throughout the series, he's been one of those characters that floated wherever the power is, and that's what he's doing now. 
I smiled a little when I realized he didn't have the money for the buy in, but I thought it was really big of Jessica to change her mind. She did have a point; having enemies right now isn't a good thing. 
Don't even get me started on Elliott. He so desperately wanted to be the new Louis and failed, so he really needs to disappear. He's boring. 
"Accounts Payable" wasn't the finest hour of Suits. I'm concerned about the whole prison storyline. If it's going to be the same thing every week, then it's pretty pointless. Hopefully I am proven wrong. 
What did you think of the episode?
Remember you can watch Suits online right here on TV Fanatic. Get caught up on all the drama now!
Note: Suits Season 6 Episode 3 airs Wednesday July 27 at 9/8C on USA Network
Here's your first look at the next episode: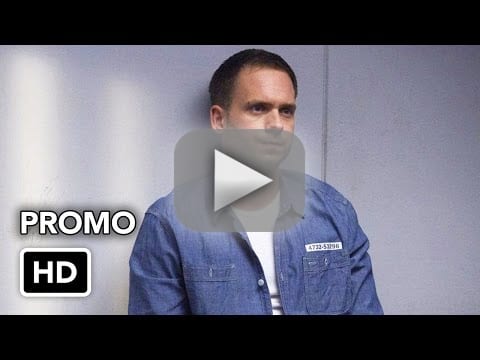 Paul Dailly is the Associate Editor for TV Fanatic. Follow him on Twitter.