Wayward Pines Season 2 Episode 7 Review: Time Will Tell

Stacy Glanzman at . Updated at .
CJ must be the loneliest man in the whole world. 
Can you imagine him waking up alone every twenty years or so to check on the state of the world, almost never coming into contact with another human being?
How did he get stuck with the crap job of figuring out when to wake everybody up and start building?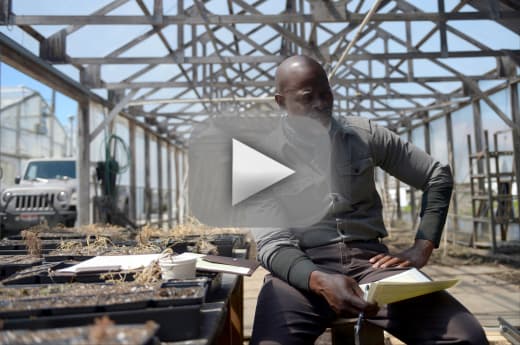 The real question of course, is did he pick the right time? 
On Wayward Pines Season 2 Episode 7, we watched CJ wake up over and over again until he finally woke up Pilcher. The two of them almost immediately encountered their first abbie. CJ's instincts were to leave them alone and possibly even go back to sleep.
Pilcher, on the other hand, was ready to build over their settlement and design the electric fence. 
We saw in the beginning of Wayward Pines Season 2 Episode 6 that Pilcher initiated the attacks. The man who supposedly saved the human race is also the one who may have doomed them.
We've discussed this season's numerous plot holes to death, but there's no denying that this is starting to get really interesting. I found myself sucked in as Theo was trying to communicate with Margaret, and I surprisingly liked watching Megan work with him. 
She may not have completely agreed with his tactics, but at least she gave him a chance. 
I know we were all ready to kill Jason after he started shooting in cold blood. We're all rooting for the abbies to rip him to shreds by the end of the season, right? 
I mentioned that we were running out of holdovers from the first season, and they really are dropping like flies. 
Megan's death was shocking and gruesome. It probably shouldn't have been as surprising as it was, considering Theo did leave her alone, and we all probably had a hunch something was going to happen, but the way it was shot was so well done. 
Megan not being able to feel the cut, and not realizing what was happening until she felt dizzy and saw the growing pool of blood had to be terrifying. At least she didn't feel any pain. 
Megan: We are rebuilding the world.
CJ: I know, I saw the world fall. All of it. I watched it. Alone.
CJ's story was really interesting, and it was nice getting some background on him. His hallucination during the chess game was pretty heartbreaking. I'm curious though why he was never around at all during the first season.
Obviously, I know the character hadn't been created yet, but I thought maybe they were going to show us that he put himself back in the chamber for awhile, or just simply isolated himself somewhere – something to explain his absence during the events of Wayward Pines Season 1. 
I know in the beginning we were calling Theo the new Ethan, but he's turned out to be a very different character. I wasn't sure about him at first, but he's really grown on me. The season got off to a slow start, but these last two episodes have really gotten the story moving. 
A big part of that is we haven't had to deal with annoying side stories like Frank and his sister not wanting to procreate, or just kids in general being forced to have babies. They're still sprinkling it in as if they're worried we might forget about the number one rule in Wayward Pines, but that's clearly not going to happen any time soon.
I'm not sure anyone cares anymore why Kerry and Rebecca don't have kids. There's just too much else going on to entertain us.
It's a cruel joke, isn't it? Here we are, last of our species, best of what's left. We can't even climb out of our own ruins and save ourselves. You may be Jason's replacement, but they're ours.

Adam
We've only got a few episodes left, and I feel like this could go one of two ways. Either Theo is successful and they can come up with some sort of peace treaty with the abbies, or Adam's cryptic "they'll replace us" mantra comes true. 
Either way, I don't see how they can squeeze out another season beyond this one. It has to end here, one way or the other, right? 
Wayward Pines Season 2 Episode 8 will focus on Theo and Adam trying to track down Margaret. Will she leave more bodies in her wake before they do?
If you need to catch up, you can always watch Wayward Pines online!
Stacy Glanzman was a staff writer for TV Fanatic. She retired in March, 2019.