Rizzoli & Isles Season 7 Episode 11 Review: Stiffed

Jack Ori at . Updated at .
Change is in the air!
Jane is moving to D.C., Tommy is moving back home and Maura is dealing with living patients. 
Rizzoli & Isles Season 7 Episode 11 did a great job of starting to tie up loose ends as the series moves towards its conclusion.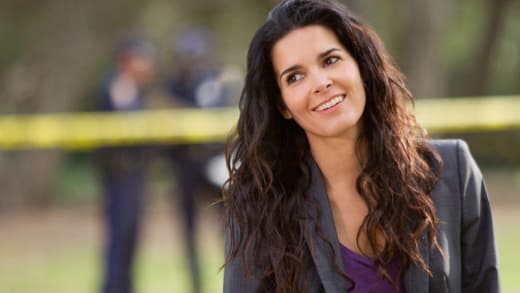 Although there was a murder to be solved as usual, a good deal of time was spent on everyone's reactions to Jane's move to D.C. to become an FBI instructor.
I never thought that you being safe would mean you moving 500 miles away.

Angela
As expected, everyone was pretty sad even though they are happy for Jane. Angela's reaction was typical Angela, starting with her sadness and moving onto how proud of Jane she was and how happy she was for her.
Everyone else tried to be happy first and quietly admitted that they would miss her when forced to (not miss her, but admit it!).
All of these goodbyes were moving in their own way. My favorite was Vince's.
I'm happy for you. And I don't want to make you cry, but I'll miss you.

Vince
Both Vince and Jane teared up when she revealed the reason she hadn't told Vince about her career change yet was that she couldn't do it without crying. It's ironic that Jane has spent so much time obsessively worrying about what life will be like after Vince retires, yet she is the one who is moving on.
Maura, too, was upset that Jane was leaving, especially after getting her support during a crisis of her own. The scenes between her and Jane, as well as Maura's admission to Vince that she wished Jane was staying in Boston, were heartfelt and moving.
And Angela. Poor Angela. I was wondering how she is going to function when Jane leaves.
Luckily for her, Tommy came back to town.
Tommy. If I told you once, I told you 100 times. There can't be too many Rizzolis.

Angela
The Tommy/Lydia story is one I never really paid attention to because there was just too much back and forth. Apparently Lydia is gone again, this time for good.  Angela will have a grandson to dote on and a second son to drive nuts, one who is going to be living in Jane's townhouse.
So now that Angela's been taken care of, what's left?
I know empirically that there's nothing I can do, but I can't stop feeling responsible.

Maura
For one thing, Maura will probably work full-time at that clinic. Her struggle with dealing with a terminally ill child – and her inability to accept the role the unexplainable plays in recovery – were one of the most moving storylines this show has had in a while. 
It was predictable that the baby would spontaneously recover, as that tends to happen on television shows where there's a doctor who doesn't believe in a higher power and a family that does. That didn't make it any less moving, however, especially because Maura was not happy that science did not save the day.
Maura: Well I still am not going to say it was a miracle.
Jane: That doesn't mean that it wasn't.
Maura and Jane's conversation at the end about everything happening for a reason and that being an unscientific philosophy helped fill the hole in my heart from a lack of Jane/Maura time over the past year or so. It also will probably help Maura return to the clinic with more of a sense of purpose.
I want us to be like this forever. Nina Holliday, will you marry me?

Frankie
Frankie's proposal to Nina seems rushed – didn't they just start dating? It was a sweet moment, but if the series wasn't ending there'd probably be more time to develop this.
I did not hurt my brother. We said good night and I went bowling. That was the last time I saw him.

Ms. Mason
In between all of these sweet goodbye scenes, there was a strange case. Vince's comment that this was going to be weird was amusing since almost all the cases on Rizzoli & Isles are weird.
This one was particularly weird. The murderer's motives still aren't clear. Was he a psychopath who preyed on beautiful people? Was he getting some sort of bizarre revenge against Sam Mason and his family? 
It was sad that the murderous Eddie was someone who had been taken in by Sam when he had nobody. It would have been sadder still had there been a clear reason for his crimes related to that painful past.
This was incidental, however. The case of the hour was more or less filler while the real story was Jane's impending move.
What did you think of "Stiffed"?  Did the solution to the case make any sense to you? Which goodbye did you find most moving?
Weigh in below, and don't forget that you can watch Rizzoli & Isles online if you missed anything.
Jack Ori is a senior staff writer for TV Fanatic. His debut young adult novel, Reinventing Hannah, is available on Amazon. Follow him on Twitter.