Fear the Walking Dead Season 2 Episode 11 Review: Pablo & Jessica

Steve Ford at .
That escalated quickly.
On Fear the Walking Dead Season 2 Episode 11, the two factions residing at the hotel worked together on clearing the infected. Also, at the colonia, Nick pulled his weight and shared some intimate moments with Luciana.
This was a decent episode, and a whole lot better than the clunker we got with Fear the Walking Dead Season 2 Episode 10. This is mostly because Travis and Nick were nowhere to be found. I really enjoy this series when it ignores those two characters. Just saying.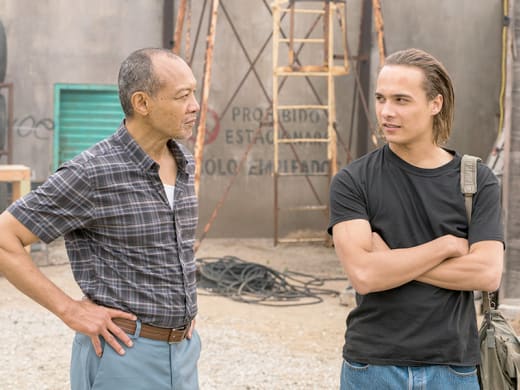 I am happy we got to see how Madison and Strand were able to escape the infected bar fight from the end of Fear the Walking Dead Season 2 Episode 9. Madison cutting into the infected and taking notes from Nick was great.
Strand wasn't too thrilled about bathing in infected blood, but I can't say I blame him. However, it did get them past those infected rather easily.
They also found out someone took their truck. Who you think it was? Ofelia seems to be the likely candidate since she has been AWOL for the last few episodes. To be honest, I don't really miss her presence much on the show.
The negotiation between Madison and Oscar was interesting. I enjoyed the bluntness of Madison and telling Oscar how things are and how they're going to be, regardless on whether he helps them or not. It may have came off very ballsy of her, but in the end she ended up with the keys to the hotel.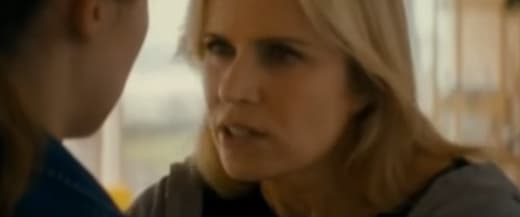 Strand: You sure about this?
Madison: I'm tired of running Victor
The clearing scenes were enjoyable, although the plan came together all too perfectly. Not even a hiccup, and all the infected just followed Madison right off of the pier, just as planned. However, it was cool to watch the infected dive into the water. They had nice form, but were a little rough on the landing. I give them an 7.3 overall.
It was good to see the two factions come together for a common goal. However, I wonder how Elana and Hector will be received by Oscar and co now that the hotel is cleared.
Finding out Oscar was keeping his infected wife Jessica alive was sad. It was reminiscent of The Governor doing the same with his daughter Penny in The Walking Dead Season 3. You can't blame them for trying to hold on to the last piece of their old lives.
Strand offering to put Jessica down for Oscar was a nice show of empathy on his part and wanting to spare Oscar the grief of watching someone they love die a second time. Strand is starting to shed his unselfishness.
That is not your wife.

Strand
Nick's continuing adventures at the colonia are always fun to watch. I loved how he used his experience as a junky and use Alejandro's equipment to make fake pills to by them some time in the medicine shortage. It won't solve the problem, but at the very least will buy them some time.
Nick further questioning Alejandro on his bite mark was intriguing. At first, Nick wasn't willing to believe the possibility of being bit and not turning. However, Alejandro has a way with words and convinced me just as much as Nick that he likely was legitimately bitten by the infected.
While I was beaten by the living, I was bitten by the dead.

Alejandro
It's not that difficult to believe when you think about it. There are plenty of people that are just immune to certain disease and viruses. What makes this any different? We still don't know how the outbreak started or how it was even created. So, could an immune individual contain the remedy for an antidote in their blood?
It's a fun theory to play around with, but supposedly there aren't many scientists or labs left to actually entertain that idea.
Watching Nick play soccer with Luciana and the children was a nice break from this world of death. Seeing Nick have some fun and forget about the worries of the world, if only for a few minutes, was something he needed.
Come to find out, afterwards Alejandro would get word that Luciana's brother Pablo has been killed. It was no surprise that Luciana and Nick hooked up at the end of the hour, especially since they have been bonding and sharing little moments together in scenes and it was hinted at since they first met.
There is an undeniable chemistry between them and it works on camera.
This was an enjoyable hour of television, although it did drag on at times and the plan with luring the infected out to sea came together a all too perfectly. The second season as a whole has improved from Fear the Walking Dead Season 1, and I look forward to going into the home stretch with the last few episodes of Fear the Walking Dead Season 2.
What did you think of "Pablo & Jessica"? Hit the comments below!
Remember, can always watch Fear the Walking Dead online right here at TV Fanatic!
Fear the Walking Dead returns Sunday, September 18 with a new episode on AMC at 9/8C.
Steven Ford is a staff writer for TV Fanatic. Follow him on Twitter.