NCIS: New Orleans Season 3 Episode 2 Review: Suspicious Minds
Dale McGarrigle at .
Elvis lives in New Orleans!
The Elvis in this case is Elvis Bertrand, a former Navy analyst turned paranoid hacker who is at the center of the murder mystery in NCIS: New Orleans Season 3 Episode 2.
You see, Elvis was the big winner in a floating poker game on the Creole Queen, until he left the cabin for a short time, only to return and become the big loser, as his three fellow players, including Navy Lt. Commander Henry Warbeck, were shot in his absence. Elvis flees, which leads to him becoming the FBI's primary suspect.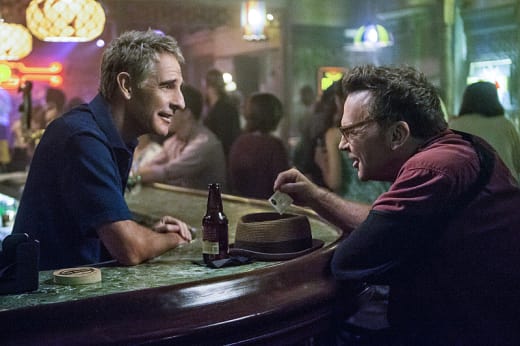 Fortunately for Elvis, King Pride has been bailing him out for years, and he knows that Elvis is innocent. So it's a race to see who can find Elvis first, Pride or the FBI.
I'm going to go find Elvis before you, or your cavalry, put a bullet in him.

Pride (to Gregorio)
So there's a lot of NCIS and the FBI getting in each other's way, when working together would have solved things quicker. After all, the feds from Washington don't know N'Awlins, so wouldn't you think they'd take a little advice from the locals?
But no. First LaSalle and Percy, or as FBI Executive Assistant Director Raymond Isler calls them "Butch and Sundance," badly tail FBI Special Agent Tammy Gregorio (is Vanessa Ferlito the first actor to star both the CSI and NCIS franchises?). Much arguing ensues.
But eventually Gregorio, not her stick-in-his-butt boss, sees the wisdom of those who actually know the local terrain.
They team up with Elvis to unveil the actual mastermind. No big surprise, it was Warbeck's girlfriend Grace, about the only character left that it could be. Not the most involved mystery.
Tom Arnold's Elvis was an intriguing character, one that I'd like to see again sometime. This spin-off needs its own stable of recurring characters, especially in such a colorful setting.
You're always going to be one of the good guys, no matter how far off the reservation you go.

Pride (to Elvis)
Still the mystery was actually the lesser part of this episode. The real purpose was to find a way to integrate Gregorio, who stood up to her boss in defense of the locals, into the NCIS team, to replace Brody, who will be missed. Too bad personal reasons dragged Zoe McLellan away.
But maybe this will be the change that helps NCIS: New Orleans find its stride.
NCIS: Los Angeles took a couple of seasons to find the right pieces, and New Orleans just isn't there yet. How about pumping up the local flavor more? I'm not looking for "Treme," but take advantage of filming in the Crescent City.
An  enjoyable subplot is the vacillating relationship between LaSalle and Percy. Are they partners? Friends? Something more? NCIS: Los Angeles already has that partners-as-lovers scenario ongoing, so let's put this subplot to bed (oops, poor choice of words).. 
We're a team and we've got to be able to trust each other. I can't even reach for my water without you jumping out of your skin.

LaSalle.(to Percy)
Also, let's hope the producers don't have the mysterious cartel subplot linger. it could develop into something interesting, but it doesn't grab me nearly as much as the white supremacists in NCIS: New Orleans Season 2 or the Broussard Syndicate in NCIS: New Orleans Season 1. 
To catch up on Season 3, watch NCIS: New Orleans online.
What do you think NCIS: New Orleans needs? Are you tired of the FBI already? How about the cartel? Enter your comments below.
Dale McGarrigle is a staff writer for TV Fanatic. Follow him on Twitter.