American Horror Story Round Table: What Just Happened?

Caralynn Lippo at .
Shelby and Matt Miller's story appeared to come to an end with the conclusion of American Horror Story Season 6 Episode 5. And yet... we still have another five hours of the season to go.
With their miraculous escape from the Butcher and her minions (thanks, Lee and Ambrose!) after the horrifically gory events of American Horror Story Season 6 Episode 4, there is seemingly nothing left to tell.
But the very brief teaser for American Horror Story Season 6 Episode 6 indicates that we'll be moving behind the camera for the back half of the season – an interesting twist that would nicely explain exactly why we were dealing with this unusual docu-series format for the past five installments!
In other news, two veteran American Horror Story actors returned in new roles, much to this viewer's delight.
Join TV Fanatics Paul, Yana, and Amanda as they discuss the returning actors, Scathach's pointed absence, who the MVP of "Chapter 5" was, and more!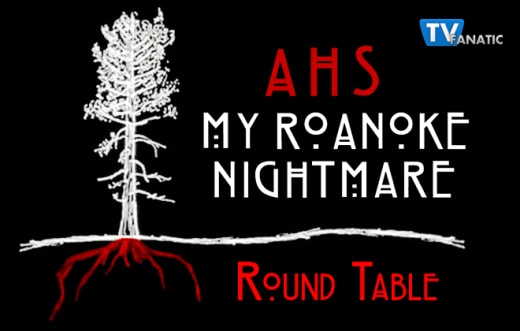 Two AHS vets were reintroduced as new characters – Frances Conroy as Mama Polk and Evan Peters as Edward Mott. Which did you prefer and why?
Paul: Evan Peters, because EVAN PETERS! We've waited too long for him to make his grand entrance, and it did not disappoint.
Yana: Evan Peters never disappoints, because he's perfect in every role. But I was kind of upset that he wasn't the Pig Man. That's all I wanted, so I was shocked that I couldn't hope it into happening. Mama Polk was a huge surprise, and the whole cannibal bit and Elias kill were very memorable.
Amanda: Evan Peters, of course! Fans kept wondering when he would show up, and I was in the camp that thought he would turn out to be Pig Man. I also have to give a shout out to Frances Conroy, because she nails whatever role she's given.
Shelby and Matt (apparently) escaped their "Roanoke nightmare" unscathed. What did you think of that resolution? Is it really over?
Paul: As much as it may seem to be over, it's not. I think they could check in to the Hotel Cortez in the next episode.
Yana: I'm predicting that the camera crew goes to film the reenactment in the house, because they either want real footage of it or are just stupid. Then, that'll be where the story continues, because the spirits are still on the property.
Amanda: The camera crew is definitely going to explore more of the house. I don't know how Matt, Shelby, and Lee will factor in going forward, but maybe they didn't tell the crew the entire truth...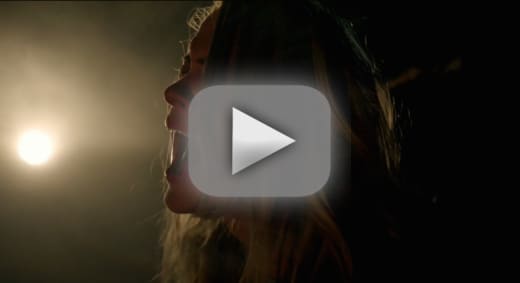 We didn't see Scathach (Lady Gaga's forest witch) at all. Where was she? Speculate.
Paul: Maybe she was away having a wash? She needs it.
Yana: Giving birth.
Amanda: Having a demon baby, for sure!
Who was the MVP of "Chapter 5"?
Paul: Lee. She turned up right when she was needed to in order to save her family.
Yana: Evan Peters because I didn't know how much I needed him on the show until we didn't have him for half of the season. He didn't have a big role, but he still stood out with what he was given.
Amanda: Evan Peters. He seemed to love playing this character, and it definitely showed.
The promo for next week seems to indicate a total perspective switch. What do you think is going on, and how will they finish out the second half of the season?
Paul: I think somehow the family will be pulled back into the nightmare. There's just no way it can be over already. Right?!
Yana: I'm still thinking the camera crew will get involved and new characters will blend with the old. I do think the Miller family had their story concluded and they won't be making more appearances. It was like they were wrapping it up this week and passing the torch over to another poor group of people who have no idea what they're in for.
Amanda: I don't think we've seen the last of the IRL versions of Shelby, Lee, and Matt. There may be more to story that meets the eye, and the camera crew is going to find out.
And now, it's your turn! What did you think of "Chapter 5"? Hit the comments below with your responses to our round table questions!
American Horror Story Season 6 Episode 6 airs on Wednesday, October 19th at 10/9c on FX.
Caralynn Lippo is a staff writer for TV Fanatic. Follow her on Twitter.