It felt like everyone was part of the hustle on Blue Bloods Season 7 Episode 5 but some cons were more complicated than others. 
First there was Karina who was conned by her own family into thinking she was a legal U.S. citizen. That left me with several questions. How exactly had she gone through her adult life without having to show a birth certificate, and even if she had a fake one, why didn't her family show it now?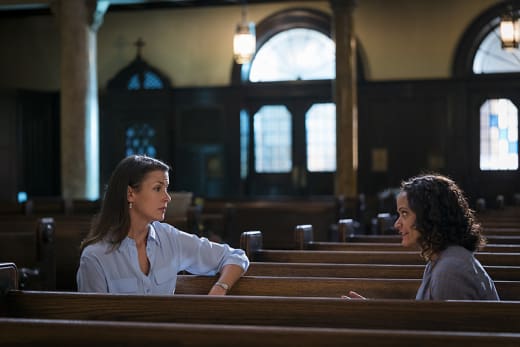 I wish we knew a little more about Karina's background. On one hand, she seemed to be fighting for people who were being taken advantage of by a low life landlord, who, if my rusty Spanish is still any good, called her a whore, for which she slugged him. 
Yet, Erin said she'd prosecuted Karina five times and she'd done at least 30 days in jail. Still, Karina's story felt like it had more questions than answers. 
Erin: The truth as a hustle.
Danny: Everything is a hustle; the key is to not be the sucker born every minute.

I did enjoy the twist where it was Karina's ex who was paid to help get her deported. Erin's first thought that he did it to get custody of his daughter, but it was pretty clear the guy wasn't interested in his kid. Considering he was sitting on a bar stool at 10am, drinking and scratching off lottery ticket after lottery ticket, money was definitely his only clear motive. 
Jamie, Eddie and her psychic were fun, although a bit convoluted…
Eddie: Adrianna, my psychic, she told me that my soulmate has long hair, a beard, and a piercing in his left ear.
Jamie: So your soulmate's a pirate.
I'll admit to having fun with the occasional palm reading, but Eddie appeared to take her psychic a little too seriously. Then again, the girl was very talented…not as a psychic but as a con artist. 
The best part was when Jamie and Eddie both realized that it was all a scam. Watching Jamie poke fun at Eddie as they went for lunch reminded me yet again why I enjoy these two together, whether as partners or as a possible romantic couple…even if Jamie lacks the long hair and earring. 
Frank's story line was the hardest to watch, because I believed in both sides of the argument. 
It's not about social services, it's not about community outreach, it's not about turning this precinct into a shining city on a hill. At its core, it is about taking criminals off the streets.

Frank
First, I didn't like how quickly Frank dismissed the Captain's concerns about the U.S. Marshals' upcoming raid. Frank literally walked out the door on the man, mid sentence. It was just rude.
Frank was right, in that policing is first and foremost about getting criminals off the streets in order to keep people safe, but the truth is that it's turned into a lot more than that. 
The police also have to deal with the mentally ill, as well as many differing sections of society. If they don't work within different communities, their job becomes much more difficult to fulfill. The complexity of current day policing is what makes it so damn hard. 
My favorite scene was the Reagan family dinner where they argued over the origins of the word grifter, Frank explained how everyone uses a bit of a hustle at times, and Nicky poked fun at his age and changing times by claiming to never have heard of a Rolodex. 
But the best Blue Bloods quote goes to Danny…
Add some bacon. Bacon makes everything better.

Danny
I couldn't agree more. 
Check back next week for my review of Blue Bloods Season 7 Episode 6, and if you want to see more of the Reagans, you can watch Blue Bloods online here at TV Fanatic. 
C. Orlando is a TV Fanatic Staff Writer. Follow her on Twitter.