Another Dick Wolf fake-out trailer strikes again.
Seriously, if there was an Emmy category for most creatively misleading promo, Chicago Med Season 2 Episode 4 would have it in the bag. Despite the lack of follow through on all that hype, there was plenty of damn good medicine, and possibly the grossest procedure so far.
In addition to the nauseating abscess drainage, there was plenty of human drama to captivate us. Nat may be more confused about her relationships than ever, even as she helped Connor understand his teacher. And it turns out that Dr. Charles is great at helping others, but he's got plenty of his own problems too.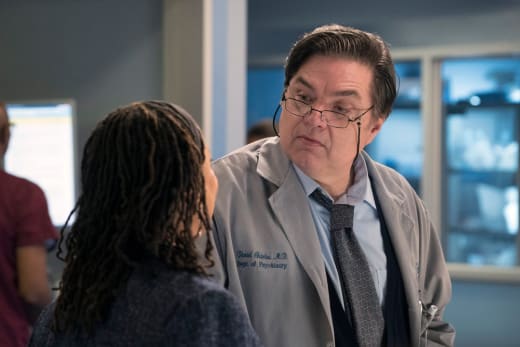 I can't decide if the editor who puts together the promos for Med should be fired or promoted to the writing staff. I'm sick of teasers that are so misleading, but at the same time, the stories that they pitch us are so much...more. The coma ward was totally set up as if it was an isolation unit, and I would have been a hell of a lot more invested if Maggie's sister had been infected.
And yet the infection story as it was told was classic Wolf "ripped from the headlines." Assuming those headlines were buried below the fold in niche publications. But yes, the bacteria breeding endoscope thing is real. Just not that exciting. Especially when the "outbreak" is three people. 
The upside of this case was that it brought in Robin Charles, an epidemiologist and Dr. Charles' daughter. They obviously have some deep rooted issues to work out, but that should make her an even better addition than if they got along peachy keen.
Sharon: This is Robin Charles, the newest member of our epidemiology department. Top of her class, DuPont Scholar, and she just happens to be Dr. Charles' daughter.
Robin: What can I say? Nepotism is alive and well.
The big question is who Robin will end up entangled with. There are so many options, both at the hospital and across the #OneChicago world. Let's just hope that she has better instincts about her own relationship than about other people's -- I just about gagged when the idea of #Manstead was reintroduced.
The abscess was less disturbing than that idea. 
Besides, even if those two are going to get together someday, it shouldn't be anytime soon. Will needs to grow up some, and Nat still has some healing to do. The relationships they're in now could end up being their "real thing"s, but at the very least, they're the right things for right now.
Nat: Okay, but when you say everybody...
Will: ED staff, ambulance drivers, EMTs. You know, the crazy guy out front who thinks he's Jesus.
Of Dr. Choi's two cases, I much preferred the heroin addict that Sarah ended up taking over. The moral ambiguity of treating the old man was ground that had already been covered, although I give the writing team points for changing it up a little bit by having two interested parties on each side of the argument.
Still, Choi's in his final year of residency, so the idea that he hasn't had patients (or families) that have refused treatment is a stretch. The whole thing just came a little too close on the heels of Will's situation to be at all interesting.
But the boy that got passed off to Sarah could conceivably spark a cross over event. I really hope that this wasn't the last that we've seen of him. I'd absolutely love for Chicago PD to pick this kid up in some kind of sting, and then find a way to shut down the trafficking ring.
I also loved watching Sarah come into her own with this case. Medical shows usually focus solely on emergency medicine or surgery. There have been great protrayals of psychologists on TV, but they've always come onto the scene fully formed. Watching Sarah learn how to connect with her patients is an education in itself.
Are you from Chicago? I've been here five years, I'm from Connecticut, and I still totally dread the winter. I mean, I thought I knew what cold was, but this is, like, "National Geographic," "Frozen Planet" cold. I carry around those hand warmer pads just in case my eyelids freeze shut.

Sarah
The docs will get to practice some field medicine on Chicago Med Season 2 Episode 5 ("Extreme Measures," airing October 20th) when things take a turn at the Chicago Marathon. While I'm curious about what exactly he's going to do and why, I can't stop thinking about the promo calling him a surgeon. He was, and then he wasn't, but now maybe he is again? Ugh.
Whatever his training, things don't look like they'll be going to well for him. OR maybe it's Noah who will end up screwing the pooch...again. It's about time he got called out for something. 
If you're still confused about how three patients constitutes an epidemic, you can always watch Chicago Med online and try to solve that mystery. We love hearing your thoughts and questions, so jump into the conversation down in the comments section!
Elizabeth Harlow was a staff writer for TV Fanatic. She left the organization in October 2018.