Conviction Season 1 Episode 2 Review: Bridge and Tunnelvision
JennTVQueen at . Updated at .
On Conviction Season 1 Episode 2, we're right back in the lion's den with the Conviction Integrity Unit. But this time, Hayes wants the ball in her court.
After Conviction Season 1 Episode 1, we knew Hayes would try to take down Wallace. To her surprise, Wallace is already prepared for the fight. They both want to be in charge, but neither is willing to give up any power. 
Check mate.

Wallace
Wallace calling the press conference showed Hayes he is always one step ahead of her.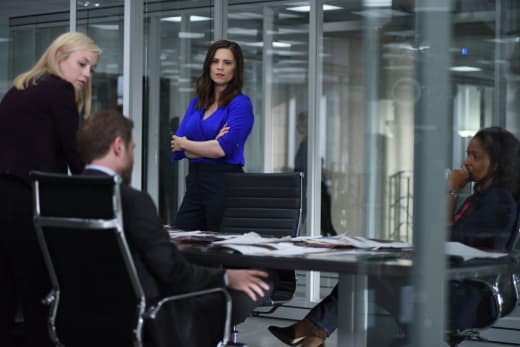 The "Prospect 3" case was ripped right out of the headlines. Does the case sound familiar to anyone? Prospect 3 had many similarities to the Central Park 5 case in New York City. 
The show rearranged the ethnicities between the victim and wrongfully convicted men. In the real life case, the men were Hispanic and African American, and the victim Caucasian. On the show the victim was an African American woman and the men were Caucasian. I believe they did this to show the case had holes regardless of racial bias. 
I like that they used a real life case with a twist. 
The team undoubtedly finds the clues they need to overturn the case. I like watching the cases unfold, but I wonder how many times they will be overturned.
It will be interesting to see how the team comes together with a loss. Would Wallace use a loss to further his political gain? 
The dynamic between Hayes and her mom, Harper, is still interesting. I knew her mom was hiding something in Hayes' office, but it was a surprise to see Harper as Wallace's spy. 
I think Harper wants to be "just mom," but her political life is at the forefront, keeping her from being the mother she would like to be. 
The deeper the show digs into this mother-daughter relationship, the more understanding we'll have of Hayes. 
We're Morrisons. We don't have friends, we have supporters.

Hayes
This hour was enjoyable, and better than the pilot. Jumping right into the case and seeing Hayes as the leader was refreshing. 
While the cases will likely center the episodes going forward, the characters' back stories will keep me invested. We still see only glimpses into their lives, but through each episode more should be revealed. 
Hayes' relationship with her brother is beautiful. Who doesn't love a good dance off? My only request is that Franzese, who plays Jackson, will be used properly going forward. We have only seen Jackson when Hayes is entering or exiting the apartment thus far, and he's far more valuable than that. 
Jackson seems to be leading a more normal life, unlike his sister. What is his secret? We can only find out if he receives more airtime. Let's make that happen, please! .
Winning fewer cases in the future would be helpful. I want to see more challenges that Hayes can't easily fix. 
Hayes is very smart and determined, but we already have one fixer on ABC, and we don't need another. Let's see how Hayes reacts to failure, especially now that she's showing empathy. 
What did you think of "Bridge and Tunnelvision"? Are you hoping Wallace and Hayes will hook up? Will Hayes and Harper come to a middle ground? Are you becoming invested in Conviction? 
You can watch Conviction online right here on TV Fanatic! 
Hit the comments and let me know how you're feeling about Conviction!