Grey's Anatomy Season 13 Episode 5 Review: Both Sides Now

Jasmine Blu at . Updated at .
Babies, babies were everywhere! Well, sort of.
It certainly was the theme they had going on in Grey's Anatomy Season 13 Episode 5. What with Amelia wondering whether or not she was pregnant, Owen spending the day babysitting sweet Harriet, and Chandler being unable to donate part of her liver to her twin Chelsea, because she was pregnant. 
There certainly was some baby fever going around Grey Sloan Memorial!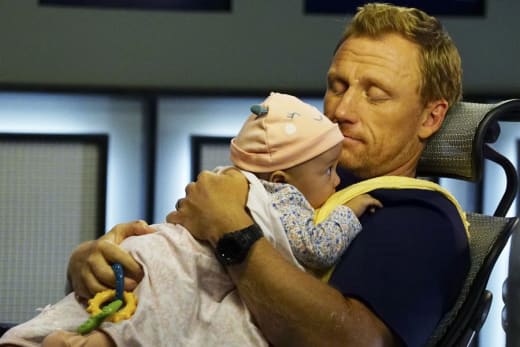 Here's the thing. I love Amelia to pieces. She's a complicated character and she's been through so much. She can be a bit of an acquired taste, but I want nothing but good things for her.
That being said, it was absolutely absurd that they dragged out the "Is she?" or "Isn't she?" pregnancy storyline the entire episode! Something as simple as taking a pregnancy test didn't get resolved until the very end. 
Have you peed on a stick yet? Because if you haven't peed on that stick yet, stop talking!

Mer
There wasn't enough exploration around the emotional weight and gravitas of the situation for her to justify them dragging it on so long. I'm only vaguely aware of some of the issues she had on Private Practice. With the exception of that moment with April in the restroom, they barely hinted at any of it.
So to anyone who is only familiar with Amelia through Grey's alone, she literally spent an entire episode telling everyone but Owen that she might be pregnant because she was late, and inexplicably refusing to take a pregnancy test. It felt silly.
One thing is certain after this pregnancy scare. Amelia is clearly not ready to have a kid. Did anyone else catch the relieved look on her face when the test was negative? 
It's perfectly okay if she's not ready for kids just yet, but I would really hate if she's suddenly decided she doesn't want them at all. I'd hate to see Owen go through that again. 
Speaking of, how adorable was Owen and Harriet? Honestly, it's a surprise that he's gone this long without playing "Uncle Owen" and babysitting any number of the Grey Sloan offspring. Harriet comes across as a fussy baby regardless of who has her. I'm assuming she gets that from her mother.
Maybe you're not a baby guy. Babies just don't like some guys.

Alex
It didn't stop Owen from taking it personally that she wasn't immediately responding to him. The fact that she was so at ease with Alex, "The Baby Whisperer" didn't seem to help matters. He wants kids, so naturally he wants to be damn good with them.
I loved watching Harriet warm up to him. I especially adored watching him and Riggs share a sincere moment only to be interrupted by Harriet's dirty diaper fiasco. They're slowly coming around to being able to tolerate each other and it's great to watch.
Our Grey's Anatomy Roundtable was just discussing the fact that we'd like to see different characters working together and this episode answered our prayers. Stephanie and Maggie make a great team! 
Watching the sisters bicker and fight over who got to work with Stephanie was one of the highlights of the episode. Stephanie has become the rockstar of her class, and it was about time someone other than Amelia recognized and benefited from it. 
Maggie and Stephanie's case wasn't all that interesting, to be honest, but it served a greater purpose because of it's connection to the other two. 
Granny June was absolutely precious! Well, at first anyway. I mean she knitted hats and scarves for Bailey and Deluca and even made Snickerdoodles. She had to be the most adorable patient ever! 
I was so upset when I figured out that the twin who overheated needed the liver more. Because I just knew that this sweet, little, old woman was going to sacrifice herself to save a complete stranger because that was in character with what she does. 
Yeah, it's my decision...but screw her.

Granny June
It threw me for a loop when she literally said screw Chelsea! I mean, it would have been very generous and downright saintly if she did it, but when you think about it, who would? She had been waiting for three years. 
It did provide for some really great moments from Webber. He was so disgusted and upset over this "old biddy" not wanting to save a complete stranger. It also led to some great jokes at his expense, about his age and him being the old friend.
I loved the moment where Meredith told him she would have said screw everyone to if it was him. Any time they give us a hint of the parent/child bond that the two of them have, it's a good thing.
Additional Notes:
Not a fan of the new friendship between Deluca and Jo. Jo at her worst is an annoying character. Deluca at his worst is just boring. It doesn't benefit either one of them to spend screen time together. Their friendship seems sudden, forced, and honestly doesn't make sense.
The good news is they gave us a break from that godawful Maggie/Nathan/Meredith love triangle. The bad news is, that only means they're still dragging this out.
I'm really starting to question Meredith's...everything. She was genuinely considering coercing another patient just to get her way. As if the Deluca situation wasn't bad enough.
Just when we thought Alex might finally catch a break it looks like he might just land himself in hot water yet again. Jeebus Alex! Check out the promo for Grey's Anatomy Season 13 Episode 6.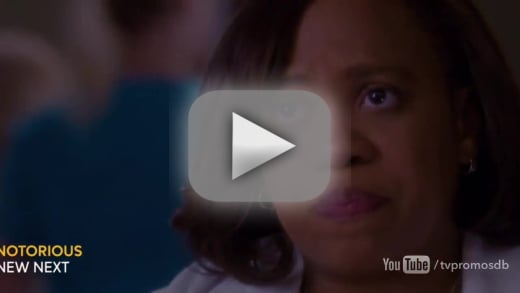 So what did you guys think of the episode? Did it feel a bit slow? Are you disappointed that Amelia isn't pregnant? What do you think about the budding friendship between Andrew and Jo? Hit up the comments below!
Don't forget you can catch up on the episodes and watch Grey's Anatomy online via TV Fanatic!
Jasmine Blu is a senior staff writer for TV Fanatic. Follow her on Twitter.