Masters of Sex Season 4 Episode 6 Review: Family Only

Amanda Steinmetz at . Updated at .
Where's the box of tissues when you need them?
Emotions were high on Masters of Sex Season 4 Episode 6 as everyone's relationships changed gears. Some changed for the better, while others ended entirely.
Betty suffered the tragic loss of her love, Helen. Meanwhile, Virginia made a play to recapture Bill's heart, and Libby took a walk on the wild side.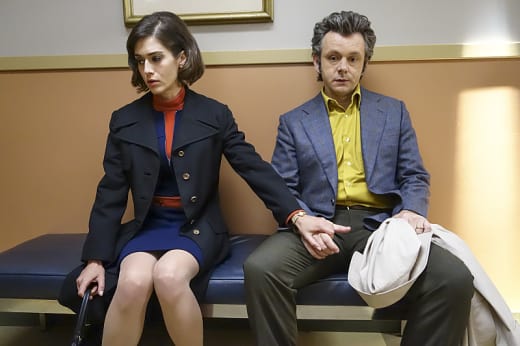 My heart broke for Betty. She and Helen worked so hard to make their relationship work, and to create a family for themselves in a world that wished to deny them that which is most precious... love. 
A sinking feeling began to take over the second Helen shared her dream with Betty. Her dream for their family to be happy would never come to be. 
I wasn't sad anymore 'cause when I turned around you and our baby girl were standing there. That's when I knew how happy I was. How happy we're gonna be. Just me, you, and sweat pea... a family. Aren't we lucky?

Helen
The title of this episode is "Family Only." It's an unfortunate rule that has been unkind to many same-sex couples, even 'till this day.
Betty having to stand on the other side of the glass as Helen's parents took the baby was infuriating and upsetting. The love of her life had just died, and she couldn't even hold the only person who was supposed to be her family.
Annaleigh Ashford knocked her performance out of the park. It was a beautifully quiet, but spoke volumes. 
Bill's rejection of Virginia was a triumphant moment. It's not that he turned her down in a way that was angry or dramatic or undeserved. 
He let Virginia down because he needed to. Bill couldn't go on obsessing about Virginia the way he had for years. 
He's also achieved a certain amount of clarity that he lacked before. Bill can't go running back to Virginia because she might not be there tomorrow. 
Bill: You just want me today. Maybe because I've stopped pursuing you or because Dan is gone. I'm the only option left or because it's just easier with me because I'm always there. But what happens tomorrow when you wake up and you want someone else?
Virginia: Bill, that's not going to happen.
Bill: I don't trust you, Virginia. I can't... ever again.
It's incredibly selfish for Virginia to expect Bill to fall back into bed with her. Both of them have made plenty of mistakes, but it's cruel to string someone along.
Does Virginia truly love Bill? I'm sure on some level she does. However, it's not a healthy love.
This is obviously not the end of their story, but for now we can be satisfied that Bill didn't regress into old habits. He's holding firm, and that's something to celebrate. 
Virginia's behavior has been questionable at best. She's been unusually vindictive and cruel, especially toward Nancy.
I'm not Nancy's biggest fan, but she had every right to question Virginia's attitude. Whenever Nancy tries to do the work they hired her for, Virginia steps in. 
Virginia doesn't like being told the truth about herself, but Nancy was completely justified in confronting her in the bathroom.
Nancy: The main factor with me for you is that I am a woman.
Virginia: I'm not sure I know what you mean.
Nancy: You are competing with me. It's an understandable, if disappointing reaction. Women get such a small slice of the pie they tend to fight over it rather than make the slice bigger or share.
Virginia: First of all, I hate pie. Secondly, you're speaking to a woman who has spent the last twelve years bringing women out of the dark ages. There's no greater advocate for women.
Nancy: In theory this is practice. Look, I respect everything you've accomplished. It's why I'm here. I just want to know where I stand.
Virginia: Wherever we tell you to.
Nancy and Art's relationship continues to baffle me. He seems miserable, and she's clueless about his true feelings. There's a desperation to their life that just seems empty. 
The entire situation would be fine if both of them were happy with their arrangement. But as we all know, Art doesn't want anyone other than Nancy. That makes the marriage dishonest, and honesty is everything.
Since we're talking about honesty, Libby is all for the open lines of communication these days. Her transformation has truly been a marvel to watch. The old Libby wouldn't have dared to take a stroll during the night in the nude. 
The nudist colony was a humorous way to put Libby in a situation that was foreign to her. Keller is pretty nonchalant about most things, but even he seemed awestruck when he saw Libby walking up to him naked. 
Keller seems to be developing real feelings for Libby. He even suggested they shouldn't have sex because he liked her that much. Of course, they ended up sleeping together later that night anyway.
I don't know exactly what it is that I'm looking for, but I do know that I want it to be passionate. I want to find a man where there's real sexual chemistry.

Libby
Maybe it was the music that scored the scene or the way it was shot, but Libby walking around the nudist colony all by herself in the dead of night was breathtaking. There's a freedom in her we've never been able to see until now.
I hope Keller sticks around for a while. Their chemistry is effortlessly sexy and believable. 
So over to you all! Are you sad to see Helen gone? Will their working relationship be awkward now that Bill has rejected Virginia? Should Libby pursue an actual relationship with Keller? What are your predictions for Masters of Sex Season 4 Episode 7?
Sound off below, and don't forget you can catch up on any missed episodes when you watch Masters of Sex online via TV Fanatic!
Amanda Steinmetz was a staff writer for TV Fanatic. She went into retirement in June of 2027. Follow her on Twitter.