Masters of Sex Season 4 Episode 7 Review: In To Me You See

Amanda Steinmetz at . Updated at .
Bill has never been the most romantic man.
He's often clinical in his approach to sex, relationships, and love. However, there's one person from Bill's past who may have seen a different side of Bill.
On Masters of Sex Season 4 Episode 7, Bill wrote a letter to his first love, Dody, in the hope that she would finally answer a question he's been carrying around for years.
Elsewhere in the episode, Virginia and Nancy went undercover at a retreat, and the clinic may finally be taking steps forward to expand its research.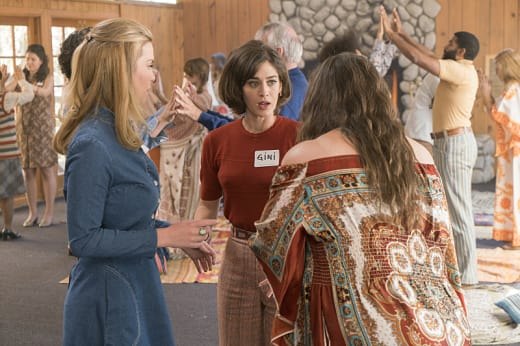 We've seen Bill's relationships with both Libby and Virginia, but we haven't seen the man he was when he was with Dody. The way he described their youthful love is when I have a hard time imagining.
Who is this woman that captivated Bill? From what we've seen of her, she appears to be beautiful, smart, and able to joke around with Bill.
It'll be interesting to see why she was so heartbroken when according to Bill she was the one who never responded to his proposal and left him. Maybe she never got the flowers and letter from Bill.
In my experience, the truth can come at a very high price. You can lose people you love, pieces of yourself, but in the end it's worth it. It's worth it to know where you really stand.

Barton
Dody's husband showing up instead of her already paints a picture of a distrustful marriage. Even after all these years, he doesn't trust that his wife can handle seeing her ex.
Bill's phone call with Dody seemed more effortless. I know this is rushing ahead, but I'd love to see Bill in a romantic relationship with a woman other than Libby or Virginia.
Elsewhere in the episode, we saw Virginia and Nancy go undercover at a retreat. Honestly, everything Virginia does these days is frustrating to watch. There's nothing wrong with wanting to make sure your methods are protected, but she doesn't help matters by being paranoid all the time.
Also, Virginia is constantly undermining Nancy at every turn. She speaks to her with little regard to her intelligence. Virginia has no respect for Nancy, and she does very little to cover it up.
Wouldn't hurt you either, would it? Being able to bring your wife a big case like that, like a cat dropping a dead mouse on its owner's welcome mat.

Virginia
Telling Nancy about Art's dissatisfaction with their swinging lifestyle is not her place. Regardless of the issues that clearly reside in that marriage, Nancy deserves to hear that news from her husband.
Back at the clinic, Barton and Art were in disagreement over the "treatment" of homosexuality. What's most curious is that Bill agreed conversion therapy had no place at the clinic, and yet the real Bill Masters did in fact study conversion therapy. This was a piece of their research that Virginia Johnson had strong objections to.
Whatever the future holds, adding homosexuals to their studies should add a lot more storylines. A whole new diverse group of characters could be introduced to the show.
Barton's reappearance, especially during this storyline is fitting. It's also important to point out that both Art and Barton have differing viewpoints on homosexuality. A lot of their beliefs have to do with the time period, but having those differing opinions should provide a contentious partnership.
Lastly we had poor Betty trying to fight for custody of Helen's baby. Unfortunately, I don't see her winning this fight. Unless they got anything in writing, I doubt a court system will award custody to a woman with no blood relation to the child. 
I screwed up so many things in my life, but Helen was the one thing I got right. We got each other right. Not that everything was all daffodils, but there was never a sliver of a doubt that we really loved each other 'cause we really did. Sometimes things are so right you don't even think to question them.

Betty
It's utterly heartbreaking, but it's an accurate depictions of America at that time. Sadly, there are still many same-sex couples that have to deal with these issues today.
Other Thoughts and Observations
Louise's struggles with her husband were absolutely devastating to watch. Even worse, her husband thought it was cruel of her to want to experience the type of pleasure he no longer can.
While there was no room in this episode for more plot, I did miss the presence of Libby
I hope Bill doesn't buy Virginia's "we'll just be professional from now on" act.
So over to you all! Will Bill's reunion with Dody lead to an affair? Will Nancy confront Art after Virginia's reveal? Should Betty continue to fight for custody? What are your predictions for Masters of Sex Season 4 Episode 8?
Sound off below, and don't forget you can catch up on any missed episodes when you watch Masters of Sex online via TV Fanatic!
Amanda Steinmetz was a staff writer for TV Fanatic. She went into retirement in June of 2027. Follow her on Twitter.