NCIS: New Orleans Season 3 Episode 4 Review: Escape Plan
Dale McGarrigle at .
Sebastian Lund, action hero?
It seems damned unlikely, but geeky, awkward lab tech Sebastian finds himself on the inside of a potential prison break in NCIS: New Orleans Season 3 Episode 4.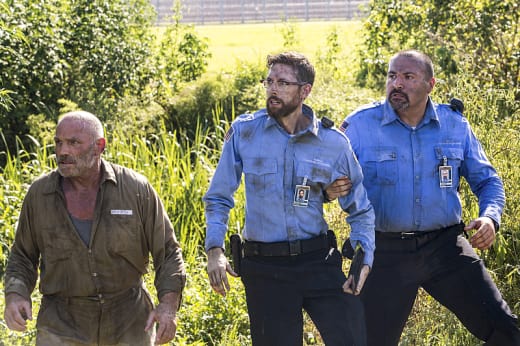 Remember all the parental laments about how video games were bad for you? Well, that's certainly the case for Sebastian, whose skill at an escape multi-person virtual reality game draws the attention of the wrong people, who want to break a ruthless Serbian smuggler out of jail.
And Sebastian reacts exactly as I would have expected: with non-stop chatter and skittishness. He was kind of like Don Knotts in a guard uniform once inside Lafitte Prison.
Still he uses the computer skills that got him in this predicament to help himself out: hacking into the prison internet to contact Pride, and being so obvious on the tablet he was using that Patton could follow right along.
We learn more about Sebastian's many interests in this episode, from his Star Trek theme song ring tone to his action figures to his Renaissance fair costume.
Sebastian's a man of many pursuits.

Patton
We also learn that his mother's pet name for him is Peaches. After meeting his visiting mother Sylvia (played by Wendie Malick), all run-on chatter and nervous energy, it's obvious that Sebastian comes by his weirdness honestly.
Only a mother can embarrass a son as Sylvia embarrasses Sebastian, detailing his medical problems as a boy in front of a waitress that he likes.
Pride, remind me that I can never show my face at Surrey's again.

Sebastian
Sebastian ends up the accidental hero in the end, jumping into the bed of an escaping pickup truck with his tablet so it can be tracked. Still, not the best method to do so.
He could have just thrown the tablet in the pickup truck and saved himself. I'm just sayin'.

Gregorio
Gregorio seems to be fitting in a little better, ditching the power suit for a more relaxed look. She bends the rules a little by using an experimental tracking device to help locate where Sebastian might be.
Still she doesn't really get Pride and his Nawlins ways.
Gregorio: There's a reason we don't have permanent partners at the FBI. It helps with objectivity, especially in situations like this.
Pride: Well, I like having skin in the game. It means you'll do whatever it takes to get the job done.
Percy was totally absent this episode, and I missed her banter with LaSalle. Gregorio and LaSalle are getting their own banter going, but it lacks any of the sexual tension that Percy and LaSalle have.
I understand there's some kind of cartel problem in New Orleans, but since it's only mentioned once in this episode, apparently it's not much of a concern. It's served its purpose as a transitional device, so let's deal with it sooner rather than later and wrap up that storyline.
Hey, and while I'm making requests, New Orleans is a musical city, so how about a NCIS: New Orleans soundtrack? It beats hunting for and downloading individual tracks.
To follow Gregorio's evolution from grating to tolerable, watch NCIS: New Orleans online.
Was I the only one missing Percy? Anyone else had enough of the parenthetical references to the cartel? Is Gregorio becoming less of a stereotype? Do you want more of Sebastian in the field, or does a little go a long way? Comment below.
Dale McGarrigle is a staff writer for TV Fanatic. Follow him on Twitter.