NCIS New Orleans Season 3 Episode 5 Review: Course Correction
Dale McGarrigle at . Updated at .
The impact others' mistakes can have on those they love is the message at the heart of NCIS: New Orleans Season 3 Episode 5.
The campaign to humanize Gregorio continues, as she relates to a young woman who is bitter about her absentee military father.
Emily's dad, Petty Officer Amir Saad, is one of the six killed in the transport-plane crash that's the central case of the hour. Emily is disdainful of her father, who was never there for her and her late mother.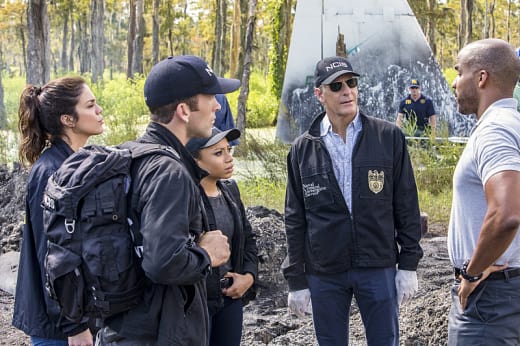 It's been hinted that Gregorio has past ties to New Orleans, but she still seems to want to get back to DC ASAP.
I've been in NOLA longer than i expected. I'm starting to succumb to its charms, i'll admit. it's time for me to go home, you know.

Gregorio
Gregorio is letting down her guard around her new co-workers, and she's helping out as well, standing up to her FBI boss and hooking up Pride with an FBI hacker to track a drone signal. It's a welcome change of pace from her acidic persona on earlier episodes.
She also spilled to Pride why she had earlier left New Orleans (although he already knew): Her ex-husband stole rebuilding funds following Hurricane Katrina and is now a fugitive. I'm sure we'll see him before too long.
A self-exile trying to make up for the sins of her ex-husband is certainly more admirable than a snarling Fed interloper.
Her teammates are starting to come around as well.
Percy: Why can't they just let us find someone like Gregorio then leave us alone?
LaSalle: You're not telling me she's actually growing on you, are you?.
Members of the squad are also pondering how many more bodies they need.
One more agent to replace Brody, and that's it. Because we're fine the way we are.

Percy
I don't think there's a budget for too many more agents. Patton got sidelined this week, so odds are it will be a straight Gregorio-for-Brody swap, with maybe one of the supporting characters periodically stepping into the limelight. As early NCIS: Los Angeles seasons or current Hawaii Five-0 proves, you can have too many characters
Or how about creating a few more recurring characters such as Elvis Bertrand on NCIS: New Orleans Season 3 Episode 2? That's certainly benefited each of the other two series in the franchise.
In addition to making Gregorio more palatable, producers have also made a little progress in the Cuidad Natal storyline a month into the season.
Since the flight came out of Brazil, which is on the same continent as Colombia, the conclusion is made that the cartel caused the crash. But for what earthly reason? It turns out the target of both the cartel and the CIA was a cartel accountant coming to America to spill his guts.
Not a good way to increase his life expectancy.
I figured out the plane's cargo was the target of the crash. I just never expected that valuable cargo to be human!
A timely gesture was the media wrongly labeling the petty officer with the Arabic-sounding name a terrorist and the perpetrator of the crash. Far too often these days, the wrong background puts people in the cross-hairs, and this was a subtle way of acknowledging that.
If this cartel storyline is going to continue to drag on as it appears, a strong villain is needed as its leader. A bunch of faceless Latinos with assault weapons isn't cutting it. Maybe Danny Trejo wants to slum in TV?
To unravel the tangled history of the cartel, watch NCIS: New Orleans online.
Anyone else coming around on Gregorio? What's the right number of agents? How about having a musical act at Pride's bar at the end of every episode, for more New Orleans flavor?
Comment below.
Dale McGarrigle is a staff writer for TV Fanatic. Follow him on Twitter.