No Tomorrow Season 1 Episode 4 Review: No Holds Barred

Yana Grebenyuk at . Updated at .
No Tomorrow shook things up a bit, with Jenna Dewan appearing as another woman in Xavier's life. 
No Tomorrow Season 1 Episode 4 tackled a question I wasn't expecting them to in the form of open relationships. I admit that I must have been pretty naive to think that Xavier was just as committed to the relationship as Evie was.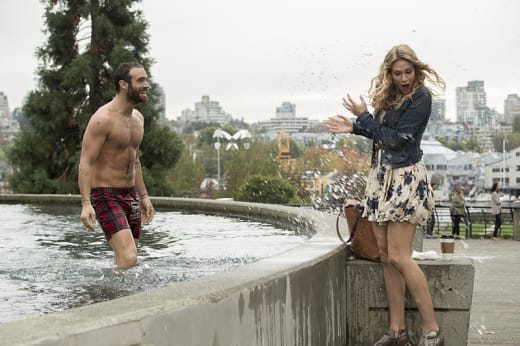 Turns out we were both wrong because Xavier actually had plans to hook up with other girls...but at least he asked Evie first? That was probably some form of being polite.
I'll say no to marrow.

Evie
I was torn between siding with Evie, the girl who thought she was on the same page with a guy she really liked and Xavier, a guy who was upfront with what he wanted (even if it was a bit too late in the game). 
Personally I think that even if the end of the world is approaching, Evie shouldn't have to sacrifice all her beliefs. If she wants to stick to monogamy then she should.
She did get something out of it, a sort of foursome and a new outlook on open relationships. It was terrific to watch her come to this conclusion outside of her relationship with Xavier, because things weren't as confusing and she reached this decision on her own.
Now we know that this wasn't Evie caught up in Xavier's eccentric ideas, but her own conclusion based off of her experiences with online dating and her fun bar hopping with Kareema.
Xavier, on the other hand, actually realized that he felt more for Evie than expected, which I'm sure comes as a shock to no one but him. This whole idea of Xavier being invested in the relationship and Evie exploring all her options won me over fully, it leaves room for her to grow in whichever direction she wants. 
And on top of that Evie isn't using Xavier as a crutch when it comes to trying new things. She's now getting out there with her friends and exploring new opportunities that don't all connect back to a guy, which is a healthy shake up to this modern age love story.
Okay I hear you. I don't care but I hear you.

Kareema
This pushed Evie to go out and have fun with Kareema, a female friendship that I could always get on board with. I'm not sure how underrated this might be, but the friendships are the best part, especially the female interactions. 
Evie was spending more time with Kareema and making memories just as amazing as she would have with Xavier. This was a great reminder that Evie can try new things without counting on him to offer up these new adventures.
Now that Kareema is buying into this 'living each day to it's fullest philosophy,' it would be wonderful to see the ladies work down a list together. It's less dramatic in terms of romance, but it's inspiring and never gets old.
Kareema, specifically, is a refreshing character that I adore and her ideas are out there but also really exciting.
Kareema and Evie could very well have a friendship that also passes the Bechdel test, something that Deirdre and Evie aren't always passing, but it might be better off that way.
Nothing beats Deirdre asking for advice in the bathroom, invading Evie's privacy like it made all the sense in the world. Deirdre manages to be both stone cold mean and ridiculously hilarious. 
I doubt she actually knows what she will do once she gets Hank's full attention, there are company guidelines to consider, but the journey is making it worth it.
I just can't let her whisper to me ever again.

Hank
Timothy has to be every one of us when it comes to hitting on people. He's becoming one of my favorite characters just because of the way his awkwardness comes off in a believable way. 
He also doesn't dwell on it too much, choosing to try new things with the help of his guy friends.
But clearly the best part came in the form of an unexpected bromance between Xavier and Timothy. Obviously the two would bond and then break up, but it was fun while it lasted.
I don't know if it's too much to hope for those two to spend more time together in the future, but I'll hold out hope.
I thought you had suspicions about the Russians.

Deirdre
Sidenote: Being Russian always provides me with a biased opinion of Russian characters and this was probably the best example of that. I have no clue if that's how most Russian men are seen, but it was entertaining. Wrestling and snakes aren't what I'm used to, but I could get on board with that level of weirdness. 
There wasn't much of a work storyline, but I loved the reminder that walls don't work. In case anyone didn't hear me the first time: walls don't work. 
This is the first time I've seen a warehouse work setting and as brief of an insight as we're getting, the more I want to know. We all love Amazon Prime, but how many of us actually think about how the whole process works in the long run?
I'm not any day of the week.

Evie
Who else wants to see Hank as a purple butterfly, like, all the time? Will Xavier own up to his feelings, and do you actually want him to? What's next for Deirdre and Hank? What do you want to see Timothy tackle next? Let us know below! 
You can watch No Tomorrow online right here at TV Fanatic to prepare yourself for another episode of unexpected craziness.
Yana Grebenyuk is a staff writer for TV Fanatic. Follow her on Twitter.