Wow, you can't even trust the lessons at the CIA.
On Quantico Season 2 Episode 4, Owen devised a crafty lesson that the recruits only learned about once they thought they had completed the lesson. The Farm is a trippy place, my friend. This makes for some really entertaining lessons.
The only issue with the training at the Farm is that none of the recruits have really jumped off the screen. It's hard to care about Sebastian's secret bathroom phone calls or whatever was going on with the rest of the recruits. They don't intrigue me.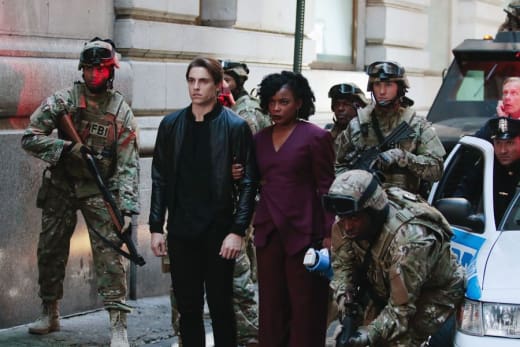 It's hard to say if this is because of the writing or if last season left us, or at least me, a bit jaded. Unfortunately, I'm ready for dark secret after dark secret to unfold as the training at the Farm continues.
I don't want to know everyone's sob stories because learning them will lead to a terrorist fake out or some randomly long side storyline like Caleb and the cult. I don't think I can endure another pointless storyline like that one.
When season 2 began, I looked at all the recruits as a new puzzle that we would be tasked with solving, and that's actually how everyone was introduced. We get snippets of overhead conversations, brief conversations that ended with brush offs, or second hand intel about a character.
This means that instead of getting to know and develop feelings about someone, we are forced to wear our detective hats. These aren't people. They are mysteries. Figure them out, and you'll figure out who is and is not in the AIC.
This is why I really did not care that Diana thought she was going to be disbarred or whatever all the other recruits' weakness were. I'm not invested in these characters. 
I honestly don't know if I really even like any of them. None of them have made a lasting impression. Harry's by far the most intriguing character of the bunch, at least in my opinion. Who is your favorite recruit?
We're at the point where I don't even know when Alex isn't pretending.
She could have kept going back to Owen because she was genuinely curious if he felt she belonged at the CIA. That's just not how I saw it. I disregarded basically everything Alex said because I knew she was pretending to be able to stay close to Owen long enough to clone his phone.
This means it's hard to catch a glimpse of the real Alex Parrish. Sure, we know that Owen's assessment of her is how he really feels, but we don't know if Alex really isn't sure that she belongs in the CIA. Do you think Alex was being honest about her concerns with Owen or was it all a rouse?
Tell me, Alex. Are you still haunted by what he did? By how he used you? The mistakes, the doubt, that's why you're here. You ran from it. You ran all the way to the CIA. The choices you made saved lives. The fact that you could make them, stick your neck out when no one else would, that's your greatest strength. It's also your greatest weakness - doubt. Doubt that you did the right thing. Doubt that you could have done more. Doubt that your friends had to die. As long as you let that doubt run wild, it will own you. That's what this scenario is all about. It didn't start when you put these on. It's been all week.

Owen
The future storyline was all right. Raina and Alex finally getting a chance to talk and share intel was amazing. It's better when Alex has friends to bounce ideas off of. There's only so much she can do on her own.
Plus, our highly trained hostages should be able to do something other than just sit around. We know that the terrorists take turns hiding by blending in as hostages, but we do not spend enough time with anyone to try to start coming up with guesses as to who is a terrorist and who is just a hostage.
While it's amazing that Eric tipped off Shelby about Miranda, the terrorist storyline is a lot more entertaining when we are inside the building with the terrorists.
The FBI working it from the outside isn't exciting, especially since it's just Miranda manipulating everyone. However, maybe now that Shelby is aware that Miranda can't be trusted, things will get a little more captivating. Does anyone have a guess as to how Shelby is going to use this new information?
Speaking of the terrorists, it's a little hard to really fear them when we have no idea what they are up to. They are just piddling around moving hostages from one room to another. We need to start seeing some kind of planning or something. Don't turn this plot into a snooze fest, please.
What did you think of the episode? Leave your thoughts and theories in a comment below.
Remember you can watch Quantico online anytime via TV Fanatic.