Quarry Season 1 Episode 6 Review: His Deeds Were Scattered

Lisa Babick at . Updated at .
The Broker is a magic man who keeps on giving.
After flipping on Mac's switch on Quarry Season 1 Episode 5, The Broker kept the good feelings going by giving Mac the job of a lifetime.
Mac removed a human stain on Quarry Season 1 Episode 6, and it probably made him feel more alive than he had ever felt before.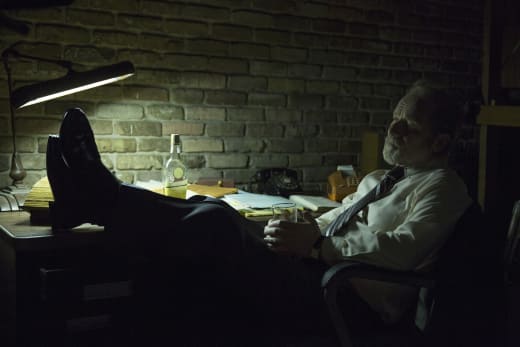 So, is The Broker comparing himself to Tom Lee? Because, I'm getting the distinct feeling that he might be seeing himself as a hero of humanity.
If that final scene was any indication, I really don't think The Broker has any clients. He is the client. He's the one who's making the decisions on who to kill. He's finding the human stains of society and is doing something about it.
He's got Karl doing all the research, the car guy prepping the murder kits, and a handful of people to do the dirty work. It's a nifty little operation he's got going on.
His good deeds were scattered everywhere that day and into eternity.

The Broker
But, while it seems like a noble thing for him to be eliminating the scum of the earth, what gives him the right to play God? And, does he think he's saving the people he has on his team?
That he's offered them the opportunity to rise from the depths of their despair, to become "better" people than they would have had they not crossed paths with him? Are they his chosen ones?
But, if you think about it, isn't The Broker really just destroying the lives of the people he employs? Look at Buddy.
Was Buddy once like Mac? Dead on the inside? Did The Broker find Buddy, flip on his switch, make him feel alive again, and keep using him over and over and over again until nothing was left but an empty husk?
Is that why The Broker isn't using Buddy to do any more of his dirty work? Has he outlived his usefulness? Whatever spark he had is definitely gone. 
Not only did The Broker give Buddy life, he also took it away.
Granted, we don't know anything about Buddy's past, but do we really need to? I think we're seeing Buddy's backstory via Mac. 
And, there is no doubt that Mac is going to end up just like Buddy. Empty and dead inside.
But, for now, Mac is very much alive. 
He was almost like a little boy on Christmas Day when got the murder kit from The Broker and saw his next target was Eugene Linwood.
Mac felt pretty helpless after the bus incident. He felt like he failed Arthur by not being there to protect Marcus, even though there was nothing he could have done to prevent the incident from happening.
He wanted the guy dead even before he got the job, which is why he was so excited when he opened the bag. Taking out Linwood was a way for him to redeem himself. A sort of spiritual awakening.
And, good God, that bastard needed to die for sure.
I don't know nothing about beating that boy. I had nothing to do with beating that boy, but I will tell what. I'd like to shake the hand of the man what did.

Eugene (on television)
While the hour was excellent in every way (as usual), I thought the scene where Mac was following Linwood before he got to the bus lot was the best. Mac was tracking this guy, like he was back in the war tracking the enemy. Even the music had a war-type feel to it. 
It was very intense.
And, the look on Mac's face when he fired that shot that set off the explosion was pretty much priceless. It was a look of instant gratification. He just ridded the world of the ultimate scumbag and saved a bunch of kids in the process. He made a difference. He was a hero.
And, he felt alive. All thanks to The Broker.
Joni proved to be a bit of a downer, and it's almost aggravating that Mac told her anything, but he was trying to save his marriage, and he had to do what he had to do.
Still, it was a mistake, and it's going to come back and bite Mac in the ass. 
As boring as it is, Joni is the voice of reason. Her plan to sell the house (even if she didn't check with Mac) was a sane idea. In her mind, it sure beat killing people. Yet, no matter how sane it sounds, it's not something Mac is going to like, because he likes what he's doing now.
Apparently I'm not as comfortable as you are with the notion of killing other human beings.

Joni
And his promise to her to look for a normal job is pretty much an empty promise. A normal job isn't going to satisfy him the way killing does. 
I called it when I said she was going to try to involve Ruth somehow, and it almost came to pass when they were at the diner. How stupid can Joni be? What a disaster to involve someone else in this mess, but she didn't see it that way. Maybe Mac was right when he told her Joni only thinks about Joni.
I'm glad it didn't happen. Thank you, Moses.
Yeah, they all look the same to me too.

Moses
Moses and Marcus had some great moments together. They really seemed to connect. If Moses wasn't working for The Broker, he'd be a great fit for the family. Unfortunately, he's sold his soul, and eventually he's going to empty out, too even if he's not getting killing assignments.
Hopefully, Ruth will keep her distance, but I don't seeing it staying that way for too much longer.
Detective Olsen is getting closer to figuring it all out. I wish he would go away, but he keeps getting breaks. Sleeping with Cliff's sister got him his biggest lead yet. Of course Cliff wrote a bazillion songs about  Joni. Of course he did.
Considering how Joni feels about Mac's job, I'm going to guess that when Olsen finally confronts Joni, she's going vomit up everything. It will be interesting to see what happens when Mac finds out.
Will he have to kill Joni? Him pointing the gun at her when he had his PTSD episode at the start of the hour may have been a foreshadowing  moment. But, would he be able to do it if he had to? 
Did anyone else think that scene of the water a little strange? It was in between the scene of Moses' girlfriend leaving and Mac calling The Broker to tell him the job was done. It looked like the same location from the opening of Quarry Season 1 Episode 1 and I wonder what it means. Any ideas? 
What did you think of "His Deeds Were Scattered"? Hit the comments and share your thoughts below! If you missed the episode, you can watch Quarry online right here via TV Fanatic.
Lisa Babick is a staff writer for TV Fanatic. Follow her on Twitter.