Shameless Season 7 Episode 2 Review: Swipe, F**k, Leave
Paul Dailly at .
Frank Gallagher will not be leaving the Gallagher household without a fight. 
That much was confirmed on Shameless Season 7 Episode 2 when he made it his plan to piss the whole household off. 
It's typical Frank. He'll act like the whole family is against him because he knows damn well that they're tired of him putting himself before all of them. 
It was pretty refreshing that no one challenged him when he took Liam. Maybe the family realized that something will go wrong and Liam will end up back in their care before long. 
One of the things that really bugged me was that Frank implied that his kids could no longer use the Gallagher surname. As if the family would not be ecstatic at the prospect of a new name. 
Frank is so well known around the South Side that people probably associate the name with trash, so it would make sense for them to change their surname. 
Building the walls to block off the the upper portion of the house was completely ludicrous, but it should have been expected. 
It should be interesting to find out just what happens next in the battle between father and children. 
Elsewhere, Ian had his hands full trying to find out what the heck Caleb was up to and it sent him on a path of destruction. 
Caleb making the assumption that he didn't cheat on Ian because he slept with a woman was just away for him to sugar coat the fact that he's a cheat.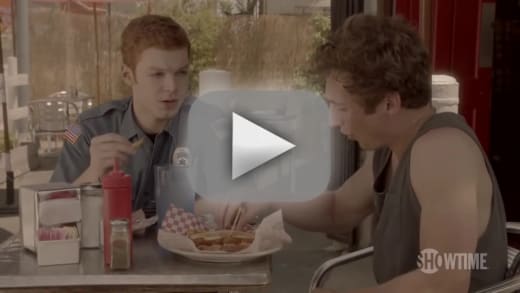 If he genuinely didn't think he was cheating, he would have been more up front with Ian from the get-go. Going out and sleeping with a woman was not the best course of action for Ian. 
He knew he was gay, but he wanted to prove to himself that he really was because of the things Caleb said to him. It just goes to show that you never really know what someone you love is hiding from you. 
Hopefully Ian stays well away from Caleb, but I'm getting the impression that he won't be able to. No one can just shut off their emotion that quick, so expect there to be some back and forth before it's really over. 
There's been a lot of rumors that Mickey will be returning to the show at some point this season. If that's the case then Caleb should just call it quits because Ian and Mickey are endgame. 
Maybe he'll bring Mandy and she can get back together with Lip. That would be the icing on the cake. 
Fiona's continued efforts to prove she's moved on from Sean won me over. She's desperately trying to move on, and it seems like she's getting somewhere. 
Righting the ship at Patsy's was a good move. Olga thinking she could just show up whenever she wanted to was not a good work ethic. 
With that in mind, the new additions to the staff will do well to increase the humor on the show. I have no idea, at this stage, what will happen between Fiona and Veronica. 
Veronica is settling down with her family, but Fiona is just coming out of her shell and that's probably going to put a strain on their friendship. 
"Swipe, F**k, Leave" was another great hour of this Showtime drama. It's crazy that we're on Shameless Season 7 and the show still manages to be as crazy good as the first day itaired.
Other tidbits from the episode:
Kevin hiring the topless maid and expecting her to actually clean was pretty dumb of him. He's lucky Veronica and Svetlana don't jump to crazy conclusions. 
Debbie's stroller stealing business is going to get her in a LOT of trouble. She needs to quite while she's ahead, or she's going to end up in jail. 
Poor Carl. He couldn't stop thinking about women, so that meant he had to take several trips to the hospital. Maybe he should have stayed off school and sequestered himself from the start. He did get surgery, after all.
I don't know what to make of Lip's storyline this season. He's trying to move on with his life after rehab, but he's trying his best to not become his father.
Can Svetlana and Sue get more screen time?!
Remember you can watch Shameless online right here on TV Fanatic. Get caught up on all the action now!
What did you think of the episode? Hit the comments below!
Note: Shameless Season 7 Episode 3 airs October 16 on Showtime. 
Paul Dailly is the Associate Editor for TV Fanatic. Follow him on Twitter.