The Flash Season 3 Episode 2 Review: Paradox
Carissa Pavlica at . Updated at .
The changes to this timeline were bigger than Barry expected.
Yet it almost seems unfair, after watching The Flash Season 3 Episode 2, that Barry was the one who messed with time and ultimately seems to have suffered the fewest consequences.
Did anybody else notice that? Everything that happened is a result of decisions Barry made, but he still gets the girl. Either way, he lost his parents. There must be something else coming for Barry that's wholly unexpected, right?
It's not that I'm wishing harm upon Barry, but seeing the others we love in such pain is really difficult.
Their eventual acknowledgement of being a family and taking with that the mistakes and forgiveness that makes familial love survive through the ages did a good job reminding us of how close they have all become through the years.
But Cisco lost his brother after he only just decided to work harder to get to know Dante on The Flash Season 2 Episode 20 after he witnessed Dante's Earth-2 doppelganger die.
And it's rather ironic that the team decided not to hear about their flashpoint lives (or the timeline that was closest to this one), don't you think? Cisco could have discovered Dante was alive in both of those, and only died BECAUSE Barry went back in time to save his own mother, the very thing he had been begging Barry to do in this new timeline.
So you decided it's OK to change things when someone in your family dies, but when it's someone in my family...[walks away]

Cisco
Cisco's has a handle on his powers in this timeline such as he didn't have in the others (that we know), but something is holding him back from going on the streets to be a real teammate to Barry.
Does anyone else think that perhaps there's a chance he could wind up being Reverb if he ever learns the truth? Especially after seeing the frosty side of our Caitlin Snow!
Barry would have had the least to tell her about her flashpoint life if she asked, but that's only because he didn't get to know her. What the heck was she doing with her abilities? And how long before Cait tells anyone on the team what's happening to her?
I know I'll probably be dissed for not paying close attention, but so be it. Alchemy is going to give everyone from flashpoint the powers they had in that timeline. How did he know every person who had powers? Is he Santa Claus or something?
And why do I get the feeling Julian is Alchemy? He'd take the CSI job to get a lead on where the people are to give their powers back, cover up trails he leaves and give false information. That's what I'd do. Otherwise, I'd not have a job at all, because hello, supervillain.
It's somewhat surprising Barry didn't tell Wally about being The Flash since he'll be getting his powers back. They discussed that Alchemy will be giving them back, so that should mean some kind of interaction with the guy. Even if it's just for safety's sake, wouldn't it be better to tell anyone who had powers in flashpoint to be on the lookout?
Granted, Wally might become impossible around his family, but they know how to forgive and forget now. They'll get over it!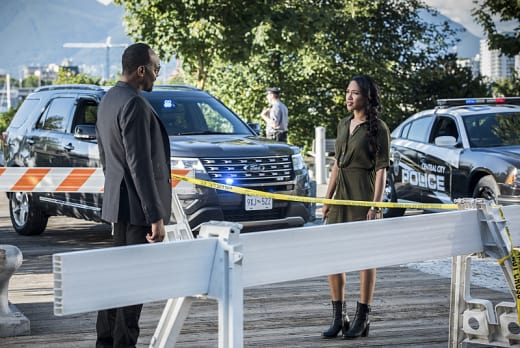 Speaking of...did I miss why Joe and Iris were fighting or did they just make up quickly to get the story moving forward? **Ahhh...Francine! Thanks Iris West via the comments** I can't figure out why so much of this hour felt as though things were being brushed over. Sometimes it's deliberate to allow for the explanation another day. Sometimes I'm just dense (ding ding ding!!).
Maybe the whole point of not being together was so Iris could use them as an example of how silly fighting can seem when you really look at it. She's right.
Felicity didn't help out all that much, either, other than to have someone to talk about flashpoint and point out we no longer have baby Sara on Arrow, but instead have introduced the beginning of the timeline that we saw on DC's Legends of Tomorrow Season 1 Episode 6 when John Diggle, Jr. was the Green Arrow.
I'd always hoped maybe Sara was out there battling elsewhere, not that she'd been erased entirely. Oh well. I guess nobody will ever know. Dig is not exactly going to remember a daughter he never had. Of all things, though, that is one of the worst. 
Naming his daughter after Sara was a really big deal, and now it has no meaning whatsoever. The Canary ladies and Lance family really get no respect whatsoever.
Also in this hour, Jay Garrick stopped Barry from going back to mess with time AGAIN, because, yeah, he was going to do it.
You have to ask yourself what kind of hero you're gonna be. Are you just gonna take a do over every time you make a mistake, or are you gonna live with them and move forward?

Jay
It's hard to believe Barry needed someone to tell him that as an adult he didn't get mulligans and learning from his mistakes was the way it was supposed to go, but hey, we got to see John Wesley Shipp as Jay Garrick in the '90s dole out the advice, and even acknowledge he looks just like Barry's dad.
I'll take it.
"Paradox" would have been better paired as part of a two-part premiere with "Flashpoint," in my opinion. It didn't offer a lot in terms of plot movement, but instead continued with exposition that seemed missing from The Flash Season 3 Episode 1. I guess we just had to wait a little for it to catch up.
What do you think might be coming next? What reveal was the best? Do you like Julian? Let me know what you think!!
If you have missed any of the fun, you can watch The Flash online right here via TV Fanatic!
Carissa Pavlica is the managing editor and a staff writer for TV Fanatic. She's a member of the Critic's Choice Association, enjoys mentoring writers, cats, and passionately discussing the nuances of television and film. Follow her on Twitter and email her here at TV Fanatic.