Designated Survivor Season 1 Episode 6 Review: The Interrogation

Lisa Babick at .
Tom Kirkman believes he can be the catalyst for change. He believes he can make this country stronger and better than ever.  
Pretty confident for a guy with hardly any political experience, no? It also sounds eerily familiar.
And on Designated Survivor Season 1 Episode 6, Kirkman had to put aside his personal feelings to make a tough decision for the betterment of the country as a whole.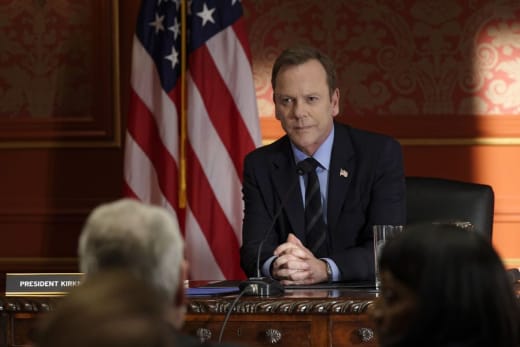 I really didn't think Kirkman had it in him. After his fiasco with the governors when he pulled his "woe is me/I shouldn't be here" act, I thought we were going to have to suffer through another hour of Kirkman's indecisiveness.
But, he really showed he was willing to put his own personal feelings aside so that the country could move forward. And, that's what everyone wants, right?
I certainly didn't expect him to agree to ban all immigration until the country felt safe again, did you?
What exactly is the criteria is for the country to feel safe again? Those details weren't shared, but I'm confident Kirkman has it under control. He's a reasonable man, right? The new no-immigration policy isn't going to last forever, right? 
Any change to the status quo is always upsetting, but sometimes it's necessary. All we have to do is look at the recent election for proof. If people didn't want change would the outcome have been what it was?
And in this case it was necessary in order for Kirkman to get a jumpstart on filling the seats of the Senate and eventually the Congress. It was done so that the country could move forward.
The people demanded action via their governors, and Kirkman had to act. Whether he made the right decision remains to be seen, but he followed the will of the people and put the country's interests above his own.
Change does not mean we abandon our principles.

Alex
I don't quite understand why it has taken so long for the government to get reestablished. You'd think it would have been a top priority and would have happened sooner than it appears it has in Kirkman's world.
It's scary to think we could go for so long without a government in place. How is anything even functioning?
I also didn't necessarily like the idea that the governors pretty much forced Kirkman's hand with the immigration issue. Wouldn't they want the government to be reestablished as soon as possible? Sure, they're there to represent the constituents of their state, but aren't there priorities?
After all, he agreed to their ridiculous "trial," which seemed a little hokey to me. If the law provides for a designated survivor, why can't these people accept it? Doesn't their questioning go against the very reason why it was written in the first place?
It's becoming quite tiring watching people continue to question the validity of Kirkman's presidency. Would this happen in the real world? Even in the event of a catastrophic event like the bombing of the Capitol? It just seems like a stretch.
Aaron did a good job with his pep talk to the President after Gov. Nichols knocked him down. It was kind of goofy that Kirkman backed off so easily after he had been so confident before. But, Kirkman is still Kirkman. Those little seeds of doubt in his ability may never go away.
But, if Kirkman can change the mind of people like Seth and Aaron, there's a pretty good chance he can convince other naysayers as well.
I am not the President you or the country voted for, but I have to believe that we all want the same thing. To rebuild the Capitol, the Congress, the Senate. To rebuild our country.

Kirkman
Congresswoman Hookstraten was missing this hour, and it was quite refreshing. I guess maybe Gov. Nichols made up for the annoying member of government this hour, but she was much more tolerable than even a minute of Hookstraten. 
Seriously, the hour moved so much better without Hookstraten's continuous interruptions. Did anyone else not miss Hookstraten?
I also liked that Kirkman finally ditched the glasses. It was a way to show that he's finally fully embraced his role as President. It's amazing that he's come so far, isn't it?
Alex wasn't too thrilled with Tom's immigration move, and who'd expect her to be? She's an immigration lawyer, and protecting immigrants has been her life's work. But, even though she was disappointed, I liked that she accepted his decision. She knows he's got to make the tough decisions and it was good to see that she understood that and still stood behind him.
Seth has an almost-girlfriend. Yippee. Is it surprising that she would be the one to ask about Leo's paternity? Predictable. Sorry, Designated Survivor.
The fact remains that President Kirkman has no credentials, no accomplishments, no real experience.

Gov. Rivera
Hannah and Jason continued their quest to find the real Capitol bomber. It was just like Kirkman not to allow that one guy to send Nassar to a black site, but wasn't it strange that Jason was so willing to put the burden of finding out information on the FBI's shoulders?
I'm getting the feeling that he's somehow involved, especially after Nassar was killed. (We all know he was killed for talking to the FBI.) If Jason wasn't involved, why wouldn't he have said something to Emily about MacLeish after she asked him to get information about the guy? It would have been the perfect opportunity for him to have asked to talk to the President.
The longer they put it off, the less chance anyone is going to believe them, especially Kirkman. He likes MacLeish, and now that Aaron has run his own background check on the guy, it's going to be harder for Kirkman to believe anything is really wrong with his VP pick.
It wasn't surprising that Nassar was killed. He gave up the name too easily. Threats to his family or not. What kid of terrorist is this guy to give in so easily?
Also, why would Hannah even think that the name he gave them was real? It seemed like a waste of time for Jason to search for it in the FBI database. Even I could figure out that the Katalan or whatever the name was wasn't real. Duh.
What did you think about "The Interrogation"? Hit the comments and let us know your thoughts. If you need to catch up, you can watch Designated Survivor online right here via TV Fanatic.