Jane the Virgin Season 3 Episode 3 Review: Chapter Forty-Seven

Amanda Steinmetz at . Updated at .
She may still be Jane, but she is certainly no longer a virgin!
Jane and Michael finally had sex on Jane the Virgin Season 3 Episode 3. More importantly, the entire storyline was handled with humor, realism, and care. 
Elsewhere in the episode, Jane worked on her thesis, Xo considered a career change, and Rogelio pitched The Passions of Santos to The CW. That's right, this episode went meta.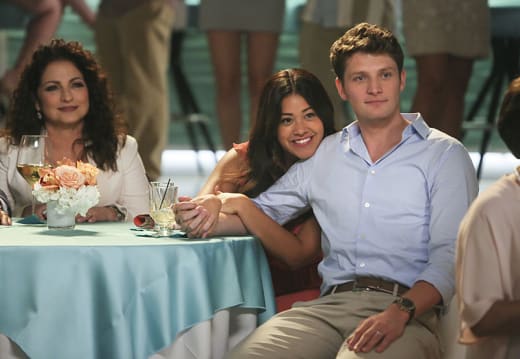 Jane and Michael's romance has been one of almost complete perfection. It's lovely to watch, but not remotely realistic. So I was relieved to see Jane's first time be treated with frankness and exploration.
After some minor delays, they finally got to have sex. Granted, their first time ended with an accidental sex tape being sent to Professor Donaldson. Also, Michael thought they finished at the same time, but it turns out Jane lied to him because she wanted their first time to be perfect.
It's amazing when you watch sex talked about without the language ever sounding trite or vulgar or awkward. The writers allowed Jane to be straightforward with Michael.
Okay, I've had sex. I am now a person who's had sex.

Jane
The victory of this episode lies in the treatment of Jane's emotions following this major step. While the pleasure of her first time didn't go quite as well as she thought it would, she also wasn't prepared to feel differently about herself.
Jane needed to confide in her mother, and Xo didn't let her down. Their talk was beautiful and spoke to a larger societal construct surrounding female sexuality.
A large part of Jane's identity was grounded in her virginity. While I think that aspect of her life got magnified when she became accidentally artificially inseminated, it doesn't change the fact that she feels different now.
Xo was able to help Jane see that while she may not be a virgin anymore, she's now entered into a new phase of her life. Whether or not she's a virgin shouldn't be her defining characteristic and it certainly doesn't determine whether she's a whole person. 
Jane: This is so stupid! I'm married. I wanted it to be gone. I don't know. I just.. I feel weird. Like... I lost something, like a part of my identity.
Xo: Yeah, I get that. And I blame the flower.
Jane: What?
Xo: It's perfect, untouched. Then crumple it up, now it's ruined.
Jane: I know I'm not ruined.
Xo: But you feel like you lost something, and you didn't. You just gained something. A whole new dimension of your life, your relationship.
Jane's identity crisis also tied in perfectly with the overall narrative of the series. The title is Jane the Virgin, so where do we go without the" virgin" part?
The answer is simple. We continue to follow Jane and her loved ones as they navigate through life. Jane's non-virginity status doesn't mean the story is over... it's just a new chapter. 
Jane expressed her worries that maybe she and Michael weren't sexually compatible. Thankfully, Xo reassured Jane that finding your groove with someone takes time. 
The first time is rarely perfect, and the treatment of a female losing her virginity in film or television can be quite frustrating. The act is either treated as a mind-blowing, transcendent experience or as an awkward, terrible experience. 
Jane spent years building up her first time in her head, so when the time came, she couldn't fully allow herself to be in the moment. Luckily Jane chose well, and, of course, she and Michael would watch their sex tape to review and see what they could do better.
And by the end of the episode, Jane and Michael were able get on the same page and have great sex. It must be said that the cartoon visuals used were absolutely charming, had hilarious innuendos, and were a great way around actually showing them do the deed. 
Aside from Jane dealing with her first time, she also worked on her thesis by incorporating aspects of Alba's life, including her estranged sister, Cecilia. The realization that Cecilia was in love with Alba's husband and that's why she told his family that Alba wasn't a virgin was a nice surprise.
An impressive tie-in to Jane losing her virginity was Jane's imaginary view of who Cecilia was. She either saw her as a sex addict or a nun, and by the end, she was able to write her as a fully-formed character. 
While Jane was writing her thesis, Xo questioned whether she should give up her dream of being a singer. Even an appearance by Gloria Estefan couldn't reaffirm her love of singing. 
It would be sad to see Xo give up her dream, but I wouldn't blame her for being tired of not getting her big break. She loves to perform, but maybe there's something else she would be great at and love as equally.
Then we had Rogelio in the most meta storyline this show has done to date. He and Dina took a meeting with The CW for an American adaptation of The Passions of Santos. 
Rogelio: The CW is interested in doing an American adaptation of The Passions of Santos.
Jane: What's The CW? Like a... like a streaming thing?
Rogelio: No, no. It's a huge network. Look it up. Amazing shows. Fabulous lineups.
Who cares? No one's even heard of this network anyway. It's the armpit of American television.

Rogelio
His descriptions of the network (that Jane the Virgin actually airs on) were spot on depending on how you view the lineup of shows. While I wouldn't mind seeing The Passions of Santos starring Rob Lowe, I'm still pulling through for Rogelio to get his big break. 
Stray Thoughts, Observations, and Questions
Luisa made the right decision and left Rose. I don't care how deep their connection is, that woman is bad news. 
Are Rafael's mother and half-brother truly dead? Or was Rose just planning on killing them?
Gina Rodriguez nailed the physical comedy and dialogue. Her portrayal of Cecilia was one of her best imaginary characters yet, and her outburst at Gloria Estefan had me laughing out loud.
Did anyone else notice Anezka and Vests looking all lovey-dovey feeding the twins in the background as Jane and Lina talked about Jane's first time?
So over you to you! Do you think Jane's first time was handled well? Will Xo give up her dreams of being a professional singer? What will the title of the show be called on Jane the Virgin Season 3 Episode 4?
Sound off below, and don't forget you can catch up on any missed episodes when you watch Jane the Virgin online via TV Fanatic!
Amanda Steinmetz was a staff writer for TV Fanatic. She went into retirement in June of 2027. Follow her on Twitter.