Madam Secretary Season 3 Episode 6 Review: The Statement

Elizabeth Harlow at . Updated at .
Finding the words doesn't always come easy.
And just because someone stays silent doesn't mean that they don't have a lot of feelings about a topic. Speech writer Matt struggled to find a balance on Madam Secretary Season 3 Episode 6 when he came under suspicion and attack on the very thinnest of connections.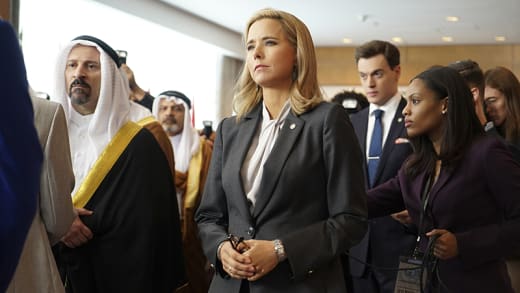 I was nervous going into "The Statement," for a lot of reasons. Episodes about major terrorist bombings and mass shootings always give me a bit of unease since fictional events get preempted by real tragedy all too often. Madam Secretary wasn't just addressing the act of violence, but the societal fallout.
And the original airing came after a week of unrest brewing across the United States. Art imitates life imitates art imitates life... it feels like a terrible uroboros sometimes. 
So I was pleasantly surprised by the care with which the writers handled the topic.
Nadine: Any one of substance will dismiss the story.
Matt: And what about the rest of the country?
They weren't the first, and won't be the last to try and use the medium of television to explore racist backlash to tragic events. Or even just racism in general. In fact, ABC's newcomer Designated Survivor recently did a similar story with Kal Penn's character.
Alex Cooley headed the top notch job that the writers did with this story. It easily could have come off feeling trite, like a very special episode. But the established relationships were utilized to make the situation feel real; characters stayed true to themselves even when confronted with such ugliness.
Matt repressed his feelings and hid behind sarcastic jokes and silences, rushing to assumptions too quickly as Nadine tried to comfort him by micromanaging things. Jay struggled to fit in with his coworkers, but ultimately demonstrated extreme loyalty. 
Daisy [to bruised Jay & Matt]: Oh my god, what happened?
Blake: A sample sale at Brooks Brothers?
Even Daisy's hyper vigilant attitude towards all threats was in character, although I did find her lack of compassion and understanding strange since they used to date. All in all, it was a great example of how people actually deal with tragedy and the persecution of others.
Even when we're sad, we laugh. Even when we care, we fail. 
Is it somebody's birthday? I love morning cake.

Elizabeth
The writing also stressed that change starts small. Geoffrey Arend absolutely blew me away with his delivery of Matt's condemnation of his coworkers. This was also the key moment that kept the episode from being possibly devolving into an overly saccharine kumbaya nightmare. 
I want world peace and harmony. I want an end to racial and ethnic tensions. But like Matt, I'm intelligent enough to know that no speech, no matter how moving, is going to immediately sway millions of strangers. Small steps like discussions with friends and coworkers are far more successful.
I can only imagine that Arend's own background was vastly informative for the writers and for his performance. The added layer of mixed ethnicity and Matt's eventual acceptance of all of the parts of himself really got to me. 
Of course, I'm just as horrified as everyone that a deranged man blew up a coffee shop. I mean, how could anyone ever doubt that? But I'm not saying anything, publicly or otherwise, because I shouldn't have to. My condemnation should just be a given. When a white man shoots up a black church, no one demands that white men across the country denounce the attack. It's understood that the perpetrator is on the fringe, that every American decries the tragedy. But somehow, when an Islamic extremist commits an atrocity, every Muslim is implicated. All my years of public service, every ounce of decency I've ever shown is erased by other people's fear and revenge.

Matt
Stories will shift back to the McCords on Madam Secretary Season 3 Episode 7 ("Tectonic Shift," airing November 20th) when Eric Stoltz returns as Will Adams. Elizabeth may be busy trying to prevent a coup in disaster ridden Venezuela, but that's no reason that she can't help her little brother out with his problems.
The casting of teenage Will and Elizabeth can only mean that Will's solution to his marital woes will be guided by flashbacks. We'll get to see the whole Adams family in fact. I can't wait to see what insights a fifteen year old Elizabeth gives us into the mind of the Secretary.
If you missed "The Statement," or simply need to see it again to get the full impact, or want to make sure that Matt's conference room speech goes viral, you can watch Madam Secretary online. We'd love to get hear your thought's in the comments section below!
Elizabeth Harlow was a staff writer for TV Fanatic. She left the organization in October 2018.