Addictions are tough to beat. Can an addiction turn into something more, something good?
On Masters of Sex Season 4 Episode 9, Bill questioned the direction of his relationship with Virginia and ended up making a big step.
Meanwhile, Art learned a devastating secret about Nancy, and Libby took a road trip. Let's discuss!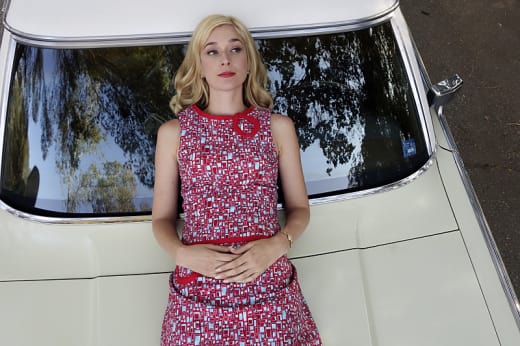 Before we get into the rocky romantic relationships, let's talk about Libby. Her transformation has been wonderful to watch. Her character has flourished ever since her divorce, but she's still searching for who she is and what she wants.
The incorporation of Woodstock was a nice touch without ever getting too cheesy. Seeing more of the actual festival would have been a bit much for this particular show, but I liked the idea of focusing on the people trying to get there.
Libby's interactions with the hippies were both self-reflective and also gave her a new experience. She's trying to figure out what she wants for herself for the first time in her life. 
Someone else trying to figure out their next move was Bill. After going undercover, Bill and Virginia were back together... at least physically. 
Virginia has always been his addiction, but more importantly, she also represented how he saw his self-worth. They have never been a healthy pairing. 
What is it that we're hiding, exactly? You don't have a wife anymore, Bill. I don't have a husband. We've just gotten so used to keeping secrets that we've forgotten that we don't have to anymore.

Virginia
However, now that neither of them is married, there's nothing stopping them from actually being a couple, if that's what they truly want. They may be each other's intellectual equals and connect with each other physically, but there's something missing.
Now that Bill and Virginia are seemingly engaged, does this change their dynamic? Are they all of a sudden going to be emotionally open? I doubt it will be that simple. 
With Masters of Sex Season 4 coming to a close, I'm curious to see whether Bill can get past his addiction of Virginia? Call me crazy, but marrying his addiction doesn't seem like a smart move. 
But who knows because marriages on this show are as temperamental as ever. Art and Nancy's marriage is living on borrowed time at this point. Neither of them is a beacon of honesty, and they would be far better off with different partners. 
Her decision to get an abortion broke Art's heart, but there's a bigger issue at hand. Nancy doesn't want a baby at all. 
It's not that I even want to leave him. I don't. I just... I need to know that I can. I need to know that there's a door leading out, even if I never go.

Nancy
She told Art there was a chance the baby wasn't his, so that's why she didn't want it. However, as Art listened to the audio recording of Nancy's conversation with Barton, he now knows the baby was his, but that she just doesn't want a baby at all.
Nobody should have to be forced into parenthood if they don't want to, and I believed Nancy's tears. However, that doesn't give her the right to keep up her sham of a marriage.
She and Art clearly want different things. That's completely fine, but that means both of them should go out and find someone else who is on the same page. 
Stray Thoughts and Questions
Virginia's parents' marriage is on the rocks, but I find it interesting that the father didn't see how his affair was a possibility for the troubles in their sex life.
Louise has fallen off the wagon, and it's sad to watch. It's awful her husband is in a wheelchair, but she shouldn't feel trapped in a marriage that makes her miserable.
Will either Bill or Virginia begin to get cold feet about getting married, or will we see them hitched by the end of Masters of Sex Season 4 Episode 10?
So what did you think of the episode? Sound off below, and don't forget you can catch up on any missed episode before the season finale when you watch Masters of Sex online via TV Fanatic!
Amanda Steinmetz was a staff writer for TV Fanatic. She went into retirement in June of 2027. Follow her on Twitter.