No Tomorrow Season 1 Episode 8 Review: No Rest for the Weary

Yana Grebenyuk at .
Mixing business and pleasure doesn't always work, especially when you haven't worked in a while.
On No Tomorrow Season 1 Episode 8, Xavier returns back to the workforce so he can spend more time with Evie. Unfortunately Xavier doesn't get the pleasure he's expecting when he interferes a little too much. 
Meanwhile, Kareema and Sofia are trying to make their secret relationship, but things aren't looking good for them when Sofia's green card is put on the line.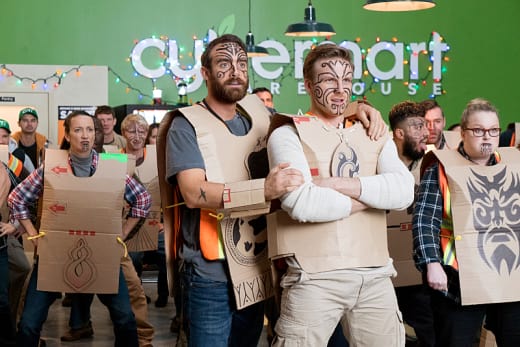 I could see Evie's point of view in all this because she was under more pressure from Deirdre. Xavier was feeling bored without Evie, so he got this job for fun, not thinking of the circumstances.
And there wouldn't have been any issues if he had a stronger work ethic, right?
Xavier probably worked before, but no one could tell by the way he approached his new position at Cybermart. He was expecting some making out with his girlfriend and maybe some work on the side, but that's not how things work.
He does deserve some appreciation for the way he got the other workers to relax around the warehouse, but the strike was more nerve wracking than expected.
Unless Xavier had ''create a strike'' on his apocalypse list, he needed to back off. He worked at Cybermart for one day and created enough problems for Evie to last even after he would quit.
Evie needed a push to stand up to Deirdre, but it maybe wasn't Xavier's place to get in the middle of it when it put jobs at risk. She wasn't wrong when she called him out for being selfish, even if she felt guilty for it afterwards.
Xavier's strike worked but what if it hadn't? 
There's a black market for everything.

Hank
Kareema and Sofia only had a moment of happiness before her brother found out that Sofia was seeing someone and broke off their engagement.
There wasn't enough time for us to decipher Rohan, but if he knew that Sofia only wanted a green card, why get mad at her for being interested in someone else?
I'm going off the assumption that this deal was always like that, with Kareema's brother knowing that he was helping Sofia stay in the country and that's it. Whatever else he thought would happen afterwards was on him, not on Sofia for finding someone she really cared for.
Kareema proposing was everything I was hoping for but couldn't let myself hope for. It made all the sense in the world for Sofia to marry the person she actually wanted to be with, but for some reason it didn't strike either of them.
Thankfully, Evie was there for Kareema and now we have a wedding to prepare for.
It was wonderful to see Kareema and Sofia work out their relationship issues, yet something was still missing. This had to be Kareema's family and their input on all this, something we should get to see sometime in the future.
If Sofia and Kareema really do plan to make this work, why not try to tackle Kareema's side of the family?
It is important that we're CyberMart official.

Deirdre
Timothy just isn't around enough, something we only realize when he's there in some small portion of time.
This time around that included trying to find a new story that would go viral; luckily Xavier created a serious strike just in time. 
Sadly, Timothy just doesn't know how to attract views to his own videos unless he is making a fool of himself without knowing he will have an audience later.
This is where Xavier comes to actually help, fighting back against the replacement workers and getting Timothy to film the face off. It's wonderful to see Timothy branching out, even if he is lost in this new world.
It is important that we're CyberMart official.
The strike interfered with everyone's personal life, but Deirdre and Hank were the last couple I expected to see end like this. 
Realistically, it made a lot of sense, yet I just can't seem to accept it.
Both Hank and Deirdre put the other in an uncomfortable position; Deirdre forcing Hank to spy on his friends, and Hank putting his coworkers before his girlfriend.
It seemed like Evie and Xavier would be the couple that couldn't mix business with pleasure, but they really proved us wrong. It was Hank and Deirdre who couldn't find the line between their work and their romantic life.
Those two really flipped the switch, and yet this shake up is everything the show needed. Hank and Deirdre never had a conventional relationship, but this fight might have been the most realistic moment between them, something that confirms that they have a real relationship. 
Couples can fight and work things out, they just need to want it. And something tells me that Hank and Deirdre are far from over.
What did you think of Hank and Deirdre's breakup? Are you rooting for those two or do you think this was a good decision for them? What about Timothy's career change? How excited are you for a Kareema/Sofia wedding, and how soon do you think that will happen? What was your favorite and least favorite part of the episode? Let us know below!
You can always watch No Tomorrow online right here at TV Fanatic!
Yana Grebenyuk is a staff writer for TV Fanatic. Follow her on Twitter.