Well, Kelsey's plan to secure her man a great deal on his book turned out great, but just not as she planned.
On Younger Season 3 Episode 9, by creating as much of a crevasse as possible between herself and Colin for propriety's sake, she propelled him into the stratosphere and left herself behind.
One small step for Millennial Press, one giant step for Colin.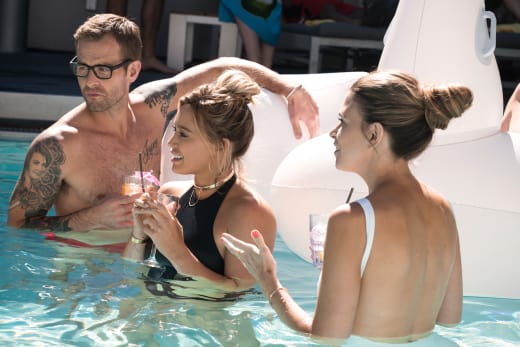 If there's one thing she learned from the affair, it's that there is virtually nothing she and Liza cannot accomplish for her label. She just has to make sure she has deals in place BEFORE publicizing their authors as the next big thing.
That's what went so terribly wrong.
Colin wanted to sign with Kelsey. She pushed him into Redmond's arm so he would get a square deal. Redmond's the best book agent in town.
Kelsey was so excited about Colin and his work that she kind of forgot why she was scaling back on being in the game of representing him in the first place. She inadvertently took on the job of being his biggest supporter.
When you're visiting EW, giving out pages before you have a signed contract in hand isn't the best idea. 
But it was impressive she was able to shake off her reaction so quickly and let it go so they could enjoy Colin's success together. That's not easy, and it was an incredibly awkward mistake to have made, especially when it was all of her doing.
I think all of us non-New Yorkers learned something while watching. That you can actually buy bathing suits in vending machines in posh places. 
Kelsey: Hmmm. What looks good?
Liza: I don't know. I've never bought a bathing suit out of a vending machine before, let alone one that also sells condoms.
That was the beginning of Josh getting all randy at the site of Liza, which is nothing new. It's also not new that he's become obsessed with trying to find a way to make an impression on her life.
Despite their age difference, I really find it hard to believe he can't be a little more inventive than recent attempts.
Josh, your generation didn't invent anal sex, you just invented talking about it all the time.

Liza
This was how he was hoping to enhance their lives together, and create something lasting. Oh my. So, our handsome man got a little bit pouty with the realization there is nothing he can offer his fine princess that she hasn't already experienced.
Liza, however, knows better than that. And considering his profession, you would have thought he might have made the suggestion she came up with on his end, but he didn't.
And to be honest, the final scene with the gob of petroleum jelly, Liza on her belly with an uncomfortable look and Josh purring, "just relax, you'll only feel a little prick," made my stomach drop. 
Why? Because I think, more often than not, the earlier conversation takes a turn that doesn't end in a tattoo, but in something that the partner would rather not do, but feels forced into doing, and by filming the scene that way, the director knows it, too.
However, this was different. Until now, Liza's body hasn't been marred by ink, and Josh designed for her something special that related directly to their age difference and how it mattered not at all to their relationship. Now THAT's the way you make a lasting and loving impression.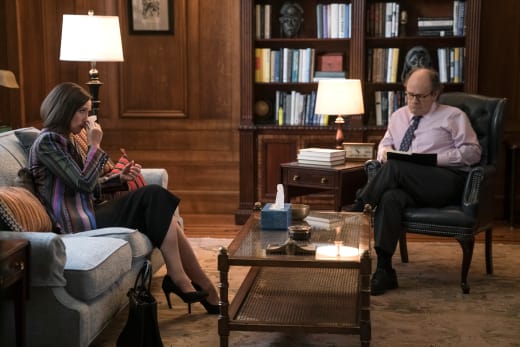 Diana was present and accounted for, as well. She just doesn't love summer. Although wouldn't you have loved to have seen her in one of those vending machine suits?
Didn't she used to date that dufas of a therapist she's seeing? Regardless, she must not share much with him, because although she admitted to reading a lot of books and binge watching Frasier on weekends, he acted as if she had taken no chances at all in her personal life.
His demand to get out there and talk to the first attractive man she saw was all fine and dandy, but we've seen her do that. She did it with Enzo. They had a fine two nights together and nothing more.
She did it with the bicycle rider and Liza ended up in the emergency room. Diana is not a woman who doesn't take chances. From far away, she kind of looks like she has a stick up her ass, but our Diana can get down when she needs to, and wants in on the fun.
But now she's being taken advantage of by Richard the therapist. Me no likey. She said no, fella, so move on out of the apartment. 
After these other, recent debacles, it might be easy for Diana to fall prey to someone as smooth as a therapist. "Let me analyze your dreams," worked just well enough to make her think she was making the decision on her own to let him stay. Not cool, brother.
What do you think is going to happen with Diana and Richard? Can Kelsey and Colin get through his new-found success? Will Josh be satisfied giving a tattoo to Liza? Where the heck was Charles?
If you need a refresher, watch Younger online for more!
Carissa Pavlica is the managing editor and a staff writer and critic for TV Fanatic. She's a member of the Critic's Choice Association, enjoys mentoring writers, cats, and passionately discussing the nuances of television and film. Follow her on Twitter and email her here at TV Fanatic.