NCIS New Orleans Season 3 Episode 8 Review: Music to My Ears
Dale McGarrigle at . Updated at .
It's a time of transition at NCIS: New Orleans.
Change is in the magnolia-scented air on NCIS: New Orleans Season 3 Episode 8, as team members are busy making adjustments in their lives.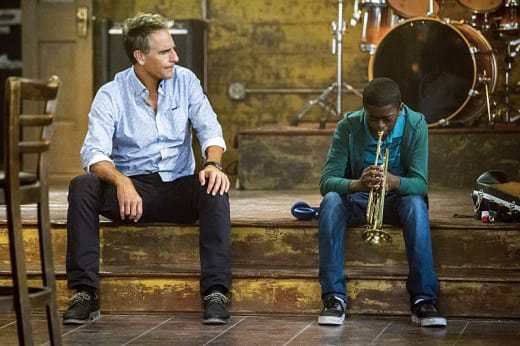 First is LaSalle with his instant family. A word of caution for LaSalle: "Yup, he looks like me" is not a proper paternity test. Get a real paternity test before caring too deeply for Tucker. Melody's sudden re-appearance just smells suspicious.
Of course, LaSalle, lunkhead that he is, didn't mention to his partner, Percy, that he has a family, because he didn't want to disappoint her. Being the last to know naturally didn't sit too well with her.
Percy: Just like it's none of my business that you told everyone else on the team about your love child except me. It doesn't mean a thing. We're good.
LaSalle: So, wait, you are mad.
But fortunately, Percy can't stay mad at her zombie-like partner, and encourages him to give himself time to learn how to be a father.
As Pride shows, even during his brief custody of Dustin, he's a natural dad. No wonder LaSalle seeks out his words of wisdom.
You take care of them the best you can, teach them how to take care of themselves, it takes work, sleepless nights, a lot of faith.

Pride [to LaSalle]
Being an instant father doesn't necessarily preclude a closer relationship with Percy, since it's obvious that he doesn't have feelings for his baby mama. But Percy made it clear that she expects LaSalle to be there for both Tucker and the mother of his reputed child.
Then there's Sebastian, who has grown restless in the lab after his adventures on NCIS: New Orleans Season 3, Episode 4. Throughout this episode, he's channeling Peggy Lee.
Sebastian: Is that all there is for me?
Loretta: I have stomach contents.
There's no one less suited to become a field agent, not even Eric on NCIS: Los Angeles. Still, Pride is cautiously supportive, promising Sebastian a job if he makes it through training. Oh, goodie, another nerd who has learned his action skills from video games.
Pride's magnanimous gesture may have cost him an actual trained agent, as Gregorio appears ready to move to NCIS until she overheard Pride offering a position to Sebastian, when she crumpled her application.
So the will-she-or-won't-she dance continues with Gregorio. Pride flat out offered her his open position (before turning around and offering it to Sebastian) but she didn't give it much consideration then.
I'm flattered, really, but as fun as it's been, this was always going to be temporary.

Gregorio [to Pride]
She appears to be softening the rest of the episode, until she turns around and accompanies Isler back to DC. 
Good to see Isler back, with his winning blend of condescension and disapproval. He's the perfect symbol of federal interference.
Unless a deal has been struck to bring back Brody, this is unlikely the end for Gregorio. She's won over her teammates, if not that many viewers, so the producers will find an organic way to eventually fold her into the team.
A couple of interesting ideas came out of the case of the week, which wasn't all that involving itself.
First, there's finally some movement on the Cuidad Natal cartel storyline.
Javier Garcia, the new face of the cartel, is introduced. So far, Garcia falls short as a villain. A slimy businessman investing cartel money in New Orleans doesn't offer a whole lot of dramatic weight. Hopefully, there's someone bigger coming in the near future.
Finally, seeing Pride with Dustin shows that Pride needs someone to care for beyond his team. Since Laurel can't be bothered to come home even for holidays, maybe he could become a foster dad. Or, better yet, get him a significant other.
To catch up on NCIS: New Orleans 2.0, watch NCIS: New Orleans online.
Are you ready to accept Gregorio yet? Doesn't the cartel laundering money sound action-packed? Can Sebastian be a field agent? Comment below.
Dale McGarrigle is a staff writer for TV Fanatic. Follow him on Twitter.