The Walking Dead Season 7 Episode 8 Review: Hearts Still Beating

Sean McKenna at . Updated at .
With two violent and graphic deaths on The Walking Dead Season 7 Episode 1, Negan left Rick and company broken and divided.
It was a major shift from a group that mostly dominated situations and handled foes. But it was believable considering the villainous Negan.
He doesn't mess around, and he's continued to illustrate his power and ability to physically harm others.
But it was with two deaths on The Walking Dead Season 7 Episode 8 that seemed to spur Rick and the survivors back together again.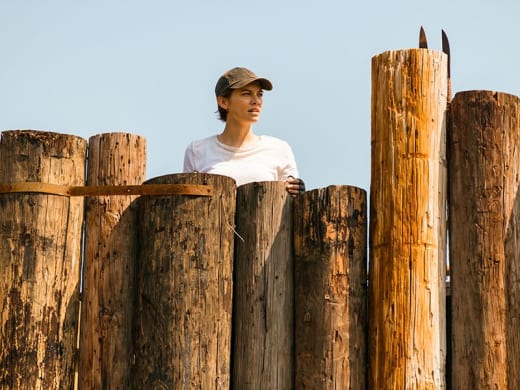 Sure, they all want a piece of Negan, but separately, they aren't going to get things done — especially, if you have one bullet and an opportunity at close range and still miss your target.
The swelling music felt a little overdone, but there was something satisfying in seeing the group reunited at the end.
And the standout moment of Daryl handing Rick back his gun was so reminiscent of Rey stretching out her arm to hand Luke Skywalker the lightsaber in "The Force Awakens."
It didn't need any words but signified so much because it's not just some random gun.
Rick is going to fight back, but he's going to do it with his team.
Michonne returning from her trip to give Rick the speech about working together made those final moments of reuniting at the Hilltop more impactful.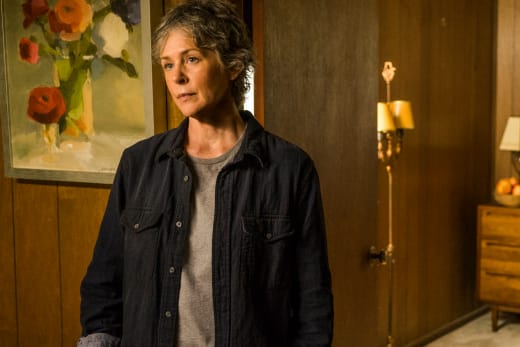 She's managed to change her opinion and realize that going it alone isn't the option, and that's a huge step in the long game of her character considering how when we met her, she was all about going it alone.
But it also was important in strengthening Rick and Michonne's relationship rather than breaking them apart. Plus, Rick agreeing with her really sealed the deal on their scene.
At the same time, it was good to get some of Aaron's insights about Rick's decision earlier in the episode. He understood where Rick was coming from, about keeping everyone alive.
I was worried that Aaron's swim in the walker-infested waters, which was a pretty cool set piece, was going to be his last.
Thankfully, he managed to stick around to get kicked and punched by the Saviors, but his heart was still beating at the end, right?
I hope we get more from Aaron when The Walking Dead returns, because he's actually been one of the more minor characters that I've enjoyed.
There's a depth to him, and his scenes and actions feel like they have purpose and meaning and aren't only there to be a side character to Rick and the main crew.
His death would have an impact, where unfortunately, someone like Olivia (I almost forgot her name even) is just one of those minor characters that gets killed off so The Walking Dead can kill a character off but not really shake up too much.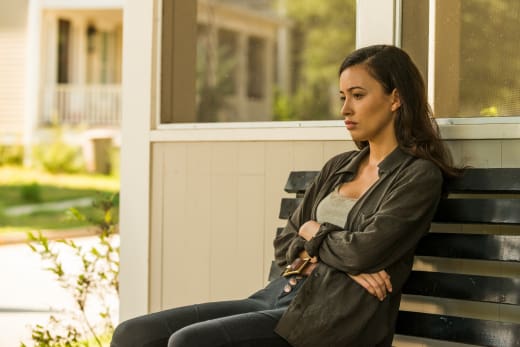 Though, I did initially think that Rosita was going to get the bat after her terrible shot only managed to strike Negan's Lucille.
At least with Spencer, you saw his death coming, maybe not the gut-spilling manner of it, but it felt like it was in line with where his character was headed and what Negan would do when someone tries to rat on their crew and weasel their way into his.
Olivia's felt more like a random second killing to punctuate Negan's power over Alexandria.
And I want to say poor Spencer, but the dude tried to get into league with a viper and throw Rick under the bus. C'mon, man.
Though, I wonder if he had been there the night that Abraham and Glenn died, he might not have made the same decision?
But I do hope that by Rosita not being as expendable as she thought, that we get more character building for her.
Especially, because her actions caused the death of Olivia and allowed Negan to realize Eugene can make bullets, thus taking him away.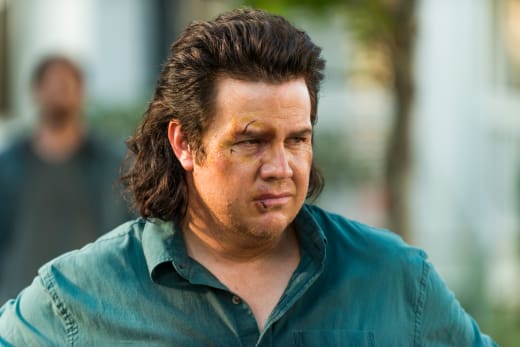 There's a lot that will probably be weighing on her mind, but it's good to think that at least the team will be banding together to get things done.
I was hoping we'd get more from Carol, Morgan and the Kingdom, but it was mostly just a reminder tease that the Kingdom will likely play a major part in the inevitable war against Negan and the Saviors.
Though, it was funny seeing that plenty of people have stopped by to make sure she's doing OK out on her own in that house.
It also was great that Daryl managed to escape, with a little help from Jesus. And we got to see Rick and Daryl reunite.
The "brothers" are back together again.
Though, I continue to wonder where the heck the people of the Hilltop are during any scene at that community.
It always feels like only Maggie, Sasha, Enid, Jesus and Gregory are there. That's got to change.
There were definitely predictable moments and again, the episode probably didn't need to be extended to 90-minutes, but this was a pretty solid midseason finale.
Rick's dialogue-less acting (seriously, that close up shot with his watering eyes), the tense water walkers scene, and the crew reuniting were just some of the great moments.
Plus, Jeffrey Dean Morgan continues to be a standout as Negan, with or without his beard.
And that tease of the person with the fancy footwear? Who was that?
Sure, some of the episodes of The Walking Dead Season 7 have left much to be desired, but the midseason finale did keep me interested and has me looking forward to when the show returns.
After all, Rick's got his gun, and he's definitely going to be ready to start fighting back.
What did you think of the midseason finale? Were you shocked by the two deaths? Are you ready for Rick to fight back? Sound off below, and make sure to watch The Walking Dead online at TV Fanatic.
Sean McKenna was a TV Fanatic Staff Writer. He retired in May of 2017. Follow him on Twitter.