Vikings Season 4 Episode 12 Review: The Vision

Stacy Glanzman at . Updated at .
Let the journeys begin!
Bjorn set sail on a sunny day with everyone wishing him and Hvitserk well on Vikings Season 4 Episode 12.
Ragnar on the other hand, is not off to a very good start.
Everyone said the gods were with Bjorn, and not Ragnar, and so far that appears to be the case. Ragnar and Ivar chose to ignore the signs and take their chances anyway.
It was bad enough Ragnar had to resort to bribing people to sail with him. If that wasn't a sign that he probably shouldn't go, I don't know what is. Well, Aslaug's vision of Ivar drowning, maybe.
It's kind of funny that no one wanted to go with Ragnar because they believed the gods weren't with him, but they were willing to change their minds once he pulled out the treasure chest.
What good is money if you believe your trip is doomed? I guess it made it worth the risk.
Ivar: I'm terrified of water.
Ragnar: Plenty of worse ways to die than to drown.
Tying Ivar to the post to keep him from falling overboard seemed like a good idea in theory, that is until the whole ship went overboard.
Ivar has some serious upper body strength; I feel like he could probably swim without his legs.
Will he drown? That's pretty unlikely, since he's a really famous Viking and his story has barely begun. He has a lot more killing and maiming to do before he meets his end.
Everyone is scared of him, and it's easy to see why. The guy drank the sacrificial blood. He's not just scary, he's disgusting.
Ubbe: Poor Ivar.
Sigurd: Poor Margrethe.
Ubbe: I suppose you had to console her?
Sigurd: I did what I could. She's terrified of him.
Ubbe: So am I.
So far Sigurd isn't too scared of him, but he's really just naive. I would not be shocked if Ivar ends up killing him some day.
The servant girl, Margrethe, is terrified of him, but not so terrified that she couldn't keep her mouth shut.
Did she really think telling Sigurd about Ivar's inability to pleasure a woman was a good idea? That was a pretty dumb move.
No one is happier than she that he's left town. She's probably praying to Odin that he does drown.
Ragnar bribing the townspeople reeked of desperation, and his sons could smell it a mile away.
It's almost sad how far he's fallen, but he did abandon everyone for several years. Maybe he'll be successful and win them back, but it's Bjorn's time to shine now.
I'm looking forward to seeing Bjorn's journey with his brother and Floki, and I really want him to succeed. He deserves it, and has shown he is a very capable leader.
With both Ragnar and Queen Aslaug looking to be in dire straits, it could be Bjorn's time to rule sooner than we thought.
I'm not exactly sure what was going on with Queen Aslaug there at the end, but it kind of looked like she was having a miscarriage.
Of course, that would open up a whole slew of questions if that's the case.
Assuming she survives whatever was happening, are we in for some sort of epic showdown between her and Lagertha? I hope so, because that would be pretty badass.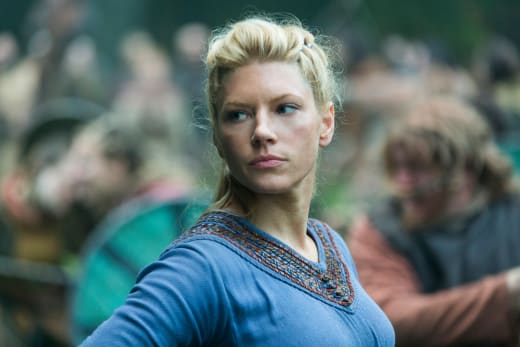 Lagertha actually made an effort to call a truce, using their shared situation of sending their sons off to sea as a reason to put their differences aside.
Aslaug is not about to share her power with anyone though, and Lagertha has been training with Astrid.
I can't wait to see what comes of it.
I think we're in for an exciting second half of the season, and the build up is almost too much.
Will Ragnar and Ivar make it to England? It'll be interesting to see how they get out of their current predicament.
Bjorn's trip is probably going a bit more smoothly.
Don't forget, you can watch Vikings online any time!
Stacy Glanzman was a staff writer for TV Fanatic. She retired in March, 2019.