Hawaii Five-0 Season 7 Episode 13 Review: The Clouds Always Return to Awalua
Dale McGarrigle at . Updated at .
Ohana means family in Hawaiian.
That's the theme at the root of Hawaii Five-0 Season 7 Episode 13.
Family was the reason behind the crime in the twisty case of the week.
More importantly, this episode was about saying goodbye to Medical Examiner Max, a long-standing member of the Five-0 family.
First the case, which was tangentially connected to a police convention on the island. Like any convention, it offered the possibility of chaos.
Why don't they call it what it is? It's spring break for cops.

Grover [to McGarrett]
Too bad there wasn't much else done with the convention. It offered a chance to introduce a stateside officer or two to help solve the case of a Milwaukee cop found dead in the rubble of a building explosion.
The case kind of zigged and zagged. The Milwaukee cop was just collateral damage, who wandered by the wrong building at the wrong time, I guess.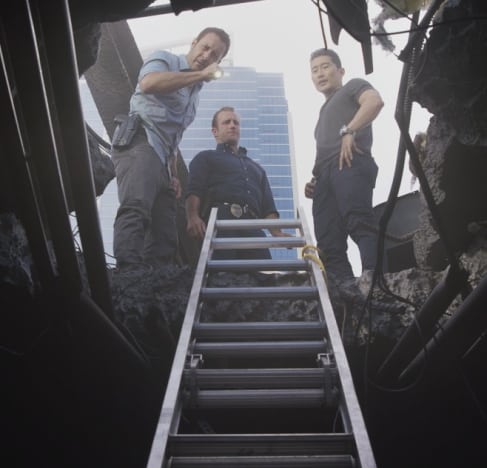 To summarize, the explosion was accidentally caused with an inept heist crew, to retrieve a murder weapon from the vault of a shady lawyer, who was protecting his client, who murdered his girlfriend with that knife.
The girlfriend's brother used the knife to attempt to blackmail the murderer, but who decided to try to kill him in the end.
I guess that's what they mean by a chain of fools.
Speaking of fools, in a good way this time, it was a night for recurring characters.
Early on, Frank Bama, who was apparently crashing on McGarrett's couch, stopped by headquarters. I'm not sure what's up with that, but a freelance pilot on hand could mean another international adventure. That's never a bad thing.
Then there was conman turned crime scene cleanup techician Gerald Hirsch, who got an extended appearance, hawking his services at the convention, stopping a suspect, giving one sloshed toast at Max's party.
You can never have enough of that weasel. And you've got to love his banter with Kono.
Hirsch: Stealthy has a couple of outstanding warrants on his head. He might not be too happy to see you.
Kono: You waited 'til now to mention this?
Hirsch: Sorry. Small oversight.
Charlie Williams had a sweet early scene, playing a game with Danny before the explosion derailed their fun.
Even Flippa offered up a nice little song for his brudda Max.
Before we get to Max's poignant aloha, let's take a break for a malasada. I'd never heard of the tasty treat before, but I really wanted one after Grover's waxing poetic about the pastry.
It was hilarious to listen to the Chicagoan lecture native Hawaiian McGarrett about the proper etiquette of dunking his malasada in his rich Kona coffee. Who knew it was so complicated?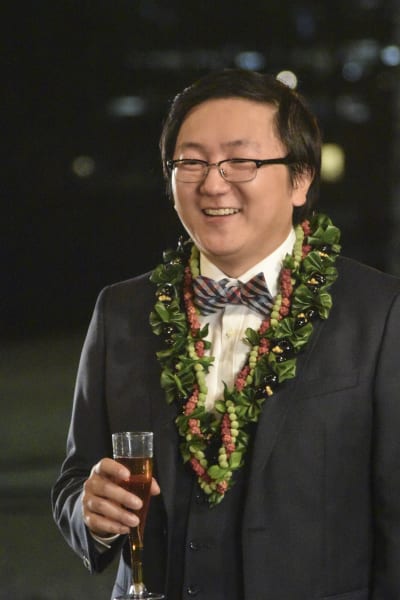 Max is complicated as well: Skilled professional. Quiet romantic. Star Trek fan. Keanu Reeves devotee (there are so few).
Jerry reading Max's journals instead of helping him pack offered the perfect entry to a trip down memory lane, with clips of Max interspersed 
Jerry: What do you write about?
Max: Everything. Anything. My thoughts. My insights into the human condition.
Jerry: Wow. Really? Do you mind if I ...
Max: If it will keep you quiet, please.
Especially fascinating with the montage at the end, which showed how Masi Oka made the most of his few minutes each episode and illustrates why he will be missed.
Now that Max and Sabrina are heading back to Madagascar, Jerry pushed Max to open up.
Max: (Sharing my feelings) is something I'm not comfortable with.
Jerry: I get that it isn't easy for you, but you've got to get past that. You're not going to be working with stiffs anymore. You're going to be interacting with living, breathing people on a daily basis. You've got to learn to open up and share your feelings. Trust me. It's a good thing.
So  as a result, we got to see a different side of Max, as he said aloha:
What I will miss the most is my adopted family, and by that, I mean you. All of you will be ohana forever. I love you.

Max
What I missed was any sighting of Sabrina, except in the clips. Was she already in Africa, setting up their new place? That just felt like a missed opportunity. 
It was heartening to see that Noelani got promoted to head M.E. She has potential that could never be tapped while Max was there. Maybe she and Jerry could possibly become an item. She seems like she could have a freaky side.
Unlike the Madison Gray storyline, it appears that the stolen uranium storyline from Hawaii Five-0 Season 7 Episode 12 will have some staying power. It was brought up several times early, even by Frank of all people.
To find your favorite Max moments, watch Hawaii Five-0 online.
Did Max get an appropriate farewell? Are you hopeful about Noelani? What's up with the uranium? Comment below.
Dale McGarrigle is a staff writer for TV Fanatic. Follow him on Twitter.