No Tomorrow Season 1 Episode 13 Review: No Sleep 'Til Reykjavik

Yana Grebenyuk at . Updated at .
All goes well that ends well.
Or might end well in four months if the government has anything to say about it. 
On No Tomorrow Season 1 Episode 13, things took an interesting turn when Evie and Xavier went on different paths. This surfaced at the same time as the asteroid was finally confirmed.
Meanwhile, Hank tried to stand by Deirdre during a weird health kick that actually turned into a baby reveal.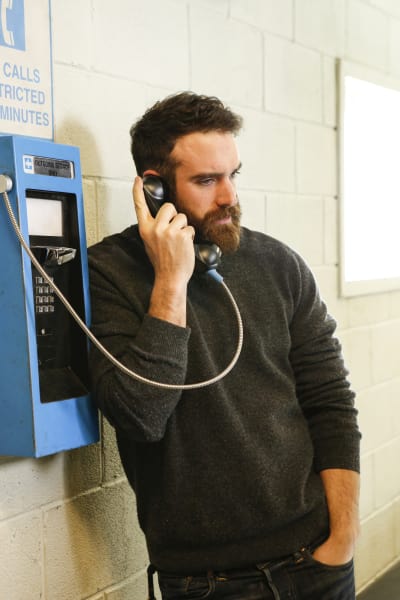 This finale knew what it wanted to do and accomplished every last thing.
Now, from the very beginning, I was very vocal about Xavier/Evie and their almost faith like meeting. But being taken on this journey, only to have a shift come from Evie when it came to faith vs. choices, was a pleasant surprise. 
Her development as a whole was everything I didn't dare hope for. She went from someone who didn't have a path, to someone who made sure she created her own.
She went on a solo trip, not letting faith or chance push her into a new relationship when she wanted to have something for herself. 
And yet Graham still found his way back to her, which I'm kind of onboard with. 
Their meetings weren't exactly realistic, because no one sees a person that much in under two days. Still, it was fascinating to see them discuss whether their own choices brought them to one another.
Eat almonds every day and stay off MD.

Evie
Xavier being behind those choices was something I didn't see coming at all. After Xavier and Evie ended things, this new introduction being caused by him was very telling.
There's no real answer on whether Xavier and Evie belonged together, but I would like to believe that they were supposed to meet for a reason. Xavier introduced and encouraged Evie to do new things, not to mention the way she started to grow in her professional life, as well. 
Evie helped Xavier in his personal life, pushing him to deal with stuff he was neglecting with the excuse of the apocalypse.
They were good for one another at that point in both of their lives. Things changed though, and they had to go in different directions. Along the way, Evie met someone else. Graham might not be forever, but he might be a person she needs at the moment. 
Hank: Scratch offs?
Kareema: Honeymoons aren't cheap.
Deirdre didn't appear to be out of the ordinary at first, in fact I thought her health craze was exactly something she would do.
A Hank and Deirdre baby, though, would be adorable. I would also like to experience those two as parents, though I doubt they would know how to be normal parents.
But a case could be made for them already being the most prepared with that hazmat suit, the one they got even before news broke of the asteroid. 
Even though Deirdre and Hank talk about the end of the world, their unborn child has to change the way they feel about it.
Before, it was easier for them to mention it offhandedly; now they already are struggling with the fact that they are bringing a child into a world that might not even let them have that time. 
What if you're wrong? What if this is faith?

Graham
The wrap up that the finale did was interesting because there was also that door left open for the future.
The asteroid is real which means now there is a rush to find a solution for Xavier. 
Timothy had to struggle not to tell anyone which transitioned into everyone knowing and now him trying to maybe cover what's happening? He didn't exactly believe in this theory and he has no choice but to try to figure out what to do now.
He's still not aiming to win Evie back either, instead finding himself with someone else. This could very well be another moment where Timothy and Evie needed one another yet don't fit together now.
It was Evie's reaction, or lack thereof, that grabbed my attention the most.
She told Xavier that she didn't want to know if his theory was real because of where her life is right now. There is a big chance that she already knew his answer since he was moving to work for the government, which wouldn't happen if he was wrong.
Yet we still didn't see how she reacted when it's made known to everyone; a decision that could push for an interesting take in a possible second season.
Evie is far from where she was when she just met Xavier. She's living for herself, but will that change now that everyone around her is preparing for the world to end? Or will she cling to that hope that they can figure it out, continuing to make progress in the life that she currently has?
In the end, this finale didn't solve everything but offered answers we needed before the season was up. There's a lot left to explore, especially those next four months when the general population is clued into what is actually going on. 
I need something different, something that combines everything that I'm passionate about.

Evie
What did you think of the finale? How did it compare to the rest of the season and what would you like to see in a possible Season 2? Are there any specific characters you want to see battle the news of the asteroid? Do you think it's possible for them to survive?
Don't forget that even though the first season is over, you can always watch No Tomorrow online right here at TV Fanatic! 
Yana Grebenyuk is a staff writer for TV Fanatic. Follow her on Twitter.