Outsiders Season 2 Episode 2 Review: Shadowside
Paul Dailly at . Updated at .
Will Wade be able to find a way to save Li'l Foster from being made an example of?
That was one of the key questions on Outsiders Season 2 Episode 2 and it was certainly horrible to watch Li'l Foster's ordeal.
Now, it was obvious as heck that bail would not be granted to Li'l Foster.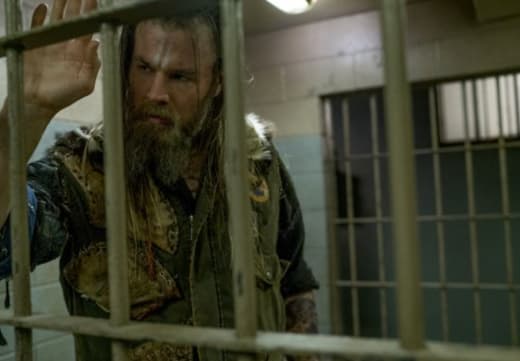 These people on the ground would see that as a step back in their plan to get the Farrells off the mountain.
The sad thing was that Li'l Foster did not commit the murder and he was not a suspect until he was in custody. 
He's one of the most genuine characters on the show, so it's difficult to watch him being put in County. Ryan Hurst is doing his best with all of the material he is being given. 
The culture shock in the courtroom should never have occurred. His lawyer should have been somebody who was passionate about fighting for what was right. 
Instead, he got a woman who had only been assigned the case five minutes before. What sort of justice system is that?
Somehow, Wade is going to follow through on his promise to find a way to free Li'l Foster.
Wade knows what has happened has been pretty unfair, so look for him to go pretty far in his quest. 
I'm not ruling out a storyline with Wade breaking him out of County and taking him home.
Wade will probably emerge as the peace keeper between the Shay Mountain people and the residents of Blackburg. 
It has been as clear as day since the series premiere that Wade was not completely against the Farrells and that's part of what makes his character so intriguing to watch. 
Ledda's revelation that she had cancer came pretty much on the heels of her wanting to blame anyone for Breece's murder.
There was a time when she was on the same side as the Farrells, but now that there's a very real possibility of her dying, she wants justice. 
Arguably, that's going to be something that will continue to divide these siblings as Outsiders Season 2 continues.
Ledda just seemed like she did not give a damn about the cancer. 
It certainly makes me think all she cares about is finding out the real killer before her time is up. It's going to be horrible to witness her telling the kids. 
With Asa being murdered at the conclusion of Outsiders Season 2 Episode 1, it was only a matter of time before the Farrells got wind of it.
There was definitely groundwork laid last week that made it seem G'Win could have sent the wolves to murder him. 
However, her speech about his arm being buried halfway down the mountain makes me think that could be the key to seeing the ghosts on the mountain.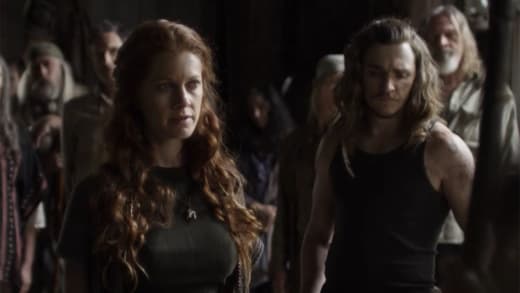 The ghosts have to become an integral part of the story.
There's just so much about the mythology on the show we have yet to uncover and that's what's making this season so much more appealing than last. 
The storylines are moving on at a brisker pace, but could that be down to the decreased prominence of Big Foster?
I mean, he plays a great villain, but there's really nothing I'd like more than him just disappearing from the Mountain.
Do I care about the looming power struggle that's about to kick off between him and his wife? 
Not at all. 
The powers that be have really shot themselves in the foot by keeping him around over Asa. Offing Asa was a ballsy move that proved the show was willing to take risks, but Foster being alive and back on the mountain fell very flat. 
Pretty much nobody likes Foster on the mountain. All he seemed concerned with was letting everyone else know he was in charge. That's not what makes a great character. 
Peeling back layers on a character is great, but they burned far too many bridges with Foster to become redeemable. I could understand the way he lashed out at the family holding him against his will. 
They were downright weird and it was one of those moments were he probably thought that he could really die if he did not make an escape. After the whole ax incident, he knew he would need to escape with blood on his hands. 
I can't be the only one wondering where the heck the kid is going to go. At least he's away from his horrible family. 
"Shadowside" was another solid episode of this WGN America drama. There's a lot going on and it continues to be the best TV series on Tuesday nights. 
Other tidbits from the episode:
Matt does not give a damn about the citizens of Blackburg. Cutting a free clinic, yet having more security on the streets is just one of his bizarre ideas and I already hate him. 
Haylie has been so smug about everything. She seriously needs to go on a trip up the mountain to see the community she so desperately wants to destroy. 
There should have been some scenes with Hasil reacting to the news of becoming a father. Hopefully that's on the horizon. 
Will the new people really want Big Foster in power over G'Win?
Remember you can watch Outsiders online right here on TV Fanatic. Get caught up now!
Over to you, Outsiders fanatics. What did you think of the episode? Hit the comments below!
Note: Outsiders Season 2 Episode 3 airs Tuesday, February 7.
Paul Dailly is the Associate Editor for TV Fanatic. Follow him on Twitter.