The Blacklist Redemption Season 1 Episode 1 Review: Leland Bray

Lisa Babick at . Updated at .
To believe or not to believe. Isn't that always the question when it comes to anything Blacklist related?
Things got a little awkward on The Blacklist: Redemption Season 1 Episode 1, as Tom Keen worked with his supposed mother, Scottie Hargrave to save a kidnapped CIA operative.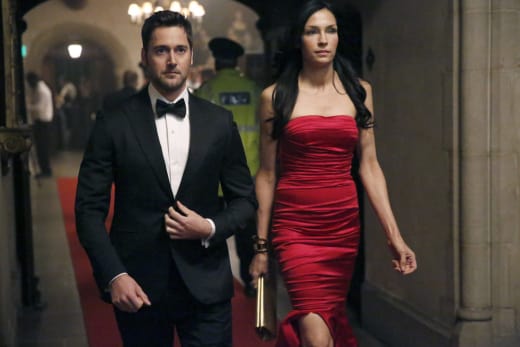 After everything that's happened over the last few years, all Tom wants is to live a normal life with Liz and Agnes. Unfortunately, Tom lives in a world where normal doesn't exist no matter how hard he tries otherwise.
At the end of Blacklist Season 3, Tom learned from Red that Scottie Hargrave was his mother right before he almost killed her. But Red also told him that Scottie could never know the truth. Isn't that just Red's way?
So now Tom is called to New York where he learns that his father, Howard Hargrave, didn't die in a plane crash. I don't remember how we knew that Howard Hargrave was Tom's father, but we did.
Was it really that surprising to learn that Howard Hargrave was still alive? Or that he believed Scottie was responsible for sabotaging his plane?
What I find most interesting is that with all of Scottie's resources and knowledge, she still hasn't figured out the truth about Tom. Which makes you wonder about a few things.
Was Red telling the truth about Scottie? Was Howard? What would be the purpose of lying to Tom about his parentage? And why can't Scottie know the truth?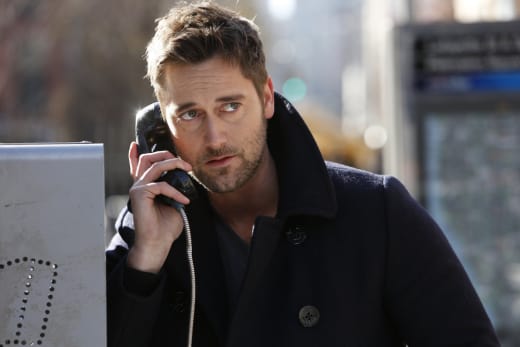 After that dance scene, I was expecting Tom to blurt out something to the effect of, "Ewww. Mom. Please don't," but Tom kept a straight face and went with the flow as his mother moved his hand from her back to her inner thigh to grab the key card he needed to for the next phase of the job.
While the hour was a lot of fun, there were some things that had me scratching my head.
If Scottie Hargrave was looking for Tom Keen, why didn't she look for him in D.C.? And how did she know he was in New York? Didn't she find it odd that he was there? Why didn't she ask him about him being in New York.
It could be that Scottie is playing Tom and Howard, and maybe even Red, but what would be the purpose? She's always seemed genuinely distraught about losing her son, and it hasn't changed here.
But there's still that nagging thought that makes it hard to believe she doesn't know the truth about Tom being her son. But then maybe it's all a lie. Maybe Red lied. Maybe Howard lied. Maybe Tom isn't Christopher Hargrave.
To believe or not to believe. That is the question here.
And it's this underlying mystery that makes me want to keep watching. 
Watching the team work together to save the CIA operative was fun. Seeing Solomon again was great and it was interesting watching him and Tom interact considering everything that Solomon did to Tom and Liz.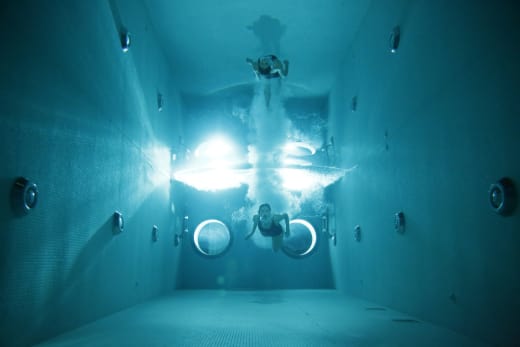 Let bygones be bygones, I guess. But, if they all want to be "redeemed" they have to work together. And they seem to be doing a good job for now.
Tom was only going to do this one job with the team, but after consulting with Howard and discovering even more mysteries about his past, he decides he's going to continue working with Scottie. 
She's obviously pleased. 
But what will this mean for Liz and Agnes? There are eight episodes of the show, so that's eight weeks Tom will be away from his family. Is he going to have time to get back to at least say hello?
How is Liz going to be able to do her job with Tom out of town for that long? Who's going to take care of Agnes? Maybe now that Red is seemingly okay, he'll take a little time off and help out?
Some people might be wondering: why do we need a Blacklist spinoff? I'm one of those fans that finds Tom's backstory intriguing and after watching this first episode, I definitely want to find out more. It also was fast-paced and a lot of fun. I'm hooked.
What did you think of the premiere? Will you continue to tune in? Hit the comments and share your thoughts! If you missed it, you can watch The Blacklist: Redemption online, right here via TV Fanatic.