Bates Motel Season 5 Episode 5 Review: Dreams Die First

Carissa Pavlica at .
Rihanna has made her debut as Marion Crane.
It's not the beefiest of roles, but she did a decent job with the material given on Bates Motel Season 5 Episode 5. And we will be talking about her boss and her boyfriend, both quite unfortunate choices in her life.
Dylan and Emma weighed down the hour with their inevitable re-entry into the madness of being related to Norman, and Norman? Well, that poor guy was having revelations.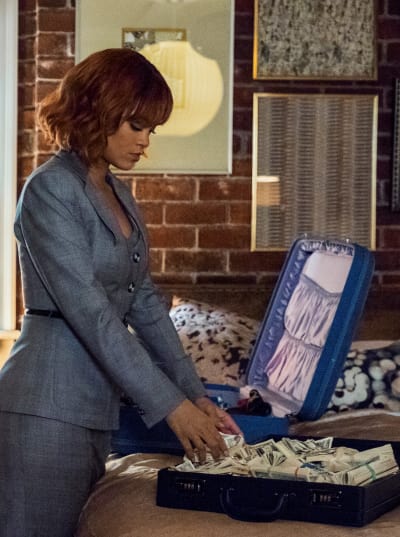 So who is Marion Crane, anyway?
She's pretty much an unlucky bystander, both in her romantic and professional life.
Romantically, she's being lied to by Sam Loomis, who has told her he has a lot of debt. That's why they can't be together. Madeleine may spend a bit too much, but whatever they do in their business lives has nothing to do with why he cannot be with Marion Crane.
In her professional life, Marion is getting a little too much action. She's a pretty girl in a business filled with lecherous men with too much money to spare. They think it's all women like her care about, and because of that, she's more like a piece of meat than a lady.
Her boss is an idiot, but he has standards. At the appropriate moment, Marion decides it's best to emulate them. Why not, right?
Marion, um, one thing I really respect in my employees is a good sense of timing. Right now, uh, I've got a very important client upstairs and now is not a great moment. Maybe we can talk about this on Monday. Maybe be on time, lob your case.

Mr. Lowry
Really, Mr. Lowry, the one thing Marion respected in a boss was good timing, and you obviously failed miserably in that area.
It was the comedic relief that used to come our way from Norma and her thoughts on life. Mr. Lowry setting a briefcase full of $400,000 on the desk of his most valued (who else would he entrust with a case full of cash?) and then practically browbeating her will lead him to a dark future.
Sadly, Marion's will be darker, because she missed the signs Sam was spilling as he danced around her apartment like his feet were on fire as he tried to get away from her as quickly as possible once she began talking about picking up and starting anew somewhere else.
She could have had it all, the money, he looks and any (kind, rational) man she wanted. Instead she made a beeline for Sam Loomis and the Bates Motel.
Even if Kerry Ehrin and Carlton Cuse wanted to switch up Norman Bates's story in ways we cannot possibly imagine (and I don't think they are going that far off the wall), I don't think they'd rob Rihanna of the opportunity to have her own iconic kill scene like Janet Leigh's.
Did you all catch Cuse as the policeman who pulled Marion over on her trip to White Pine Bay? It was a nice cameo and easy to spot because is voice is impossible to mistake.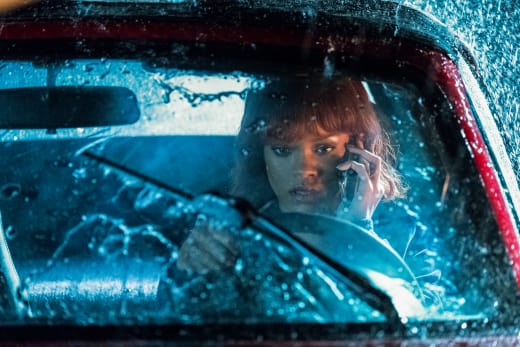 Norman wasn't having the best of days leading up to Marion's second stay at Bates Motel. She thought it was cute, but the brochure is a bit misleading.
The events of the previous evening had Norman all aflutter. Not only was he concerned about where Mother was, but he wasn't feeling right about meeting with Madeleine and making that cake.
He was hardly kind to her, and that's very unlike Norman. The one person he's gotten to know in the last year an a half (a time frame in which he's been off his meds), and he already screwed it up.
Norman: I don't need you to understand my life, Madeleine, because I barely understand it myself.
Madeleine: OK.
Norman: I'm sorry. You really didn't do anything wrong by inviting me over. But you need to talk to your husband because you're lonely and isolated for a reason. You just need to talk to him.
Mother took the car and left it somewhere, and the response from the bartender left Norman quite baffled.
Norman: You didn't happen to see my friend Norma in here today, did you?
Bartender: Is that a trick question?
This being 2017, it's quite easy for Norman to fit in as Norma even in a town as small as White Pine Bay. There's a reason Norman was so easily able to slip into a chair and order a drink. It's because he's been doing it for quite some time.
Norman believes Mother has been in hiding since her death, but during his blackouts, as Mother, Norma has been leading a completely different life in the dark of night. It doesn't matter if people know Norman or not. Nobody would dare intimidate or be unkind to someone for expressing themselves.
It's quite brilliant, actually. The double life of Norman and Mother has added the third party of Norma, but we didn't even know it because we were absent for the time jump between Bates Motel Season 4 and 5. The Norma Mother brought to life wasn't nearly as lonely as she proclaimed.
What I was most impressed with was the man who appeared to know Norma best at the bar, who found her attractive as Norman and was willing to try to reach his mother on his behalf. He seemed like a really good guy, and if that's the kind of guy "Norma" has been hanging around with, then it was time well spent.
Yet it was still time spent that Norman was completely unaware during his waking life until he ran into Dr. Edwards. Or almost ran over Dr. Edwards.
Damon Gupton learned so much from studying Norman Bates that he's a regular on Criminal Minds now. Isn't it interesting how these roles have their perks? 
Dr. Edwards: Do you remember what I told you about her?
Norman: Sometimes I see mother when she's not there and sometimes I become her.
That conversation was the catalyst for Norman to revisit the bar and further question the bartender. After being reminded of what he once discovered during therapy, the horror of what he might have been doing in the recent past, of what he might have done to his beloved mother, hit him like a ton of bricks.
It's into that mindset that Marion Crane will be walking.
But Norman has understood his frame of mind before and was able to turn it off. When he did that, Mother was even more dangerous. Just after coming home from the hospital, Mother killed Emma's mother. 
If Romero wanders into Mother's frame of vision while Norman is "out," she probably won't give a second thought to cutting him down. But someone is going to be the hero in this story. 
If Norman survives to live in the loony bin for another day, someone is going to be responsible for putting him there. Will it be Dylan? A brother who has just unknowingly lost almost everything while he sat on knowledge that could have stopped a monster?
I used to be a fan of Dylemma, but as married adults, their magic is gone. She's a bit on the harpy side, and he's become a frightened child again. Considering what he saw of his brother, eh,  maybe he gets a pass.
I'm ashamed that any two adults in 2017 would let a year and a half go by and never seek information on their loved ones, no matter how bad a falling out they thought they had, on the internet. For shame. Who needs a telephone these days?
It was as easy as an internet search and Norma's death was in gigantic print. Emma's relationship with her mom was so nonexistent she didn't even recognize her earring. Her phrasing of "I understood why you kept it but" kind of opening on that discussion bothered me.
And why did Dylan have the earring at all, let alone in their new desk that they obviously bought together? Um...no. He's have it wrapped and stowed somewhere with the three other reminders of his mom and Norman he was hiding for a rainy day.
But, it is what it is and Dylan has to go back to confront his brother. Will a telephone, as shown in the preview for Bates Motel Season 5 Episode 6, really do the trick? No. It can't.
I wish I could say I was enjoying this season as much as I did the others, but I can't. I'm not sure an entire season without a living Norma was the best idea for the series. Then again, I'm only a viewer and not an artiste.
As a critic, the constant thrill I once felt at every turn is gone. The suspense is missing. Season 4 was the upswing and Bates Motel Season 5 is the pendulum swinging back down to something a bit more steady. Whereas Psycho, the movie, was about Norman Bates, Bates Motel was about Norma, and without her, the highest points are no longer.
Tell me what you think. What's next? Are you ready for a Psycho scene with Marion Crane? How is Rihanna doing in the role? Comment away!
And when you watch Bates Motel online, come back to join the discussion.
Carissa Pavlica is the managing editor and a staff writer and critic for TV Fanatic. She's a member of the Critic's Choice Association, enjoys mentoring writers, cats, and passionately discussing the nuances of television and film. Follow her on Twitter and email her here at TV Fanatic.